This Impossible Coconut Pie is so easy to make and tastes delicious. It's "impossible" because it makes its own crust! This yummy dessert is great for a potluck, picnic, or to take to a friend.
As an Amazon Associate and a participant in other affiliate programs, Passing Down the Love earns a small commission from qualifying purchases at no additional cost to you. See the full disclosure here.
Grandma's Impossible Coconut Pie
Grandma is the kind of person that always comes through when families are faced with hard times.
Whether it's a funeral, an illness, or another sad or trying event, Grandma believes that a meal can lift the spirits.
Especially dessert.
And even more when that dessert is Grandma's Impossible Coconut Pie.
Because she delivers on her promise to always come through, even when time is short, she has this go-to dish that she always sends.
This pie is so easy and quick to make and it tastes great! And while most recipes require Bisquick, this is a simple recipe for coconut pie you can make without Bisquick.
In fact, no matter where this pie has been taken, the plate ALWAYS comes back empty!
Tips & Information
This pie goes into the oven as a liquid, so to avoid spills from the counter to the oven, I recommend a 10″ or deeper pie plate.
Impossible pie makes its own crust, so you don't need to roll a crust or even get a pre-made crust. Like I said above, you can make this Impossible Coconut Pie without Bisquick.
It is best to use fresh coconut. The taste will be better with fresh ingredients.
Don't tell anyone how easy it is to make.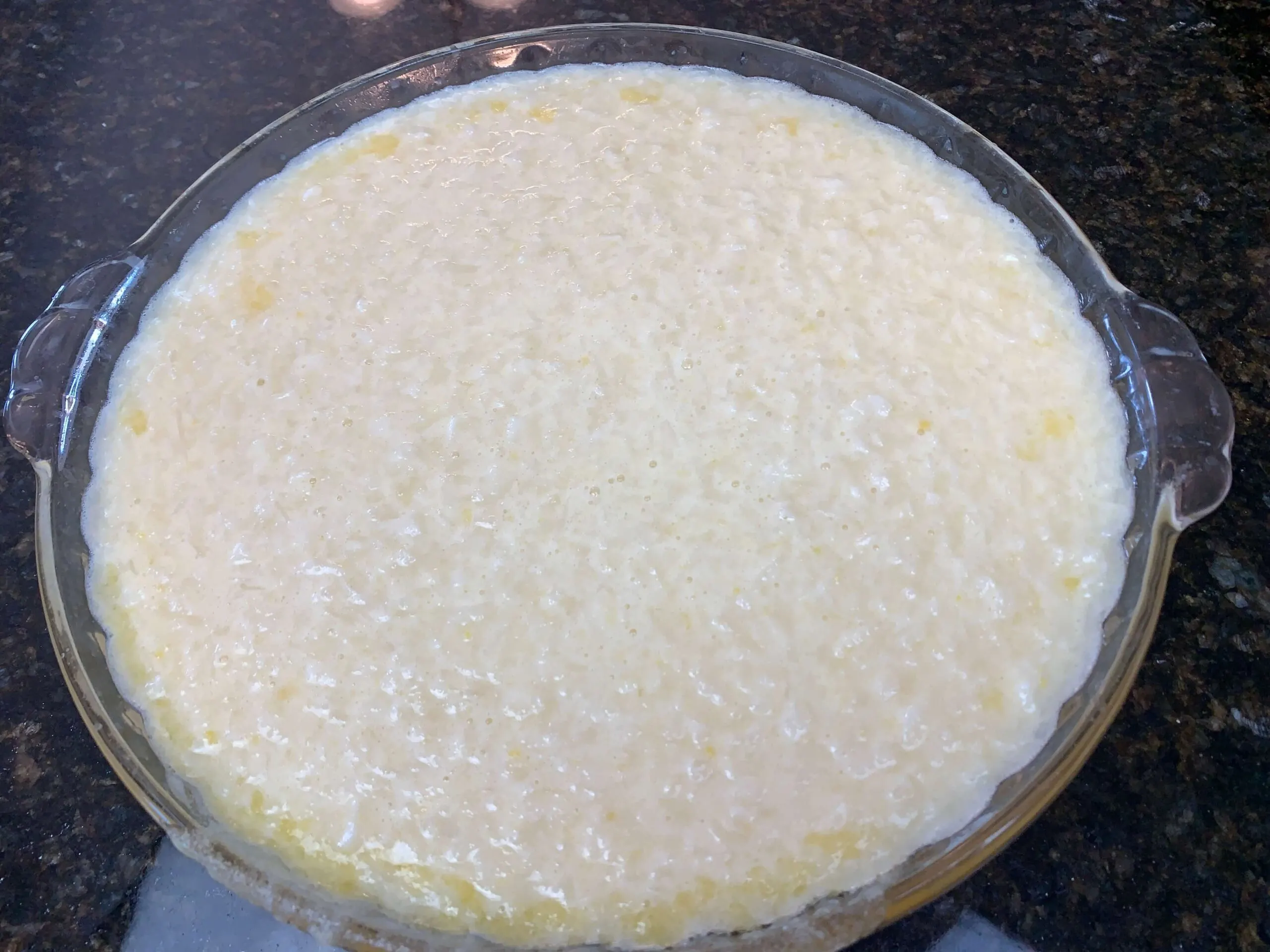 Act like you've been slaving over this recipe All. Day. Long.
Ingredients
Flour
Salt
Sugar
Coconut
Eggs
Milk
Butter
Vanilla
Instructions
Melt 1/2 stick of butter in pie plate.
Mix other ingredients and pour in butter from the pie plate.
Mix well
Pour the mixture into the pie plate.
Bake until brown.
Yield: 1 pie
Impossible Coconut Pie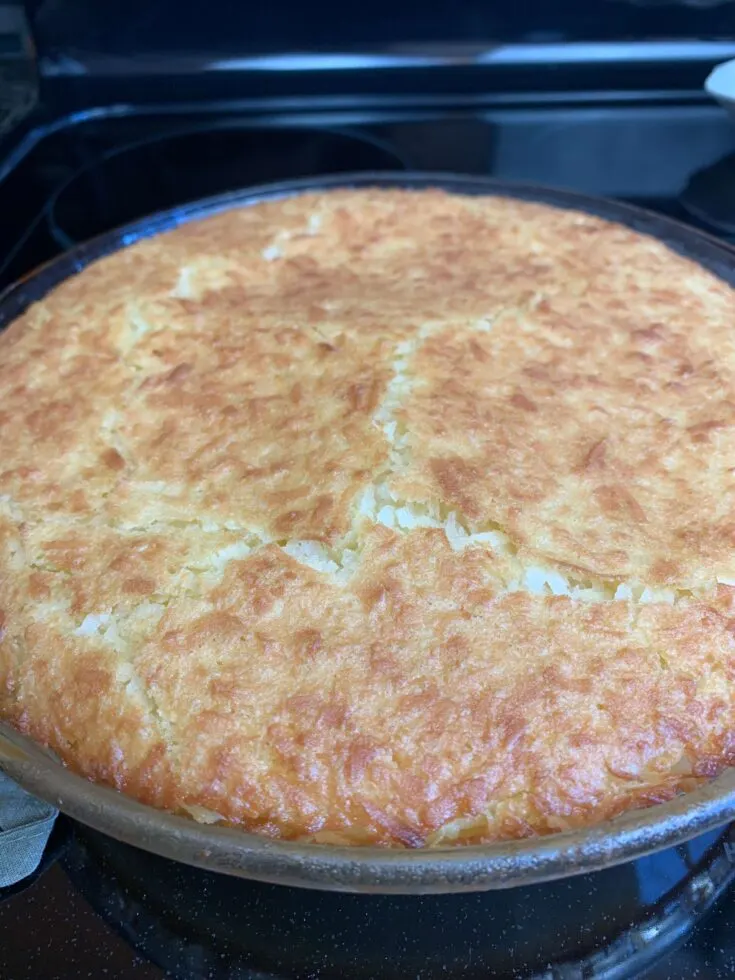 This quick and easy recipe for coconut pie makes its own crust. This is a favorite at get-togethers or for taking to a funeral dinner. Every time we've taken this anywhere, the plate comes back empty.
Ingredients
1/2 stick butter or margarine
4 eggs
2 cups sugar
1/2 cup flour
1/2 tsp. salt
1 tsp. vanilla extract
2 cups milk
1 1/2 cups shredded coconut
Instructions
Melt 1/2 stick butter in pie plate.
Mix eggs, sugar, flour, salt, vanilla, milk, and coconut.
Add butter and mix.
Bake at 350 until light brown, approximately 35-40 minutes.
Notes
Pie is done when the top is brown. Allow cooling before cutting.
If you are taking the pie to an event, consider using a tin disposable pie plate so there's no worry about getting it back.
Recommended Products
As an Amazon Associate and member of other affiliate programs, I earn from qualifying purchases.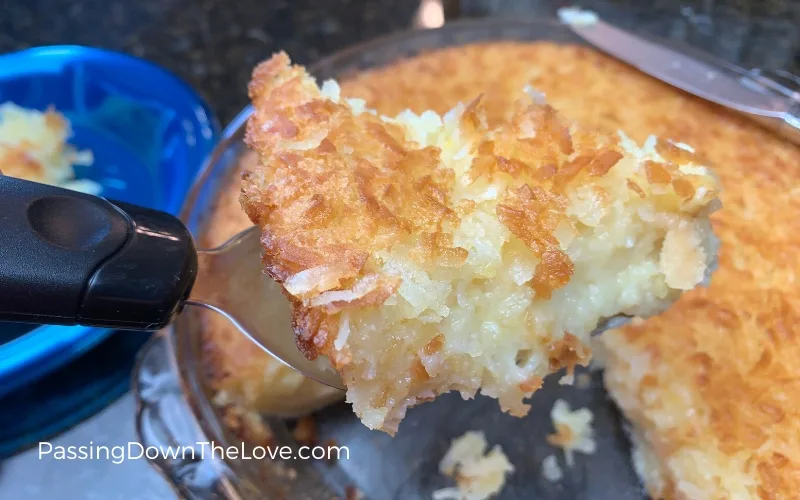 This has to be one of the easiest pies to make.
Go ahead, try it, and come back to tell me what you think.
Keep cooking and
Keep Passing Down the Love,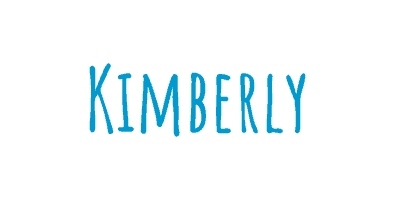 You might also like these recipes: