This rich and creamy Baked Potato Soup is perfect for a cold winter day. Snuggle up in front of the fire with a warm bowl of this delicious soup. The perfect comfort food for you and your family.
Rene's Loaded Baked Potato Soup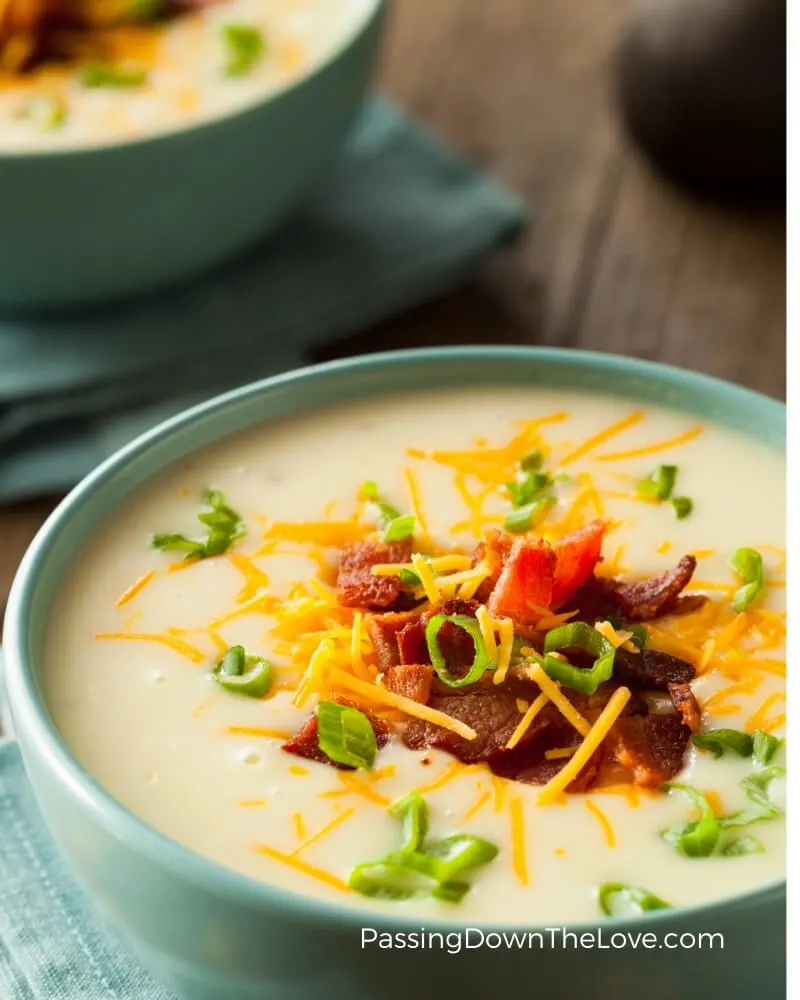 Many moons ago, I was in a Bunco group.
If you don't know about Bunco, let me tell you.
It's a dice game. It doesn't take a lot of thought.
It's mostly an excuse to get out of the house and see your girls…
We met once a month and had a blast!
If it was your turn to host, you were expected to provide a little nourishment.
Well, this recipe came from my long-time friend, Rene who served this one time.
I fell in love with it and continue to make it to this day.
If you prefer a meatless version, just leave out the bacon. But really. Who would??
Here you go.
Yield: 6 Servings
Rene's Loaded Baked Potato Soup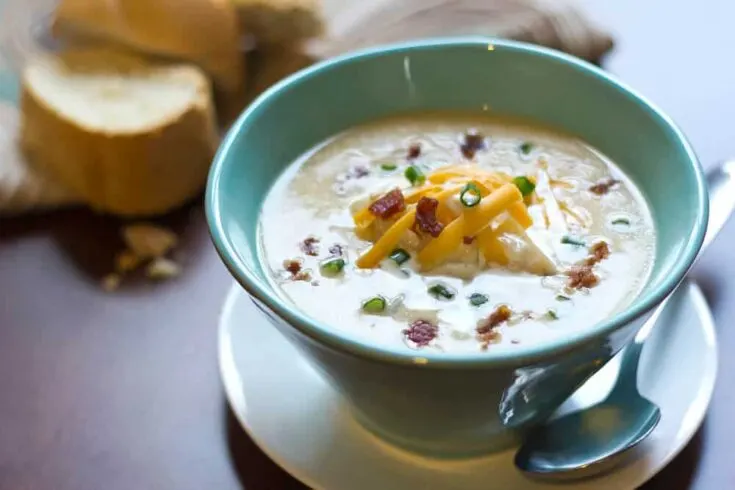 Rich & creamy baked potato soup. Delicious on a cold winter day!
Ingredients
4 Large Baking Potatoes
2/3 Cup Butter
2/3 Cup All-Purpose Flour
4 Cups Milk
2 Cups Half & Half
3/4 tsp. Salt
1/2 tsp. Pepper
4 Green Onions
12 Slices Bacon
1 1/4 Cup Shredded Cheddar Cheese
1 8oz. Carton Sour Cream
Instructions
Wash potatoes and prick several times with a fork.
Bake in a preheated oven at 400 for 1 hour or until done. Let cool.
Dice potatoes with skin.
Melt butter in a heavy saucepan over low heat.
Add flour, stirring until smooth. Cook for 1 minute, stirring constantly.
Gradually add milk and half & half. Cook over medium heat stirring constantly until mixture is thick and bubbly.
Add diced potatoes, salt, pepper, 2 Tbls. green onions, 1/2 of the bacon, and 1 cup cheese.
Cook until thoroughly heated. Stir in sour cream. Heat through.
Add extra milk, if needed, to reach the desired consistency.
Serve with remaining green onion, bacon, and cheese for garnish.
Add soup crackers, if desired.
Enjoy!
Recommended Products
As an Amazon Associate and member of other affiliate programs, I earn from qualifying purchases.
Related Content:
You might also like this Easy Breakfast Egg Casserole Perfect for Family Holidays or Kimberly's Sweet Tea: Refreshingly Different.
This is a great soup, warm comfort food indeed.
Keep making memories with the food you cook and
Keep Passing Down the Love,