Yummy Funnel Cake Rosette Treats
Grandma gave me some of her cookie recipes. She asked me to carry on her cookie-making tradition when she no longer could, and I do. We think of her when we make her Whippersnappers, Christmas Tree Cookies, and these Funnel Cake Rosette Cookies.
Funnel Cake Rosettes: A Holiday favorite.
My favorite traditions are Holiday related, especially making cookies, like these funnel cake rosette cookies, at Christmas.
Family traditions start when we make the extra effort to incorporate them into our lives.
Some traditions are daily, some seasonally, some on a special day like a birthday or anniversary.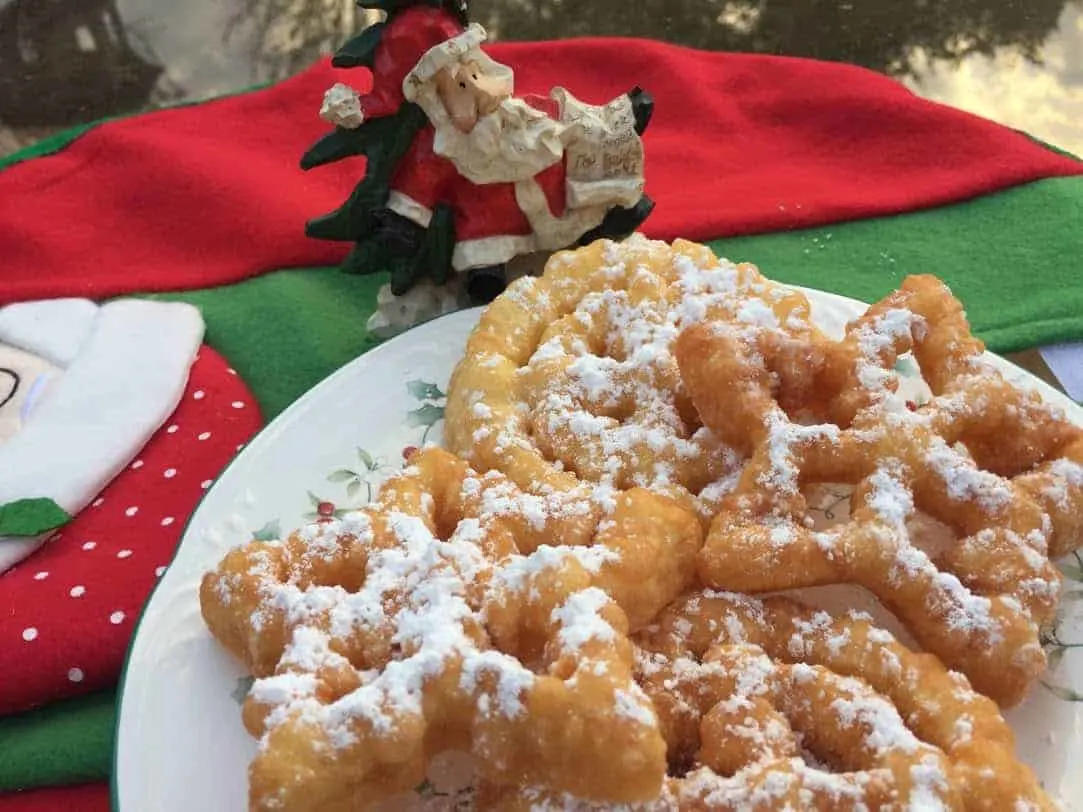 As an Amazon Associate and a participant in other affiliate programs, Passing Down the Love earns a small commission from qualifying purchases at no additional cost to you. See full disclosure here.
My nieces, who are both in college now, began making cookies with me when they were very young.
I had two sons who were much older and no daughters.
So when the boys started feeling like they were "too old" to help, my sister offered up her girls. And of course, I was delighted!
We have been making cookies together every year since.
Today I have my two nieces, my wonderful daughters-in-law, my granddaughter and my mom who show up on cookie day.
We have made some wonderful memories over the years, and the tradition will continue this Christmas as well.
You can tell by the mess that we enjoy ourselves tremendously!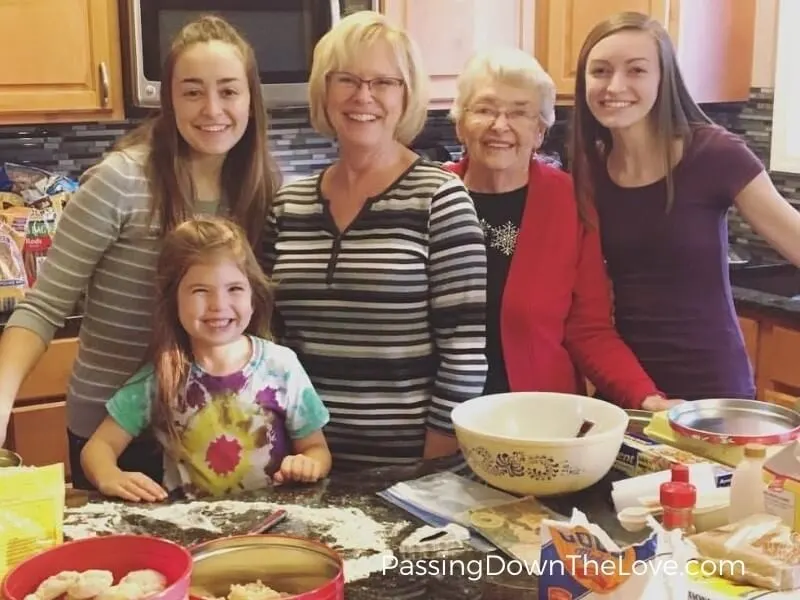 There are several cookies that we make each year in memory of my Grandma.
Before she passed away, she gave me her recipes, cookies cutters, and rosette maker and asked me to carry on her tradition.
We always make the Lemon Whippersnappers and Christmas tree cookies. And we have even tried our hand at the rosette making.
If you love funnel cakes, you'll love the rosettes.
They are fun to make, and oh, so good!
Start by getting yourself a rosette maker like this one.
There will be instructions with it, so be sure to follow them closely. Preparing your tools is important to a successful recipe!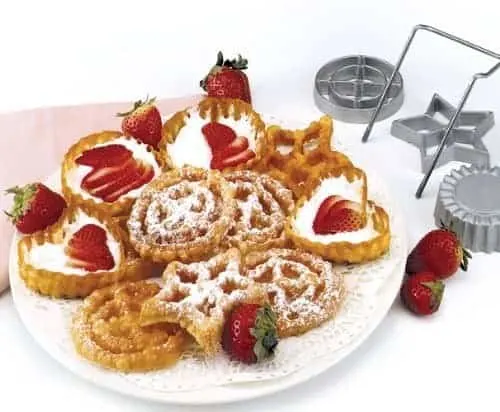 Funnel Cake Rosette Cookies are great anytime, but especially fun to make for Christmas.
There are optional additions to rosette iron which would be great for other occasions: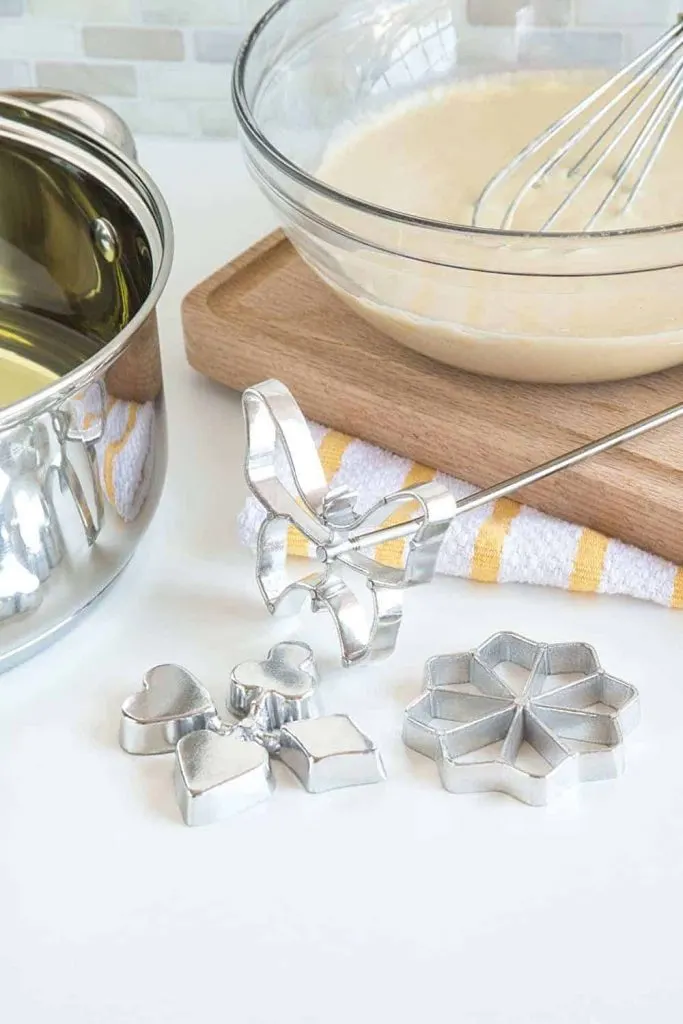 Have fun making these funnel cake rosettes. Find a way to incorporate new traditions into your own family Holiday! Make memories to last a lifetime.
Here is the recipe for Funnel Cake Rosettes.
Yield: 24 cookies
Oh So Good Funnel Cake Rosettes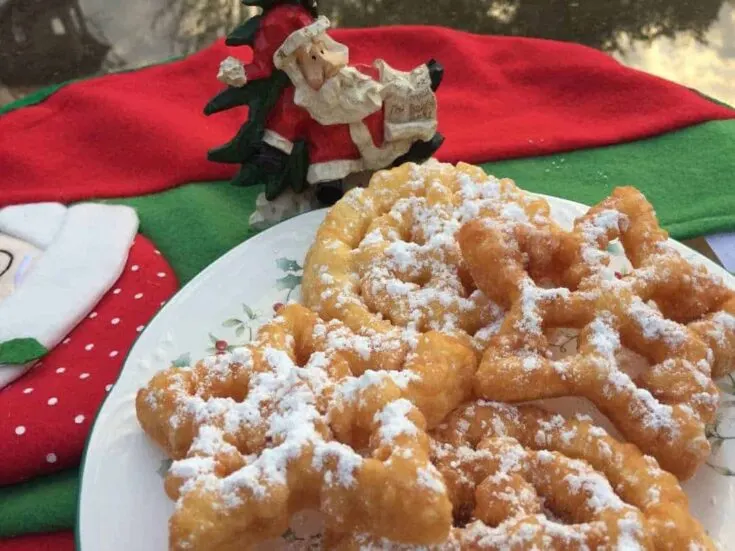 An old-world favorite, easy to make.
These funnel cake rosettes are worth writing home about!
Ingredients
2 Large Eggs, slightly beaten
2 Tbls. Sugar
1 Cup Milk
1 Cup Sifted Flour
1/4 tsp. Salt
1 tsp. Vanilla Extract
Vegetable Oil
Instructions
Mix together:
Add sugar to eggs, then add milk.
Sift flour with salt.
Stir into eggs and beat until smooth, about the consistency of heavy cream. Add Vanilla.
Prepare iron and molds as your usage instructions indicate.

Place approximately 2" of oil in a deep fryer or saucepan. Heat to 375 degrees. Immerse prepared iron in hot oil until thoroughly heated. Lift iron out and shake off excess oil.

Dip iron into batter only to the depth of the molds. Avoid getting batter on top of molds.

Immerse molds into the hot oil, covering completely. When foamy bubbling stops or Rosettes are a delicate brown, lift iron out, allowing excess oil to drip back into the fryer.

To remove Rosette, gently tap on top of the mold with a wooden spoon.
Cool with the more open side down, on a rack or paper towel. Before making additional Rosettes, reheat iron. (The iron must be hot).
When cool, or before serving, sprinkle with confectioners sugar (the best), granulated sugar, or a cinnamon and sugar combination.
Notes
For crispier Rosette cookies, refrigerate batter, covered for 30-60 minutes before using.
In place of vanilla, use lemon extract, brandy, or rum extract. For savory rosettes, substitute garlic or onion powder and sprinkle with cheese.
Recommended Products
As an Amazon Associate and member of other affiliate programs, I earn from qualifying purchases.
What kind of holiday traditions do you have with your family? Are you cookie makers, too?
Did You Make This?
Snap a pic and hashtag it #PassingDownTheLove — I'd love to see your creation on Facebook, Instagram or Twitter.
Enjoy these funnel cake rosette cookies and
Keep Passing Down the Love,