You'll love this yummy dirt cake cups recipe and so will the kids! If you're going to spoil the kids with sweets, at least keep it to a minimum. These cute dirt cups in single servings help with portion control. A sweet little snack that doesn't go too far overboard.
What's Cool About a Dirt Cup
This Grandma: Making food fun for Grandkids since 2012.
Just kidding. She was too little for fun food until 2013…
I know, I know what you're thinking.
Grandmas should follow the rules and not serve their Grandchildren huge amounts of sweets.
Grandmas can sometimes go overboard, am I right?
And I try to follow the rules, really I do. So I developed this recipe with that in mind.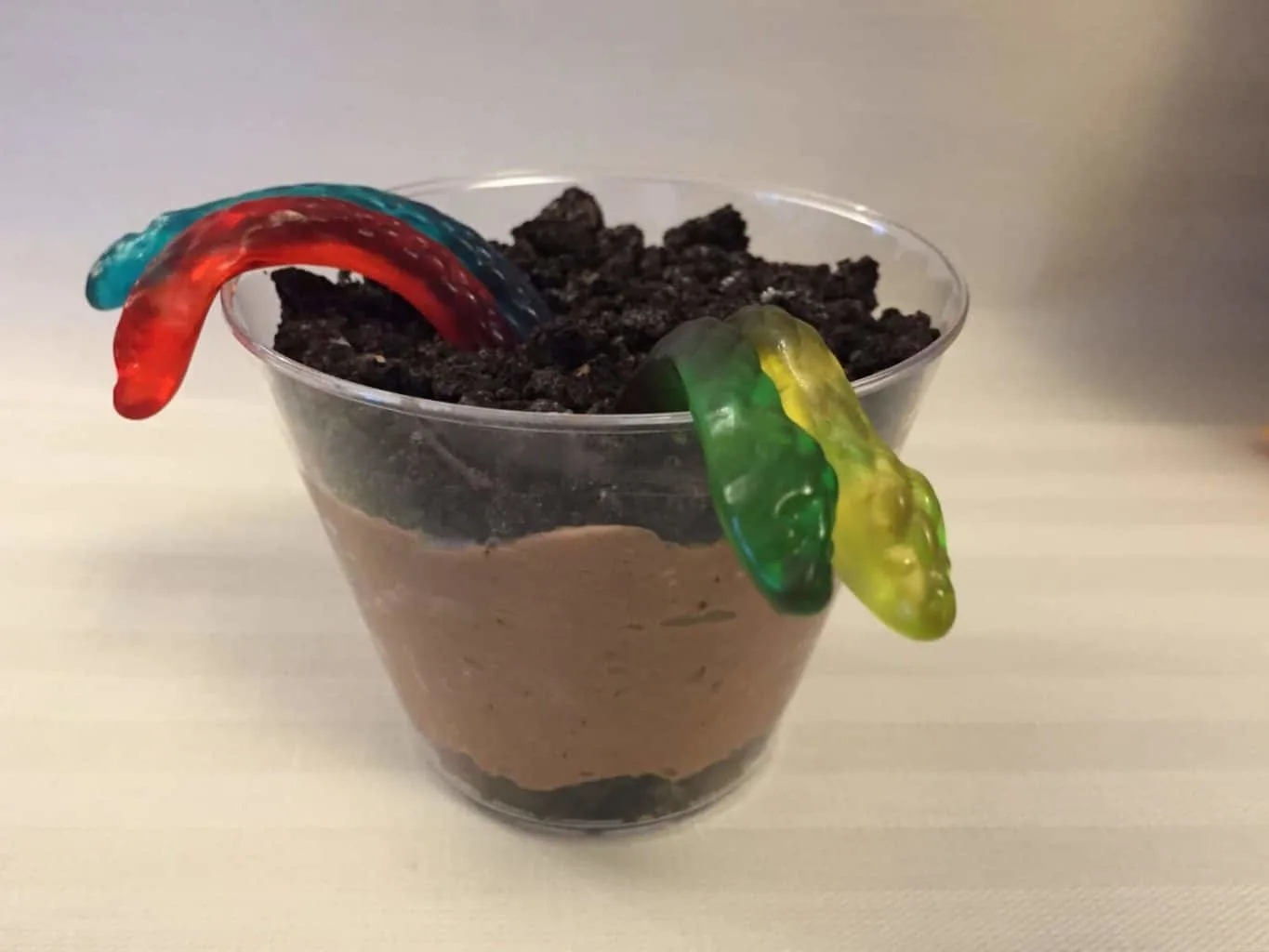 Instead of one great big huge dirt cake, which is what I would have made in the past, I now make individual servings of dirt cake in cups.
These dirt cake cups are just the answer: a lot of fun food condensed down to a small serving cup.
And there's milk in the recipe, so there's that…
For those of you who really prefer a healthy treat, maybe a WW Orange Fluff is more your style.
But to continue on, the kids will LOVE these dirt cups and there is a way to make it "better".
If you're going to serve the littles fun food that may veer away from the "easy on the sweets" rule just a bit, make it in a smaller serving.
But keep it fun… Here you go. This recipe is for you.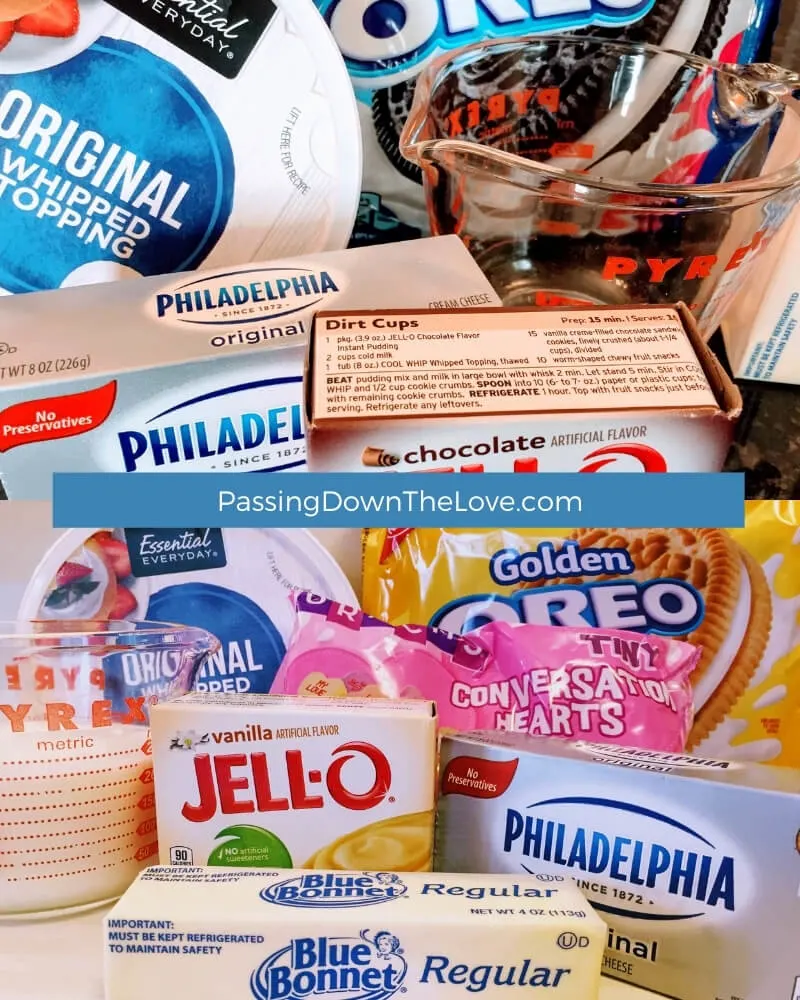 This recipe calls for gummy worms, but you can use any topping that is appropriate for the occasion.
Try candy Easter eggs, Peeps, or these realistic-looking worms for a fun treat!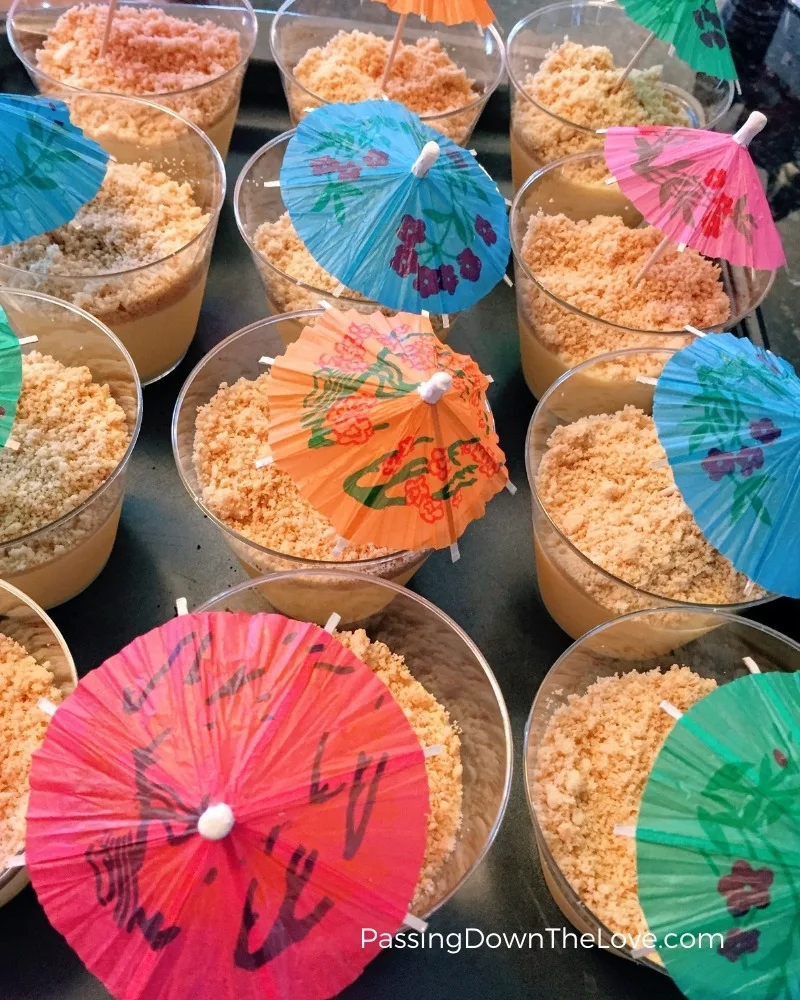 So, without further adieu, here is the recipe.
Grandma's Amazing Dirt Cake Cups
Yield: 6 cups
Grandma's Amazing Dirt Cake Cups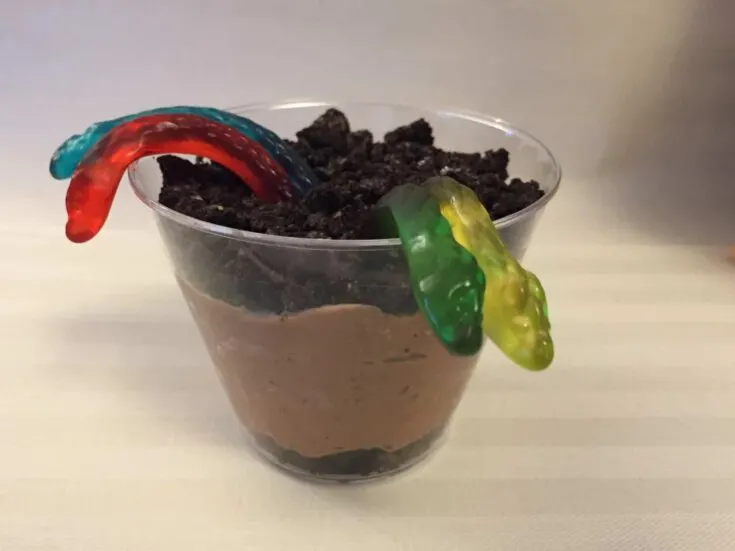 A fun and yummy dessert in a small serving portion, just for the kids.
Additional Time
30 minutes
Ingredients
30 Oreos or Chocolate Sandwich Cookies
2 Tbls. Butter
4oz Cream Cheese
1 3/4 Milk or Soy Milk
1 Small Box Instant Chocolate Pudding Mix
8oz Cool Whip or Other Whipped Topping
1/2 Cup Powdered Sugar
1 Small Package Gummy Worms
Instructions
Crush Oreos into very small pieces.
You can do this in a food processor or by placing them in a Ziploc bag and crushing them with a rolling pin or the flat side of a meat mallet. (The heel of your shoe might even work. JK)
Place crushed Oreos into the serving cups, enough to cover the bottom.
In a bowl, mix cream cheese and margarine until creamy.
In a different bowl, whisk the pudding mix and milk together.
Whisk the powdered sugar and then the Cool Whip into this mixture.
Add the pudding mixture into the bowl with the cream cheese and margarine. Mix thoroughly.
Pour or spoon the mixture into the cups you fixed earlier.
Fill to about 1/2" from the top.
Sprinkle the top of the cups with more crushed Oreos.
Add a few gummy worms to the top.
Notes
You can also make Sand Cake Cups using this recipe.
Simply swap the regular Oreos for the vanilla version, use vanilla pudding mix, and add an umbrella for a beach/sand/ocean themed party or occasion.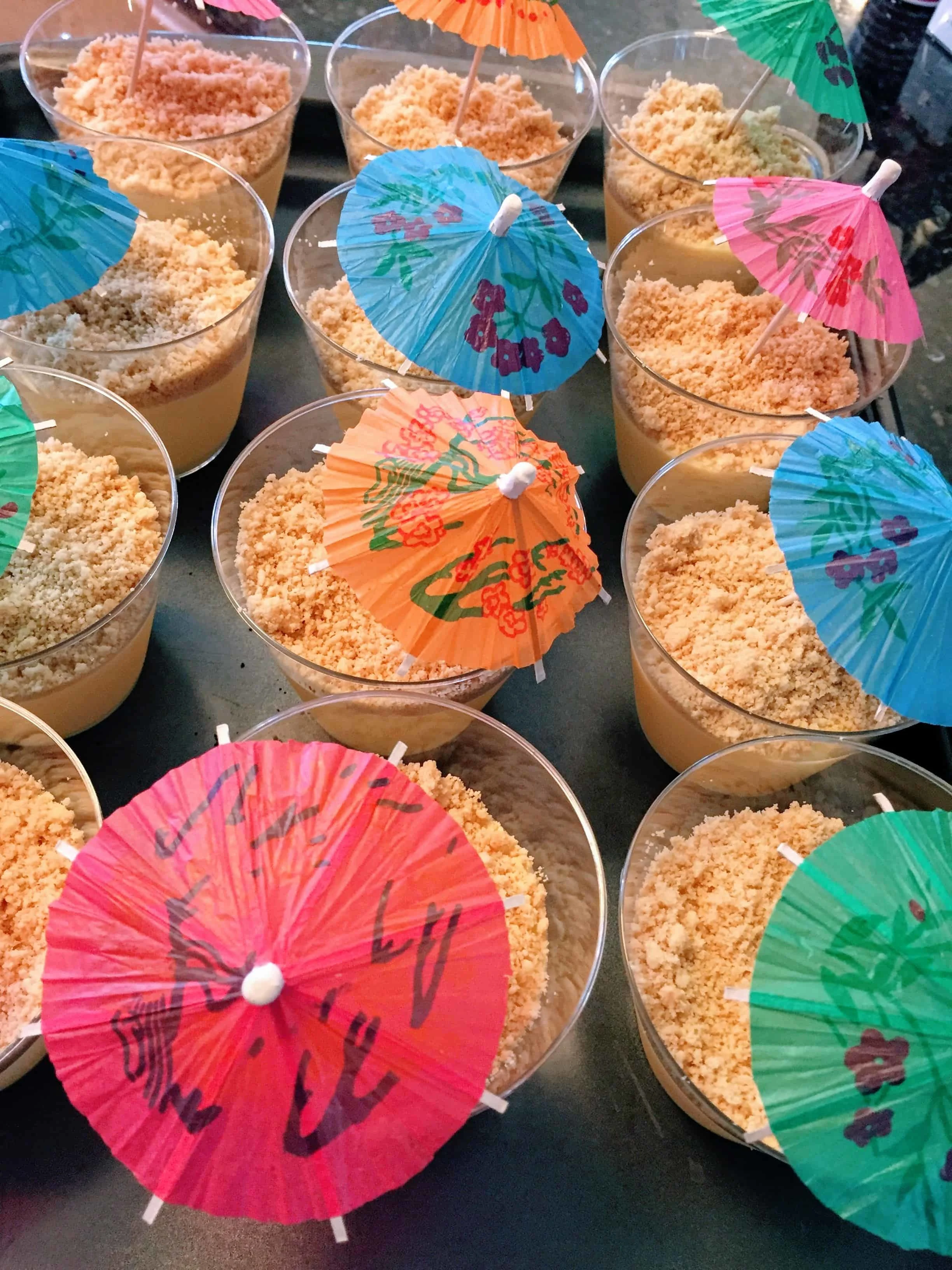 Recommended Products
As an Amazon Associate and member of other affiliate programs, I earn from qualifying purchases.
Well, what are you waiting for?
Get the kids and get into the kitchen. Making memories the old-fashioned way – by cooking together and making some delicious treats!
This they'll remember!
Keep Cooking and
Keep Passing Down the Love,