This Nut-free White Chocolate Chex Mix is one everyone will love.
While peanuts are usually a big part of this type of snack mix, we've come up with a delicious Christmas snack mix without any nuts.
Your nut-free friends will love this holiday trail mix! (And so will all your nutty friends!)
Nut-Free White Chocolate Chex Mix is perfect for Christmas
The Ultimate Fall Trail Mix recipe was such a huge hit, that I thought I'd try my hand at making a special Chex Mix recipe for Christmas.
While the Fall Trail Mix contained peanuts, this recipe does not.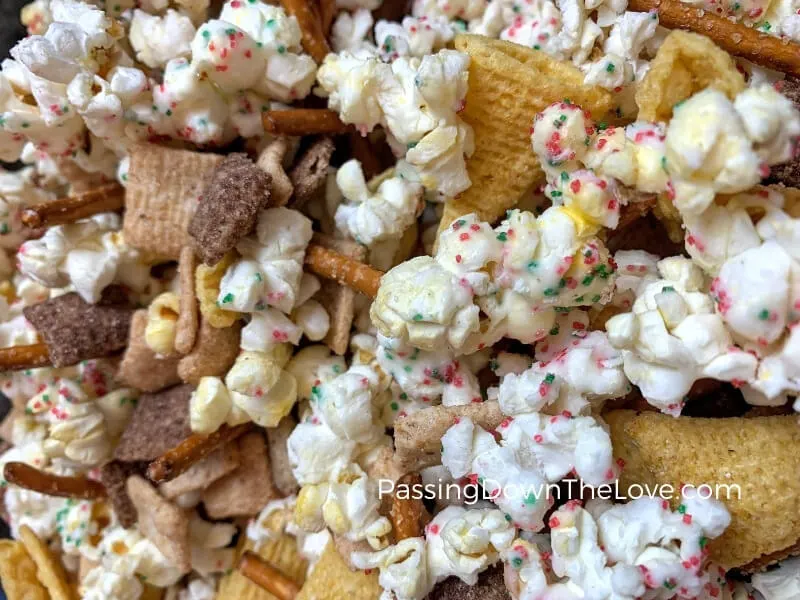 As an Amazon Associate and a participant in other affiliate programs, Passing Down the Love earns a small commission from qualifying purchases at no additional cost to you. See the full disclosure here.
This recipe for White Chocolate Chex Mix is both sweet and salty. It's also a nut-free snack mix.
A perfect combination of flavors even without the nuts!
Special Ingredients!
I also wanted to try this new cereal I found, Sugar Cookie Toast Crunch. General Mills made an awesomely sweet cereal that goes very well in this snack mix!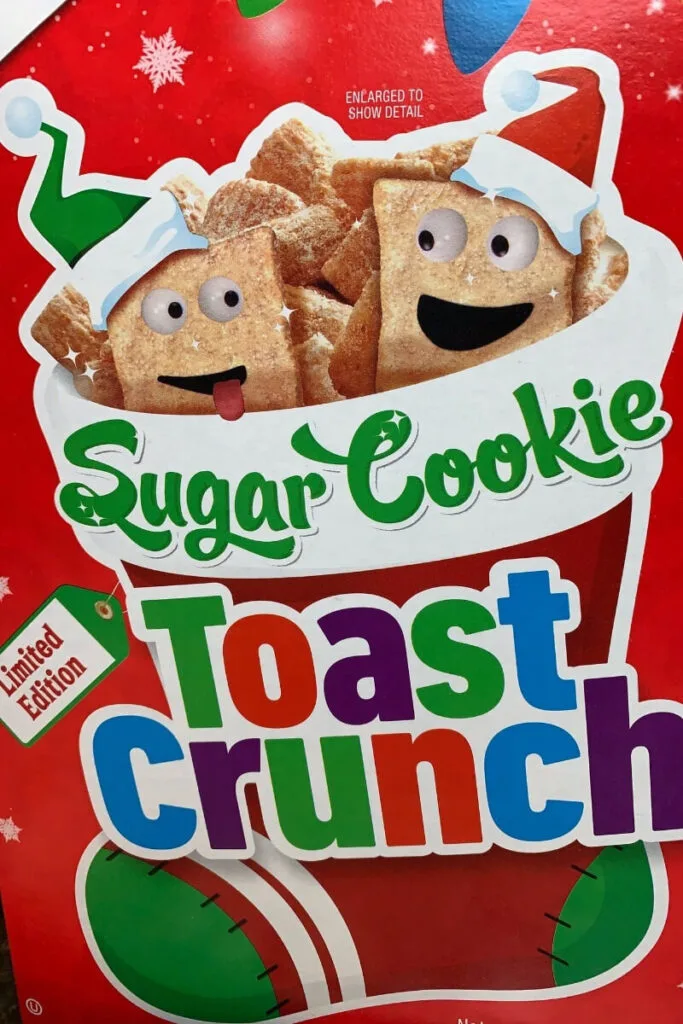 Everyone probably knows of someone with a peanut or tree nut allergy.
They shy away from any kind of mix like this because the majority of Chex snack mix recipes contain peanuts or other tree nuts.
It's a Nut-Free Snack Mix
This recipe for Christmas White Chocolate Chex Mix is a nut-free version that is super tasty and fun to eat.
And you don't have to worry about the threat caused by a big bowl of nuts!
Believe me, when you have a little one with nut allergies or even an adult family member who is allergic, you worry about serving something harmful.
Rest your minds.
I have checked the labels on the products used in this recipe and found no evidence of peanuts or tree nuts.
Please be sure to check the labels of everything you add to this recipe if your intention is to make a nut-free snack mix.
Some versions of the same product, made in different locations, can have different warnings on the label.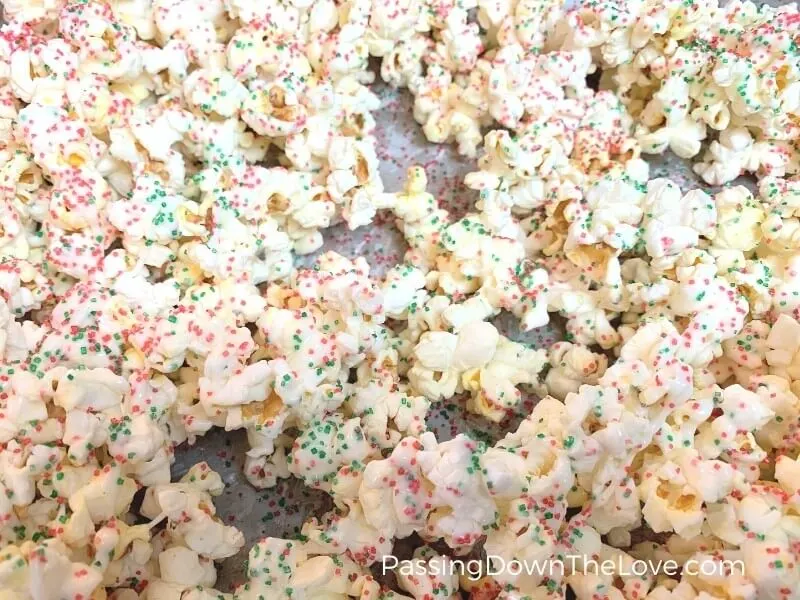 It's a Versatile Christmas Trail Mix
These measurements will be just right if you stick to them.
BUT, if you're a rebel like me, you can mix it up, add more salty and less sweet, take something out, or add something into the mix.
This recipe is very forgiving and will turn out great in almost any scenario.
So go ahead and add some candies, use red candy melts instead of white almond bark, or use mini pretzels instead of sticks.
It is a versatile recipe for a snack mix without nuts. Really.
Yield: 10 cups
Yummy Christmas Trail Mix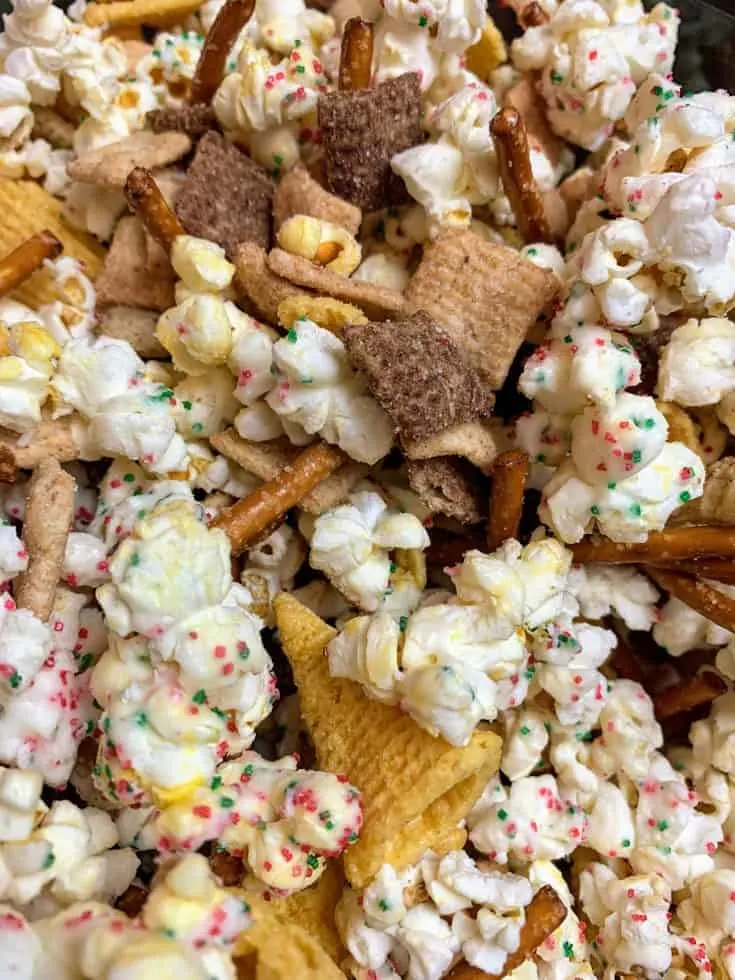 A sweet and salty White Chocolate Christmas snack mix that is nut-free.
You'll love the flavor and crunch, but won't even miss the nuts in this Christmas Chex mix!
Additional Time
12 minutes
Ingredients
2 cups Chocolate Chex Mix
2 cups Sugar Toast Crunch
1 cup Pretzel Sticks
1 popped bag Popcorn
4 cubes White Chocolate Almond Bark
2 cups Bugles
Red & Green Sprinkles
Instructions
Pop the popcorn. Spread it out on a cookie sheet or parchment paper.
Melt the Almond Bark or Candy Melts according to directions on the package.
Lightly pour the melted Almond Bark onto the popcorn using a spoon. It doesn't have to be covered, just a little goes a long way.
Before it sets, stir the popcorn and sprinkle on the decorations. I used red and green sprinkles, but you can use whatever kind you have on hand.
While the popcorn cools and sets, add the rest of the ingredients into a large bowl. Mix thoroughly.
When the popcorn is set, add it to the mix.
Store in a plastic container, Ziploc bag, or metal tin for up to 2 weeks.
Recommended Products
As an Amazon Associate and member of other affiliate programs, I earn from qualifying purchases.
If you enjoy this White Chocolate Chex Mix, please share it with your friends, pin it to your Pinterest board, or make it and write a comment.
As always,
Keep Passing Down the Love,