Made-From-Scratch Banana Bread is perfect for a quick breakfast or even as a dessert. This old-fashioned banana bread recipe is from my 83-year-old mom whose cooking is the best!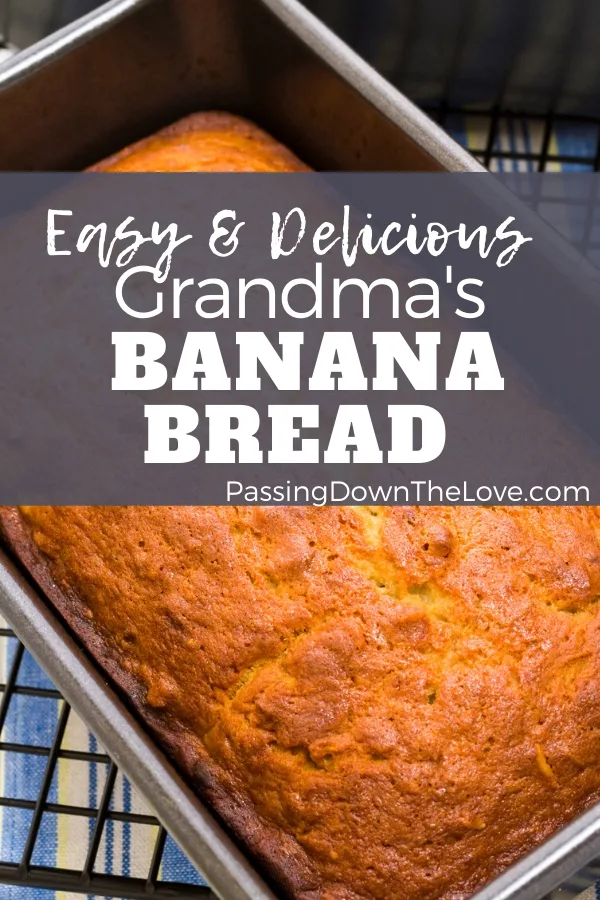 As an Amazon Associate and a participant in other affiliate programs, Passing Down the Love earns a small commission from qualifying purchases at no additional cost to you. See the full disclosure here.
Grandma's Old-Fashioned Banana Bread
The smell of bread baking is one that brings back memories of home.
Of Grandma slaving away in the kitchen to make us a perfect meal.
Banana bread has always been a favorite of our family.
We would even leave the last few bananas until they were super ripe (that makes the best banana bread!) just so Grandma would have to make this bread for us.
Grandma has since found out that she can put the bananas in the freezer and make banana bread whenever she's in the mood.
Oh, well, we tried…
What yummy smells came from YOUR Grandma's kitchen?
Bake up a loaf of this bread and see if it's doesn't trigger your memories. You can even try it with homemade butter like the Pioneer Woman makes.
Tips and Information
Using riper bananas makes great banana bread.
The ones that have gone a tad bit past the peel & eat stage are great for this recipe.
The recipe calls for shortening, which would be something like solid Crisco.
You can use margarine in its place if you like.
The jury is still out on the type of loaf pan to use.
Some like the silicone pans and others like the non-stick type.
I've always used just a regular old loaf pan and sprayed it with Pam. It's totally up to you.
Bananas can be frozen.
If you don't have time to make bread now, just pop the ripe bananas into a sealable bag and stick them in the freezer.
When you're ready to make bread, just set the bananas out of the freezer and let them thaw before adding them to your recipe.
Banana bread is best served for breakfast with fresh fruit and milk. (That's my opinion, anyway…)
Ingredients
Bananas
Shortening
Sugar
Eggs
Vanilla
Flour
Baking Powder
Baking Soda
Salt
Nuts are optional
Instructions
Mix dry ingredients and set aside.
Beat shortening until creamy.
Add sugar gradually, beating well as you go.
Add eggs and continue to beat well.
Alternate flour mixture and bananas, adding gradually and beating until smooth.
Add nuts if you choose.
Put mixture into a well-greased pan and bake according to the recipe below.
Yield: 1 loaf
Grandma's Old-Fashioned Banana Bread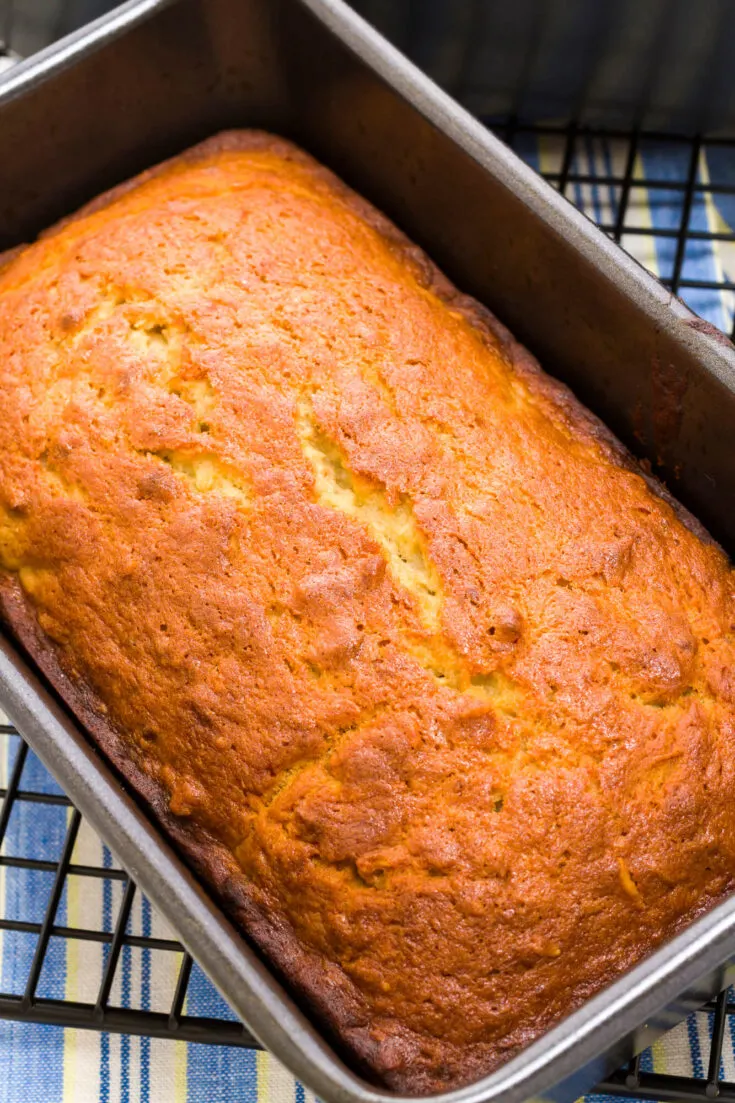 This is Grandma's recipe for banana bread. It's moist, delicious, and easy to make!
Cook Time
1 hour
20 minutes
Total Time
1 hour
35 minutes
Ingredients
1 3/4 cup Sifted flour
2 tsp. baking powder
1/2 tsp. baking soda
1/2 tsp. salt
1/3 cup shortening (or margarine)
2/3 cup sugar
2 eggs, well beaten
1 cup mashed bananas (2-4 bananas)
1/2 cup pecans, chopped, optional
Instructions
Sift together flour, baking powder, baking soda, and salt
In another bowl, beat shortening until creamy.
Add sugar gradually and continue beating until light and fluffy.
Add eggs, beat well.
Add flour mixture alternately with bananas, a small amount at a time, beating until smooth after each addition.
Add pecans, if you like, then mix thoroughly.
Turn into a well-greased loaf pan.
Bake at 350 degrees for 80 minutes.
Notes
Add the pecans if you like, or leave them out. It's great either way!
This recipe can also be used to make muffins. Simply fill muffin cups 2/3 full, sprinkle with a little cinnamon sugar and bake at 350 until tops are brown.
Recommended Products
As an Amazon Associate and member of other affiliate programs, I earn from qualifying purchases.
This is a wonderful banana bread recipe that brings back memories of home.
Go ahead and try it.
Come back and tell me how much you loved it!
Keep Passing Down Recipes
and
Keep Passing Down the Love,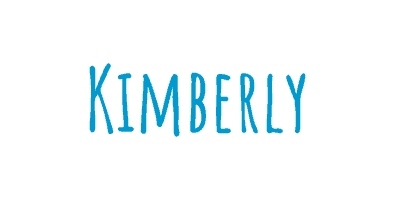 You might also like: