These delicious Christmas Tree Brown Sugar Cookies and Lemon Whippersnappers, are at least two cookies my Grandma made that I remember well and our entire family just loved. And I'm sharing the recipe with you!
Grandma's Christmas Tree Brown Sugar Cookies
There are at least two cookies my Grandma made that I remember well and our entire family just loved.
Her Lemon Whippersnappers, and these delicious Christmas Tree Brown Sugar Cookies.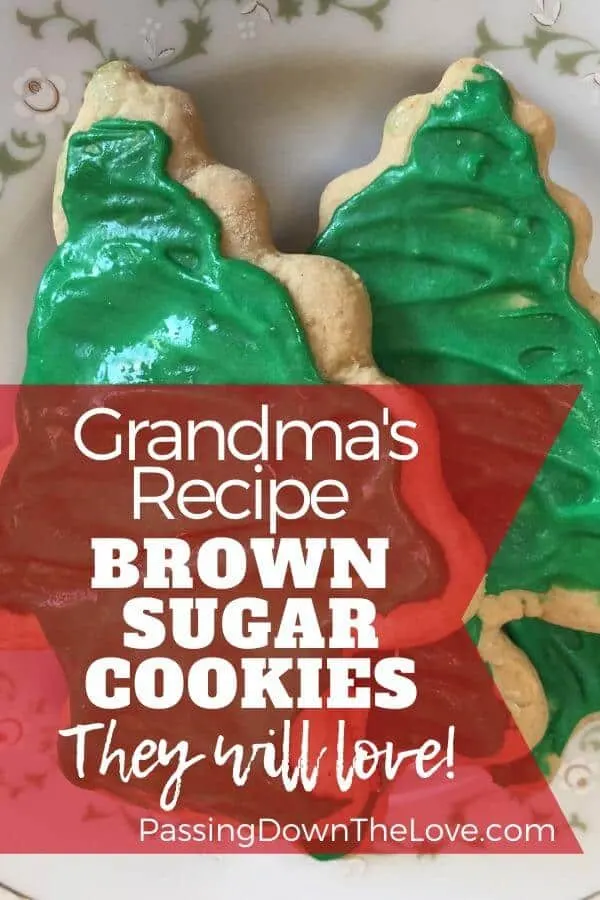 As an Amazon Associate and a participant in other affiliate programs, Passing Down the Love earns a small commission from qualifying purchases at no additional cost to you. See full disclosure here.
Christmas at Grandma's place was always fun, with cousins, aunts, and uncles gathering together to share family time.
Grandma made these treats for us every Christmas.
Being asked to carry on the tradition of baking her signature cookies when she was no longer able was and is quite an honor!
This photo (on down a bit) is the actual recipe Grandma cut from a magazine many years ago.
That's her actual cookie cutter in the photo, too.
This one is really old, but you can get a similar one on Amazon here.
This recipe for Brown Sugar Cookies and her Christmas Tree Cookie Cutter now hang in a shadow box on my kitchen wall.
There is a note on it that says "2 of the Brown Sugar. Need more than 1 batch for the Holidays".
She knew we loved these!
You can tell the recipe has been used over and over by the stains that are on it… It's now wrapped in a plastic cover to protect it from further abuse and destruction.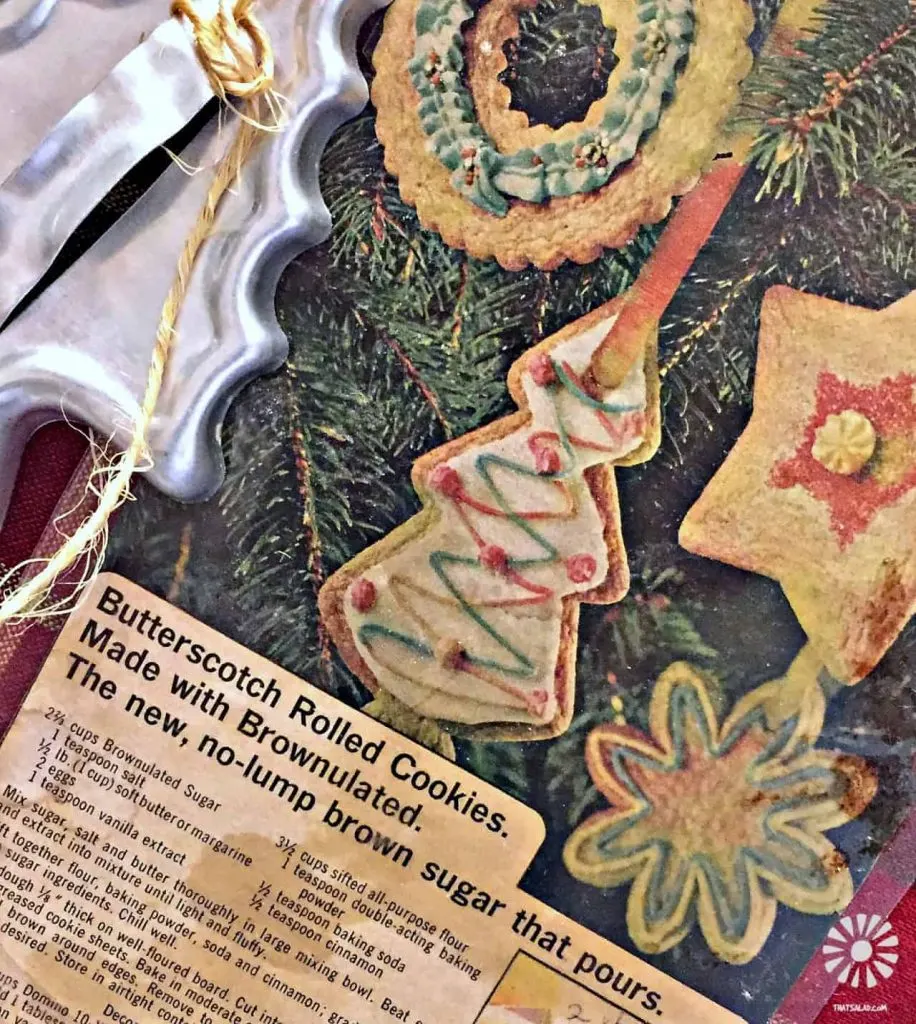 Every year since she passed, which has been many now, my nieces and I have kept that promise and made Grandma's Christmas Tree Brown Sugar Cookies.
They have joined me each year since they were young, (they've graduated college now), and now my granddaughter helps as well.
Update added for 2020
Until COVID, that is. This year I'm making them alone, but in my heart I know we would be together if we could.
In spite of it all, the tradition continues in my kitchen and I'll still share the goodies with family. I think Grandma would understand.
Now, Continued…
We always make the cookies and talk about our Grandma Grace.
Even though the three of them never knew her, they know about her now because of these cookies.
Grandma's tradition lives on.
Try as I might, I've never quite duplicated her efforts. Grandma had her secrets, I guess.
It was probably just the extra love she added to the recipe.
Brownulated Sugar Cookies
Grandma's Christmas Tree cookies are similar to regular sugar cookies, but instead of using granulated white sugar, it uses Brownulated sugar.
So, these are BROWN sugar cookies.
Brownulated sugar is a product of Dominos. Others may produce this form of brown sugar, but this recipe is from them.
This type of brown sugar is what makes these cookies special. They are tender and chewy with just the right amount of sweetness.
P.S. Brownulated Sugar is also known as Granulated Brown Sugar or Pourable Brown Sugar.
It might be hard to find in your area, but it can be bought here on Amazon.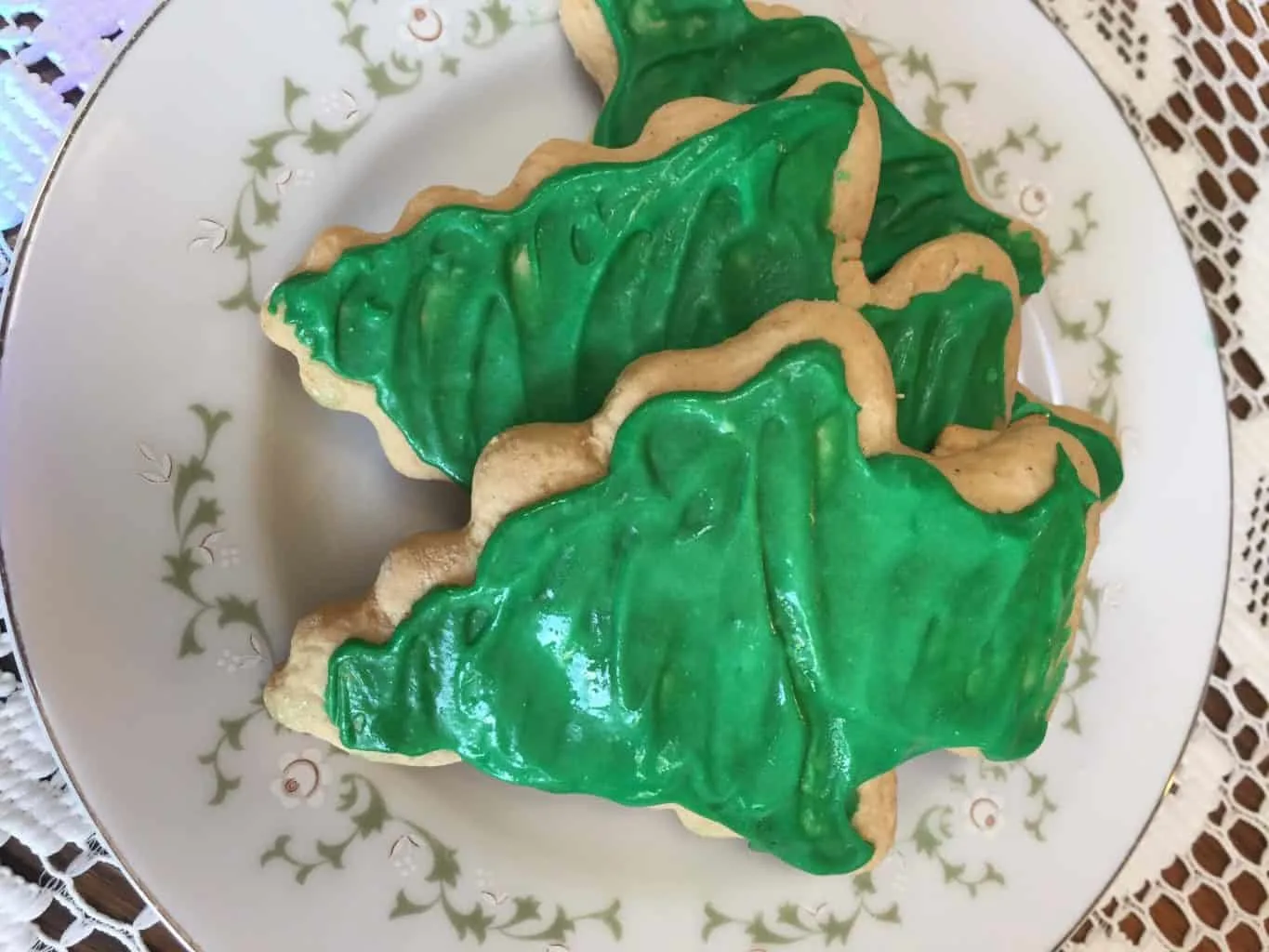 Keep Passing Down the Love (and cookies!),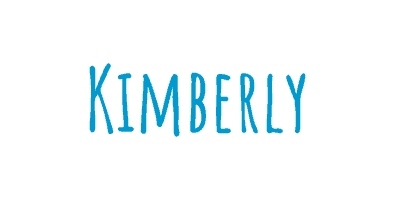 Here is the recipe for Grandma's Christmas Tree Brown Sugar Cookies.
Yield: 3-4 dozen
Grandma's Special Brown Sugar Cookies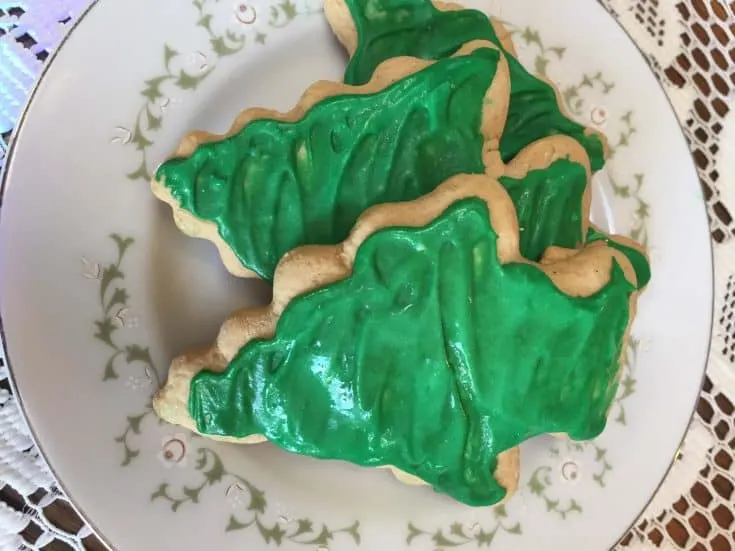 These brown sugar cookies are a favorite in our family.
We make them every year from this recipe my Grandmother had cut from a magazine years ago.
I'm sure you'll love them as much as we do.
They are soft, chewy, and sweet.
A perfect Christmas treat!
Cook Time
10 minutes
8 seconds
Additional Time
15 minutes
Total Time
40 minutes
8 seconds
Ingredients
2 2/3 cup Brownulated Sugar
1 tsp salt
3 1/2 cups flour
1 tsp baking powder
1/2 tsp baking soda
1/2 tsp cinnamon
2 eggs
1 cup (2 sticks) margarine
1 tsp vanilla extract
Icing
1 1/2 cups powdered sugar
1 egg white
1 Tbls butter or margarine
1/8 tsp salt
1/2 tsp vanilla extract
Green food coloring and any other decorations you'd like to add.
Instructions
Mix sugar, salt, and butter thoroughly.
Beat eggs and vanilla into the mixture until light and fluffy.
Sift together flour, baking powder, baking soda, salt, and cinnamon and gradually blend into sugar mixture.
Roll dough 1/8" thick on a well-floured board. Cut into shapes (Christmas trees or your choice).
Place on an ungreased cookie sheet.
Bake at 350 F for 8-10 minutes.
Remove to a cooling rack.
Decorate with glaze/icing when cooled.
Store in an airtight container.
Icing
Combine powdered sugar and slightly beaten egg white until smooth.
Add melted butter, salt, and vanilla.
Mix until smooth.
If the glaze is too thin, add more powdered sugar until the desired consistency is reached.
If you want to color the icing, now is the time.
Add food coloring.
For multiple colors, make an extra batch or divide and color small portions.
Green food coloring is great for Christmas trees!
Recommended Products
As an Amazon Associate and member of other affiliate programs, I earn from qualifying purchases.