These fun family Christmas traditions fall into the same categories as the "Fun with Kids" section on this blog including "Do Things", "Go Places", "Eat", "Celebrate", and "Reading". Family Christmas traditions are an important part of our family culture and are a sure-fire way to make memories with Grandkids!
Fun Family Christmas Traditions to Make with Grandchildren
Having family Christmas traditions or special things you do every year will help to make the season memorable.
What do you remember about your own childhood Christmases?
Were they a happy time?
Did you do certain things a certain way at a certain time?
Did you always wear new pajamas on Christmas eve?
Get a stocking from Santa on Christmas morning?
Attend the church Christmas pageant every year?
Those things make up your family Christmas traditions.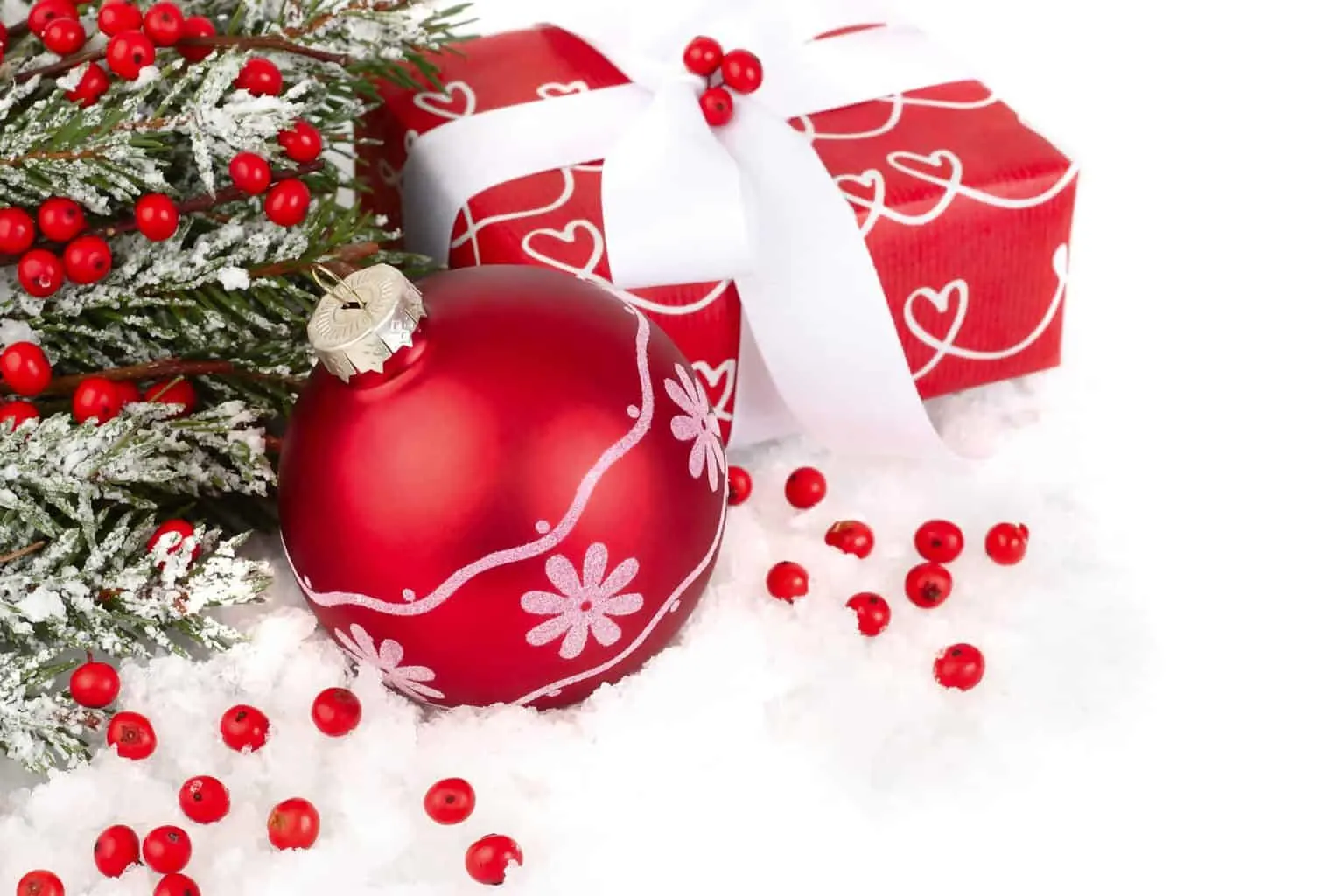 There are a lot of family Christmas traditions that only parents can really accomplish with their children.
The ideas presented in this article are ones I think Grandparents can either do with the Grandkids or with the Grandkids and their parents, as a family.
It's always a good idea to find out what traditions the child's parents are planning with their children and supplement those with your own Grandparent family Christmas traditions in order to make each activity special and unique.
It's fun to create something the kids will look forward to every holiday.
You can make strong memories with the Grandkids during the Christmas season if you have something special to consistently share with them every year.
Fun Family Christmas Traditions: Do Things
There are many things to do together during the holidays that will bring back warm memories in the years to come.
Even if you haven't done anything special up until now, you can start this year!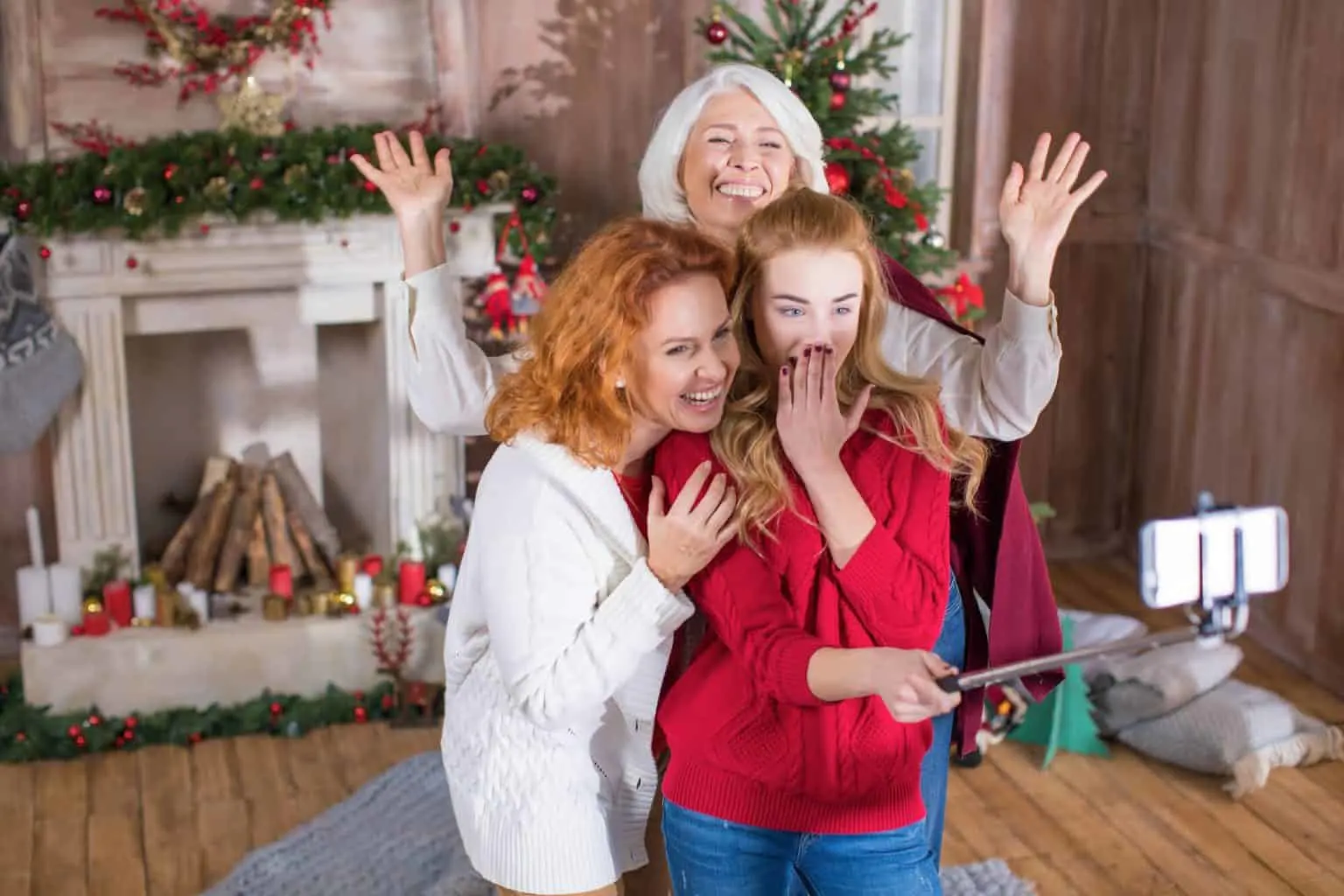 As an Amazon Associate and a participant in other affiliate programs, Passing Down the Love earns a small commission from qualifying purchases at no additional cost to you. See full disclosure here.
Take Family Pictures.
The best way to remember past Christmas celebrations is to preserve those memories through photos. Take pictures. Take lots of pictures!
My mother-in-law requires the families of each of her children to pose for a yearly photo every Christmas before any gift exchange takes place.
The Grandchildren are usually happy to comply knowing that when it's over, it's time for gifts!
They have done this since my husband was a baby (and he's 63!).
An occasional groan is heard, but you can bet we all love looking back at photos of past years!
Make Ornaments.
Kids love making things, especially if it involves glitter and glue.
Just kidding, you don't have to use glitter if you don't want to, but making ornaments for the tree is always a fun time.
Share a little nostalgia with them by cutting and stringing construction paper rings or making popcorn strings as we did back in the day.
(If you don't want to add that to your tree, hang them outside for the birds!)
Ornament kits may be a great idea.
They include everything you need and you don't end up with a ton of leftover supplies that you don't have room to store.
This pompom ornament kit is perfect for little kids while the bigger ones would enjoy making this Christmas angel.
Babysit the Kids.
Take the Grandkids for an evening close to Christmas so their parents can do some Christmas shopping and preparation without the children. (and do something fun with them – like help them make a gift for their parents or make hot chocolate and watch a Christmas movie)
Have Fun.
If you take the Grandkids overnight, let them sleep around the Christmas tree.
This is a family Christmas tradition they are sure to remember!
Play Christmas-related Games.
Playing games is a fun way to make family Christmas traditions.
You can get a game pack all ready to go, make up a game, or designate one of your games as "Christmas only".
This is one of the favorites that you save just for playing during the holidays.
Music.
Play and dance to some fun Christmas music. Alvin and the Chipmunks, the Meowing Cats, or and Children's Christmas music will work.
(If you have an Amazon Prime Music Membership, you can stream these for free.)
Make a Treasure Hunt.
Turn gift time into a treasure hunt by providing clues to the location of the gifts and the recipient.
I'm working on printables for this right now and will include a link here when they are done.
Print out the Christmas Scavenger Hunt printable. Send them on a hunt for all things Christmas.
You can do this before the holiday or during your Christmas festivities.
Train Around the Tree.
This is something we started a few years ago.
I bought a Lionel Train Set like we had when we were kids and gave it to my husband for Christmas.
Each year we get it out when we put up the tree and the kids have a great time with it.
The first year, they were little and simply watched, but now they are older and love running it around the tree and making the horn blow and lights flash.
They don't have one at their house, so this is something special that only happens and Grandma and Grandpa's house.
Put Up Your Christmas Tree and Lights Together.
Make it a family affair.
If you have an elderly person in your family who is no longer able to decorate their own tree, take an afternoon the weekend after Thanksgiving to help decorate their tree.
My friend, Rachel, and her family visit their Mom in early December and have a "tree trimming" party.
They have special food they prepare, drinks they serve, and games they play during the time they spend there.
Mom gets her tree decorated, her family spends time together not only having fun but also being of service to their Mom.
RELATED:
How to Use a Digital Photo Album to Stay Connected to Family
Fun Family Christmas Traditions: Go Places
Going places together during the holidays can get you into the spirit of Christmas. Especially things like these!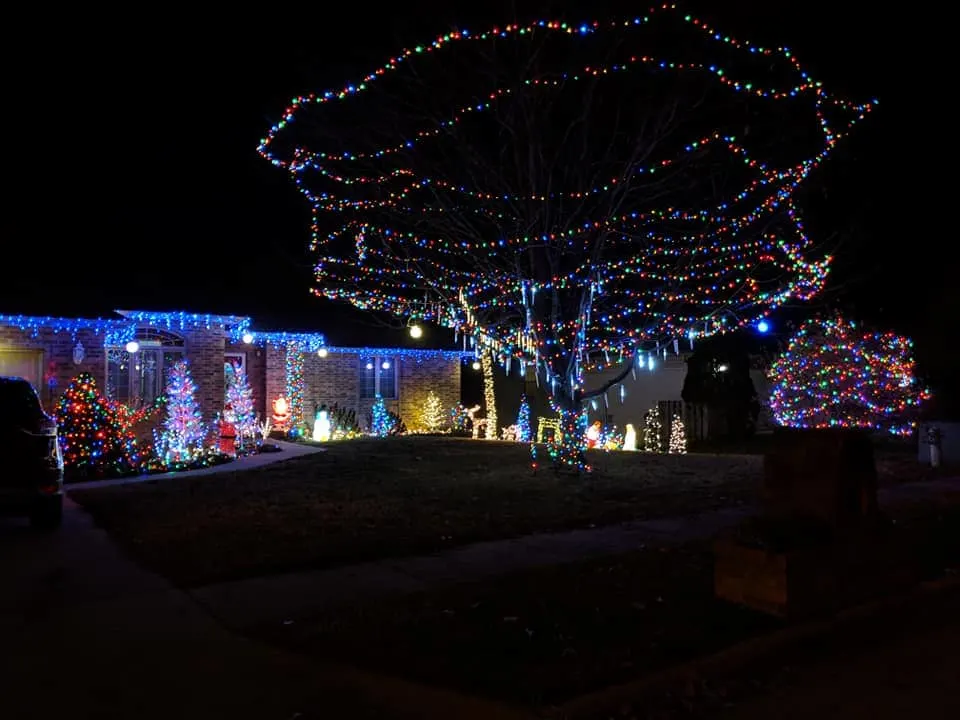 Enjoy the Christmas Lights.
Make a thermos of hot chocolate and grab some snacks.
We used a big Yeti thermos we got for Christmas last time. (It comes in handy for deer season, too, if you know any hunters)
Pack up the car and head out to see the pretty lights.
Attend a Christmas Pageant, Play, or Concert.
There are usually concerts, plays, and pageants at local churches, schools (your Grands may even be IN one!), or local venues.
Have your Grands seen "The Nutcracker"?
Something like this also makes a great "experience" gift if you're looking for something special to complete your gift list.
Attend a Local Celebration.
Our community's local businesses and organizations contribute "Christmas scenes" at our local park.
It's usually a drive-through experience, but one night during the holiday season is a designated "walking" night.
It's sometimes cold, so we bundle up for a one-mile walk around the park to see the lights, pet the reindeer and enjoy a warm beverage. So fun!
And in a city not so far away, the St. Charles Christmas Traditions Festival takes place with parades, Santas from around the world, and more.
What's going on in your town for the holidays?
Go Caroling.
Nursing homes, assisted living centers, senior centers, and even your own neighborhoods are great places to go caroling.
Who doesn't like to sing? And I'm sure you'll find an appreciative audience!
Show the Grands what it was like in years past. Did you go caroling when you were younger?
Go to Church.
Head to church for their candlelight service on Christmas eve. Or for services on Christmas day.
This is an excellent way to celebrate the holiday with family and a good reminder of why we celebrate.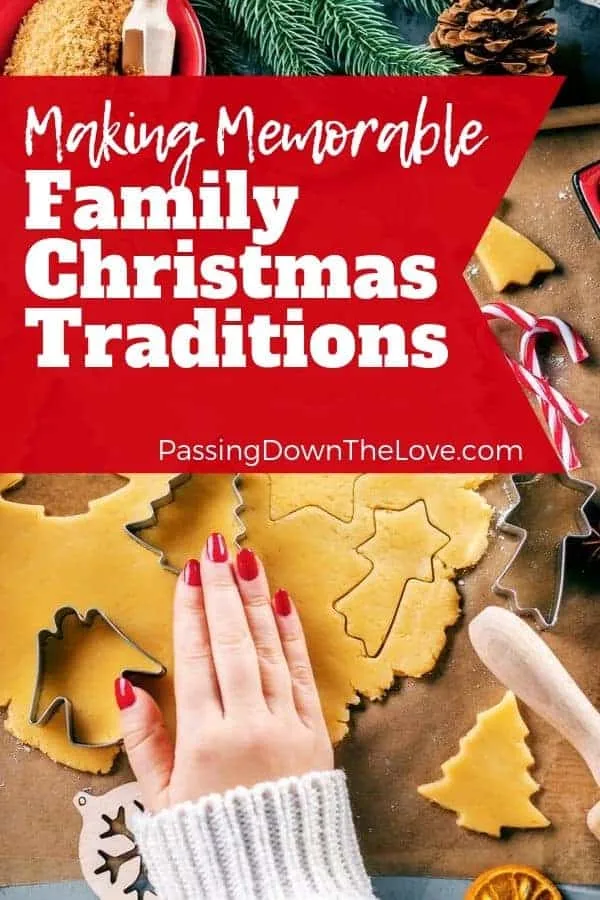 Since I live in Missouri, it would be wrong of me to not mention Silver Dollar City.
If you're close to Missouri, it's an awesome holiday experience.
My family went there a few years ago during the Christmas season and had a blast!
The millions of lights, the music, the food… We made some fun family memories. It is worth every minute!
RELATED:
Christmas Traditions: St. Charles, Missouri
Fun Family Christmas Traditions: Eat
Family meals have always been a big part of Christmas.
Food plays a big part in memories, so whip up something special to eat this year!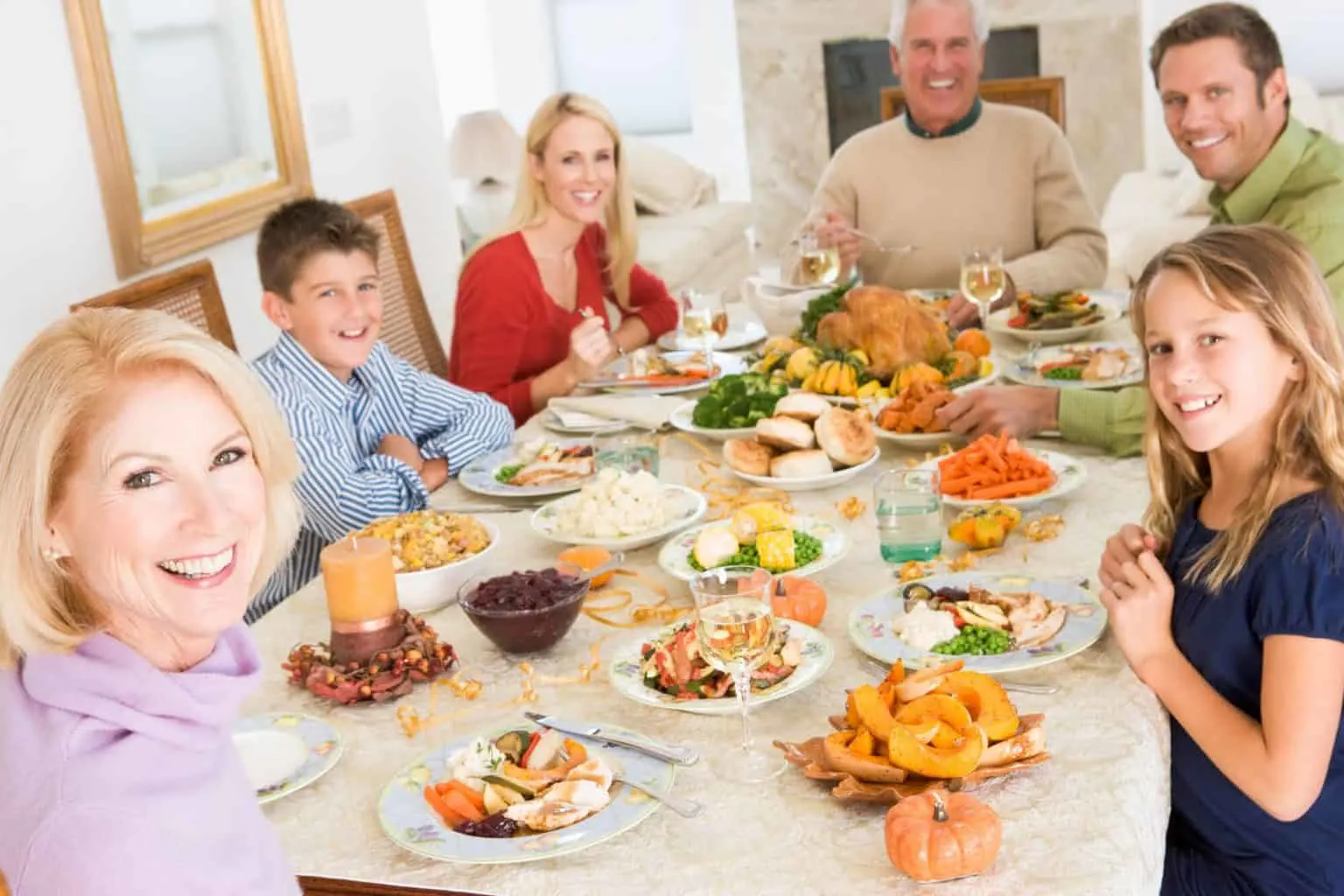 Make a Special Christmas Eve Meal.
When you're waiting for Santa, time seems to stand still. Spend that "waiting" time with a good meal!
Make a special Christmas Eve meal for the family. (Or a special meal on your celebration day, whenever that might be.)
When I was little, mom used to make homemade pizza for us on special occasions.
Ok, she may have done it more often, but to us, homemade pizza night was ALWAYS a special occasion!
It still is actually… We gather together on Friday night after Thanksgiving to get the Christmas party started.
With all the ingredients to make crusts and top the pizzas, we dive right in. Everyone has a job to do.
We even peel potatoes and have homemade french fries, too! A great combo! Really.
This is a special family tradition that outsiders don't understand until they've participated.
But even old boyfriends have asked to come back again.
Have a Dish or Dessert Served only at Christmas.
You know what I'm talking about here, right?
Uncle Paul's Ice Cream, That Salad, and Pumpkin Pie, of course.
What are your family's favorite Christmas dishes?
Having that one (or more) special dish that you only serve at the holidays or special occasions becomes memorable Family Christmas Traditions and will continue to add flavor to the holiday!
Chocolate Fondue
Everyone (ok, almost everyone) loves chocolate.
And having your chocolate in a different, unique form can be memorable. A fondue pot can help with that.
It can be semi-healthy, too, if you use cut-up fruit as your dipper.
You can also use marshmallows, graham crackers, pretzels, or a host of other yummy treats, but a fondue fountain like this one makes fonduing fun and memorable!
Make Cookies.
This is one of our favorite Family Christmas Traditions.
Making cookies.
WhenI was a young mother, my sons helped make cookies.
As they became teenagers, they lost interest, but I was fortunate to have two young nieces who loved helping me. (They've graduated college now and still come to help me every year.)
We've also added in my Grandkids now.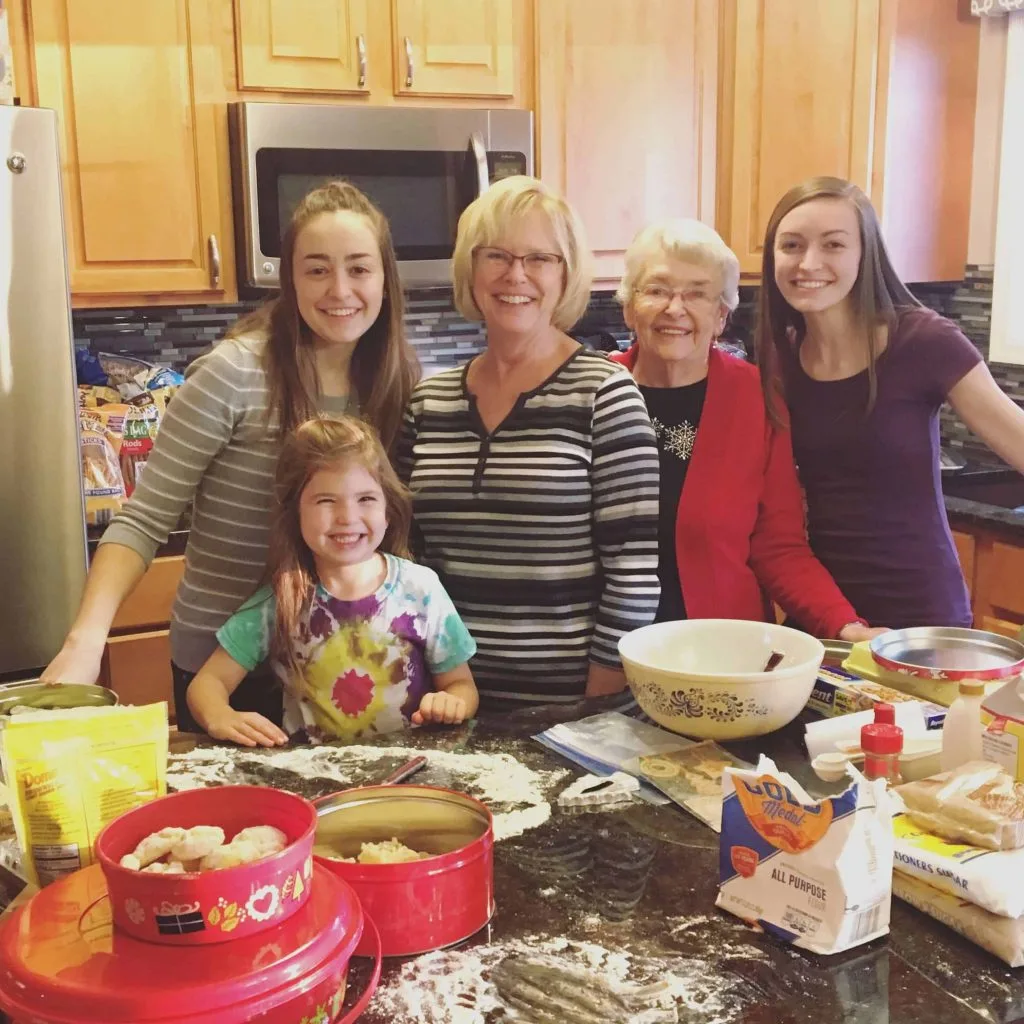 On my husband's side, cookie making is elevated to a whole different level!
His mom, (who is now in her 80's), makes sugar cookie dough and gingerbread dough for each Grandchild and Great-Grandchild.
She provides rolling pins, boards, cookie cutters, egg wash, paintbrushes, and the whole nine yards.
The kids all have a great time together from babies to young adults!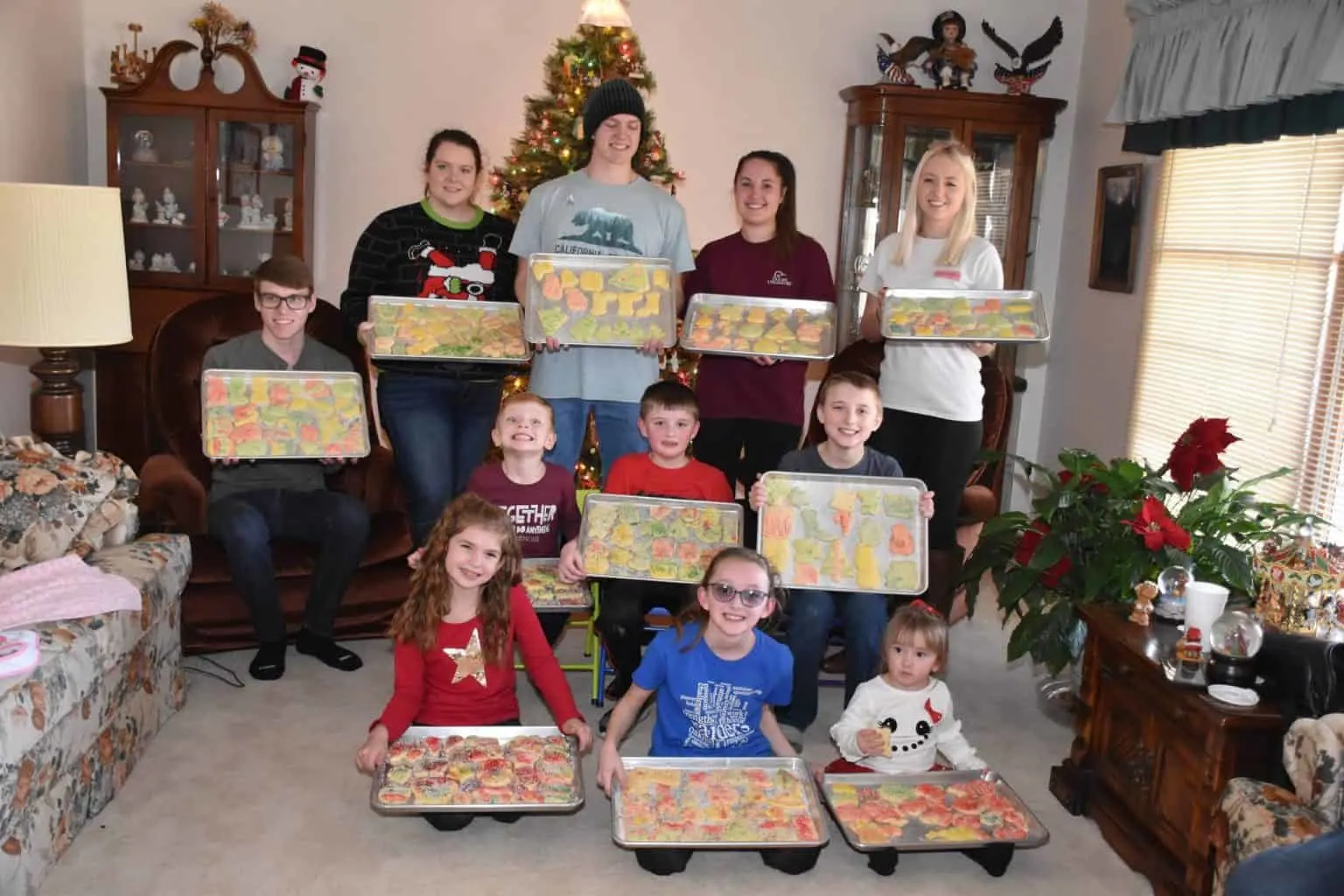 As you can see, it doesn't matter how you do it, just do it.
Baking in the kitchen with people you love is rewarding, fun, and a great way to create memories that will last a lifetime.
Donate Food to a Food Bank.
As you know, there are many who are less fortunate and would appreciate a warm meal at Christmas.
Giving to others is a great Family Christmas Tradition that will also share your values and impact your Grandchildren for years to come.
Set an example for your Grandchildren by showing them how to be generous and caring people.
Have a special bag or donation spot set up and ask them to bring something to add to the donation bag.
Share Christmas Dinner With Others.
You and your family probably know someone in your circle of people who are alone during the holidays for one reason or another.
Invite them to join you.
What an opportunity for you to share your family, traditions, and holiday celebration.
And I'm sure they will appreciate the warmth, friendship, and awesome food you have to share.
This, again, is an opportunity to show your Grandchildren an example of love and kindness.
RELATED:
Share Your Giving Spirit Volunteering with Grandkids
Fun Family Christmas Traditions: Celebrate
Christmas itself is a celebration made special with lights, trees, music, and fun festivities.
Celebrate Christmas in your own way and make memorable family Christmas traditions that will last a lifetime.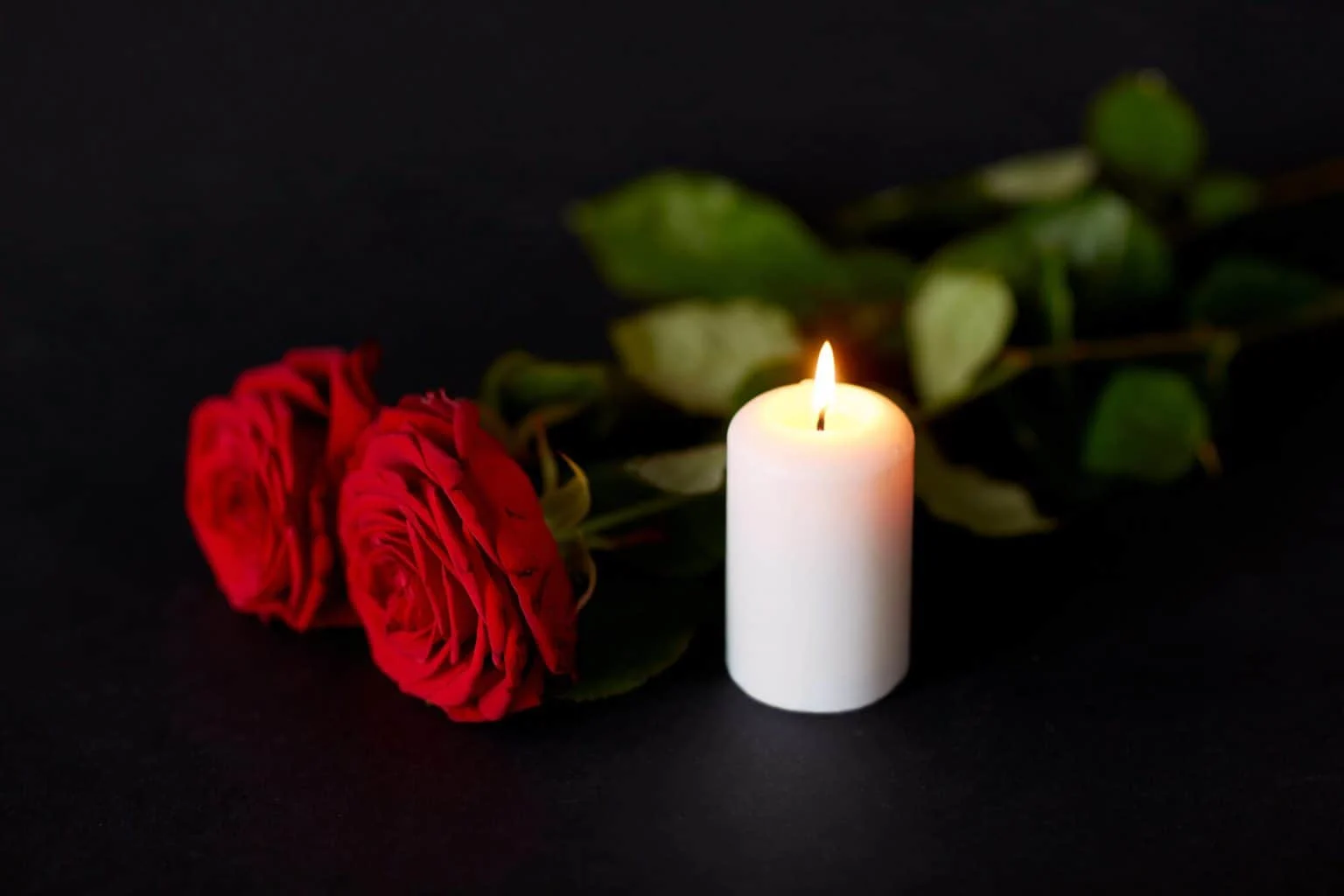 Light a Candle.
Celebrate those who are no longer with you during the Christmas holiday.
The first Christmas after a loss is especially difficult.
Help those in your family honor their loved ones by remembering them in some special way.
Share a memory of them with your Grandchildren who may not have even known this person.
It's a chance to pass down family stories and family history.
Seeing a special ornament on your tree will make their eyes light up!
Make it something personal for them – a soccer player, a baby rattle, or a tractor and let them guess who it represents.
Etsy has some of the cutest personalized ornaments I've found. They even have ornament kits to make your own ornaments!
Another great place to get something like this is at one of the many craft shows before Christmas.
Karen, from our Grandmother Facebook Group, says "We bought our kids ornaments every year while they were growing up and encouraged others to do the same. When they leave home, we give them a box of ornaments so they have something to put on their very first tree, although I've kept a few that are very special to me, too. Hope to do the same with my Grands."
Watch Christmas Movies.
We love to watch Christmas movies the Friday after Thanksgiving.
And while we make Christmas cookies each year.
Some of our favorites are Elf, Christmas Vacation, White Christmas, Miracle on 34th St., A Christmas Story, and Polar Express.
What are some of YOUR favorite Christmas movies?
Spend Time With Family During the Christmas Holidays.
Sometimes it's hard to get together on the actual holiday, but remember – it doesn't matter about the exact date.
The weekend before, an evening during December, or the week following Christmas are awesome times to celebrate.
Make this the time you reach out to family members you may not have had contact with during the year.
Send a card, a text, or an invitation to connect. Let them know you care!
Fun Family Christmas Traditions: Reading (& Writing)
Read the Christmas Story.
Christmas is celebrated because it's Jesus' Birthday.
Take time to remember that, celebrate that, and share the story.
Read from the Bible before opening gifts to remind your family about the real reason we celebrate Christmas and the greatest gift of all.
Reading to kids is important and during the holidays it can be extra fun.
Pull out the Christmas books, snuggle up on the couch and read. You can't miss with "The Night Before Christmas" or "How to Catch an Elf".
Send Christmas Cards.
If you're looking for a craft project to do with the kids over the holidays, why not make some cards to send to servicemen, kids in the hospital, or to your family members?
Taking a moment to say hello and Happy Holidays will mean a lot, especially with a handmade card or handwritten note.
Keep a Christmas Journal.
Use a journal to record your traditions, celebrations, and special memories from each Christmas season.
Keeping a record of things you've done, people you saw, and moments that were shared is a great way not only to remember but to leave your record of traditions and memories for the next generation.
Write a Christmas Letter.
Sit down and write about it.
Reflect on the past year, about the things that have happened with your family during the year, what has changed, and what has stayed the same.
Note any major changes like moves, marriages, births, graduations, and those who have gone.
Even if you don't send it to anyone, it feels good to look back, take notes, and dream about what's to come.
RELATED:
The Amazing Benefits of Reading Books to Kids
Special Family Christmas Traditions Make Warm Christmas Memories
Trying to do everything on this list is overwhelming and probably impossible.
Choose several things that you think you could incorporate into your holidays and include them in your celebration.
Memories are made through traditions.
Traditions create stability and security.
We know what to expect.
We have things, events and people we can count on, and we look forward to these each year.
What Family Christmas Traditions do YOU have with your people?
Start your own Family Christmas Traditions and
Keep Passing Down the Love,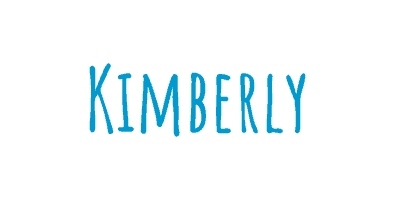 Related: