Reading to kids, surrounding them with books, talking about books you loved as a child, letting them see you reading, too. These are some ways to pass down a love of reading. And you know reading is important, right? Pass down a love of learning by reading to your Grandkids. Here are some of the benefits of reading to kids.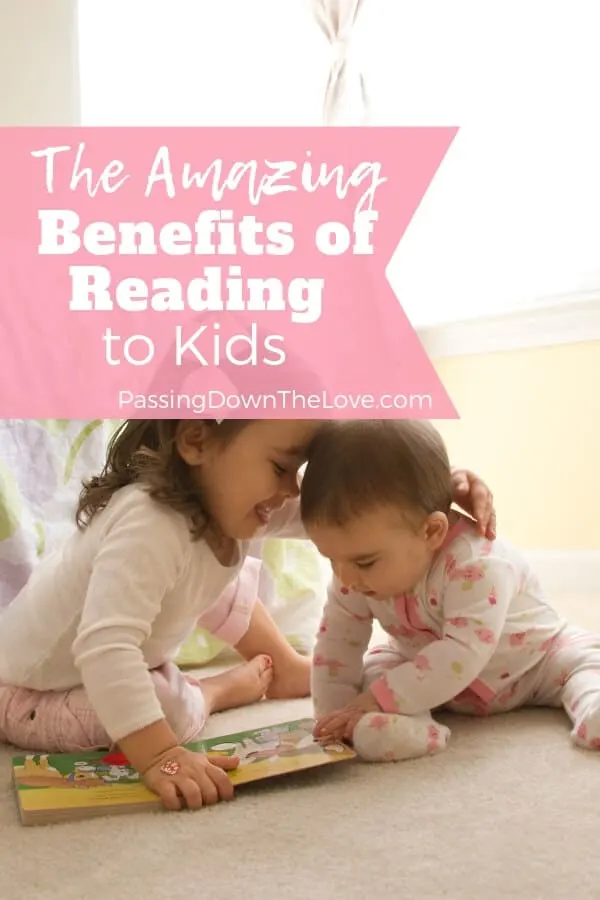 As an Amazon Associate and a participant in other affiliate programs, Passing Down the Love earns a small commission from qualifying purchases at no additional cost to you. See full disclosure here.
The Benefits of Reading to Kids
Research has validated the importance of reading books to kids. Reading to kids now gets them started on a life-long journey which includes a love of reading. Pass down the love by showing kids the importance of reading. Here's how.
It's fun!
I'm always looking for ways to have fun with the Grandkids – and they love books. The whole process of going through them and picking out favorites, or looking for something new is part of the excitement. Sharing fun moments together creates memories! Reading books can make us laugh, cry, feel happy, sad or excited. Have fun reading to your Grandkids!
It's good for the brain.
Stay sharp by using your noggin to read to the littles. Expand your horizons, learn something new – reading can do that for both of you! Exercise your brains and foster a love of learning by reading to your Grandkids and showing them the importance of reading books!
It improves the imagination.
A trip through a good book improves the imagination. Reading fiction draws you into another place, time, situation and expands the possibilities in your own mind. Increase creativity by reading to your Grandkids!
It builds vocabulary.
Reading enhances vocabulary. Whether it's your reading for yourself or reading to a child. New words are introduced, increasing your "word" knowledge. Expand vocabulary and pass down a love of learning by reading to your Grandkids!
It's a learning tool.
Books can show us places in the world, how to create a masterpiece or learn a skill. Books can teach us about history, how to save money, give lessons on caring and understanding other humans. Almost anything you can wonder about can be found through reading. What do you want to learn?
Early reading skills lead to academic success.
Reading is a vital skill for future success at school. It's never too early to develop a love of reading. When it's something enjoyable, it becomes an easier skill to master. Help your Grandkids become successful learners. Read 10 Ways to Help Your Grandchildren Become Successful Learners.
These are just a few concrete, real, reasons it is important to read books to kids. But here's my own reason:
Allows time for cuddling.
Having a child sit up in your lap to read is one of the joys of being a Grandma! I love having that special time with the Grands!
I have always had books at my house to share with my Grandkids. I'm pretty sure we've read most of them more than just a few times!
You could even start a tradition with your Grandkids with these great reading pillows from Kidderbug Kreations. Just add a new book for Christmas or birthdays! They will love it!
As I was reading about the value of reading to kids, I ran across this site. Have you ever considered having a subscription reading service? Epic! is a digital library for kids 12 and under. Their website says they have "Unlimited award-winning fiction, non-fiction, STEM, biographies, graphic novels, DIY & more". And unlimited access – read as many books as you can from anywhere, anytime. This service is even FREE for teachers.
Amazon has a program called Amazon Rapids
that serves up short stories and other reading for kids 5-12. Their program can be accessed from your mobile device – phone, iPad, Android, Amazon Fire and other. (See Amazon Rapids for details)
Check them out – either one of these would be an awesome Christmas present to give your Grandkids!
For more ideas and inspiration, check out these articles:
"8 Ways to Foster a Love of Learning in Your Children" from Raising Lifelong Learners.com
"10 Ways to Inspire a Love of Learning" from Getting Smart.com
Take time to read to your Grandchildren. Show them the importance of reading books. And Pass Down the Love of Reading.
Keep Passing Down the Love,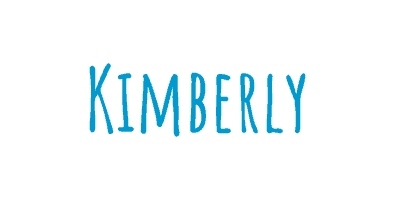 You may also enjoy these: