The Wedding Shoe Game will add a touch of fun to your celebration. Find out how well they know each other with this revealing game to play during your rehearsal dinner or wedding reception.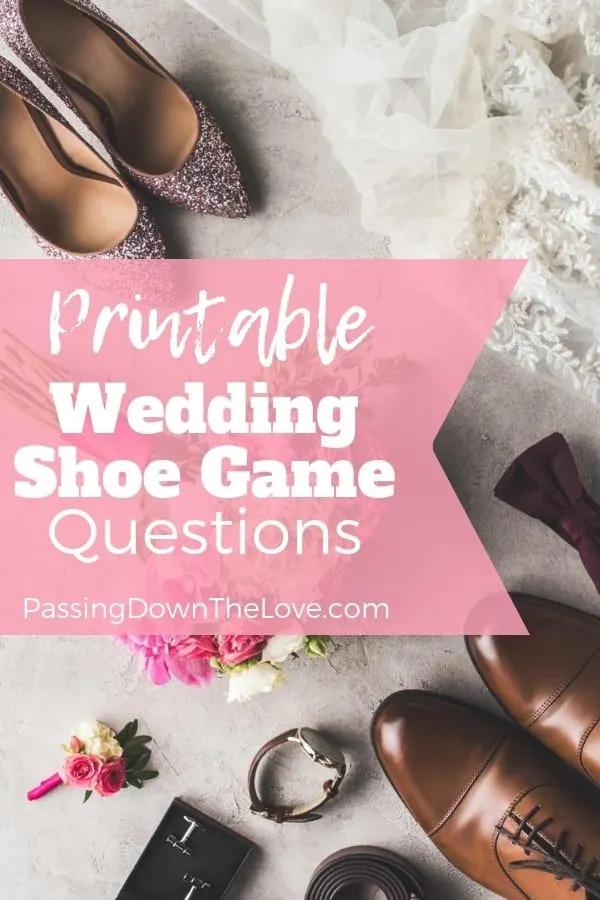 As an Amazon Associate and a participant in other affiliate programs, Passing Down the Love earns a small commission from qualifying purchases at no additional cost to you. See full disclosure here.
The Wedding Shoe Game
The Wedding Shoe Game is so much fun. We played this game at the rehearsal dinner for my son's wedding. It was a laugh-out-loud success! Everyone loved it and had a great time. It turned a "rehearsal and dinner" into a "get-to-know-them" session. The wedding party and families caught a glimpse into the relationship of the sweet couple who were about to say "I Do".
This game is adaptable to your own situation – you make up the rules, change the questions, and gain a new perspective of the participants!
Keep it simple. Make it silly. Just have fun.
(If you don't have time to read this right now, just Pin it for later.)
Oh, and by the way. If you're getting married and haven't made a gift registry yet, Target does a great job of making it easy! Find out more here:
Explaining the game.
To the Bride & Groom:
"Will you please join me here?
I have a few questions to ask you. I'm going to put you back to back so that you can't see the other's response…
Here are two batons for each of you, one pink, one blue.
Please raise the pink baton if the question describes the Bride and the blue baton if the question describes the Groom…"
These are the batons we used in our game: Pink baton — Blue baton. After the game, the batons were given as gifts to the flower girl and ring bearer. For a summer wedding, you could use sparkly flipflops for her and these awesome "fish" flipflops for him. In the winter, use cute lacy gloves and work gloves. You get the idea, tailor it to your bride and groom!
During the wedding reception, turn it into a real shoe game — the Bride & Groom have one shoe of the other and one of their own instead of batons.
Start the game….
Ready? Here we go:
These are some of the questions we used for our game. If you'd like to have all the questions, you can download them, no strings attached.

Questions:
Which of you is the oldest?
Who has more brothers and sisters?
Who is better looking?
Who takes longer showers?
Who takes the longest to get ready in the morning?
Who dresses better?
Who is usually the navigator when you're driving together?
Who is most likely to get lost?
Who is most likely to speed up at a yellow light?
Whose car is the cleanest?
Who spends more time at work?
Who exercises more?
Who takes out the trash?
Who is most dramatic?
Which of you is the biggest baby when you're sick?
Who has the nuttier family?
Who has curlier hair?
Who was the one who made the relationship FB "official?"
Who is always the first to say "I love you?"
Who proposed?
and Who was surprised?
Who is likely to "shed a tear" during this wedding?
Who is your favorite person?
Who do you love enough to marry?

Add a quirky, fun and personal question at the finish.
This was our final question for our own Bride & Groom.
"I know that you aren't big planners, but this final question
must be answered… And I'm sure you've already thought about this…
Who will wield the chainsaw during the zombie apocalypse?"
CLAP CLAP CLAP
"Thanks for playing. You're good sports!"
Sounds like fun to me! Hey, remember, I have a Printable with the Instructions and all of the Questions we used for our occasion. Click that message above and it will automatically download for you. You're welcome.
And as always – Keep Passing Down the Love,