Host an affordable family get-together while having a great time with these easy tips. Here are some ideas for food, fun, and enjoying family time while staying within your means.
How to Host an Affordable Family Get-Together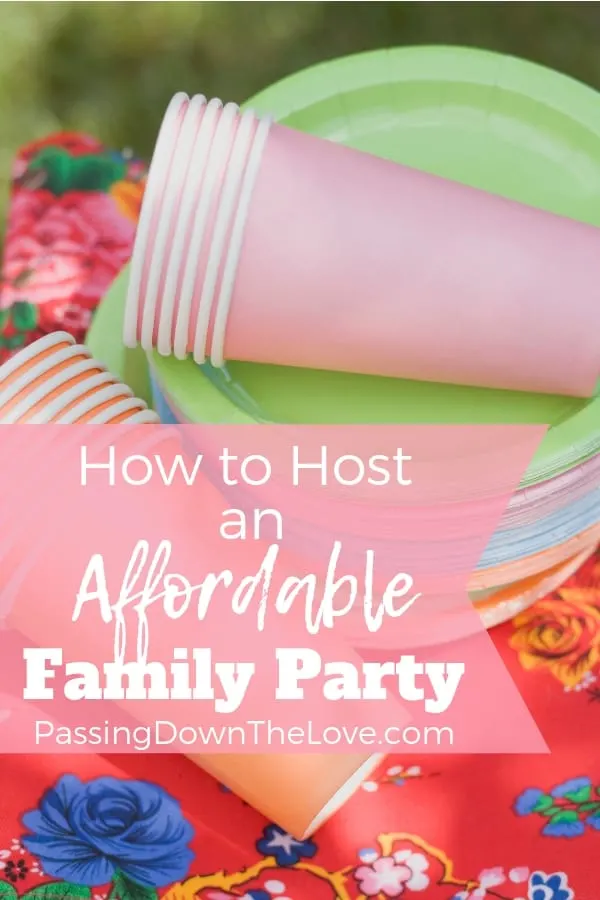 As an Amazon Associate and a participant in other affiliate programs, Passing Down the Love earns a small commission from qualifying purchases at no additional cost to you. See full disclosure here.
Keeping the costs under control while showing off your hostessing know-how is always a plus. You want to host an event they will remember without breaking the bank. Having a large family event can get expensive if you aren't careful.
Don't fret! I have you covered. Let me help you a little bit. There are so many ways to create a fun, easy affordable party. Here are some ideas for food, fun, and enjoying family time while staying within your means.
Get Started
Are you ready for the fun? Follow this guide to hosting your family get-together and I guarantee that you and your family will have a great time!
Consider Your Theme
This family get-together may be a celebration – graduation, an anniversary, engagement or a birthday. It may be an event – leaving for college, buying a first house, or saying goodbye before a big move. Whatever the occasion, consider your theme in that context. How do you want to celebrate this event?
Here are some theme ideas:
Western/rustic – Grill burgers and dogs, serve baked beans, corn on the cob. Suggest everyone wear their cowboy boots, play some George Strait or Loretta Lynn, and use bandanas as napkins. Decorate your wall with a western backdrop or props for a photo booth.
Make Your Own Pizza – Doesn't everyone love pizza? Our family has made the Friday after Thanksgiving our Pizza Night. Since turkey was on the menu the day before, and those leftovers will probably return multiple times in the next week, Friday is pizza.
A variation of our pizza night could work for the cost-conscious hostess. Provide the dough, pizza sauce, and cheese. Ask others to bring a topping: mushrooms, cooked hamburger or sausage, pepperoni, Canadian bacon, ham, pineapple, green peppers. You get the idea. Assign "teams" to build their own pizzas – Cheese lovers, meat lovers, vegetable lovers, supreme – pair up with others with the same pizza tastes. Take turns with the oven, eat, enjoy. To keep everyone entertained during the baking period, provide card games, karaoke, or start a game of charades.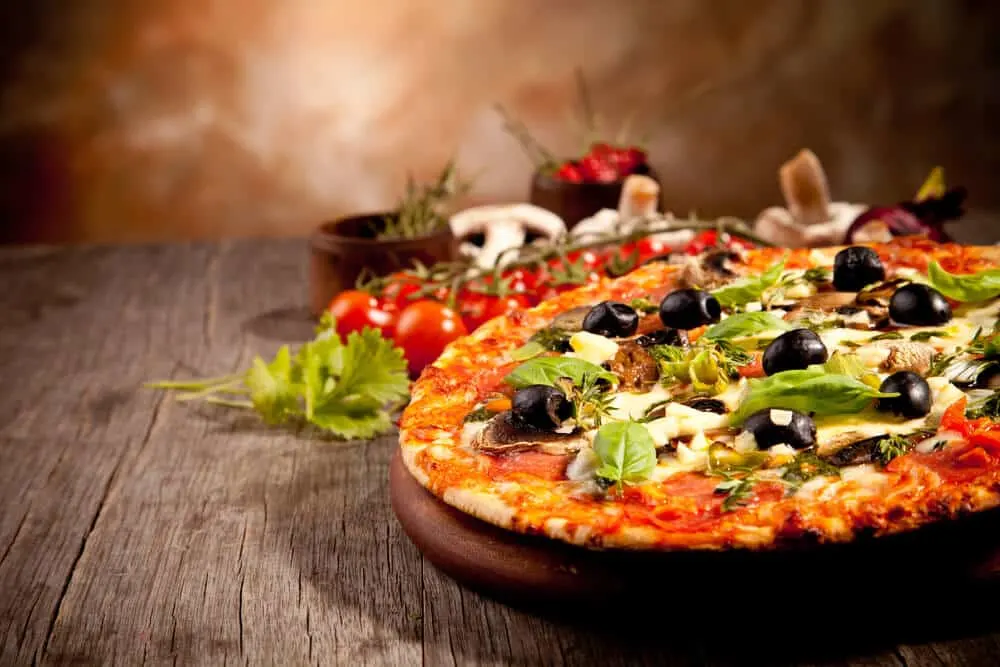 Racing/race car – Opening day of Nascar at Daytona is in February. This is a great time for the racing theme, but anytime could be a good time for this type of party. Decorate with checkered flags, use the kid's race track for entertainment, race cars for table decoration, hot wheels for favors. Food could include race track type food – nachos, hot dogs, peanuts, popcorn.
Outdoor Water Party – Having a pool would be the perfect way to have an outdoor water party, but since not everyone has a pool, here are some alternatives. Water balloons, sprinklers, a wading pool, or super soakers. Advise everyone coming to wear swimsuits and to bring a change of clothes. Serve "outdoor" food like fruit, including watermelon, finger sandwiches, chips, homemade ice cream like this, or popsicles.
Regional – Serve food from another area – Mexican, French, Chinese – taco bar, wine & cheese, or crab rangoon, etc. Plan your activities around the one you choose.
Movie/Book/TV – Develop your activities and food around your favorite movie, book or TV show like Harry Potter, Mickey Mouse or Star Wars. Dress up as the characters and have awards for the best costumes.
Deciding on a theme for your party is the first step. You're off to a great start! Let's move on to what comes next.
Guests
Decide who you will invite to your party. Since we're talking about a family get-together, family members will make up most of the guest list. Consider inviting boyfriends or girlfriends, or others that are close and "like family".
In today's world, it is acceptable to use Facebook to create an event and invite your guests. Just please don't forget those who are not on Facebook or who are infrequent users. Be sure to call or text an invitation to them as well.
If this is a more important event, like an anniversary celebration or a baby shower, you may want to send actual snail-mail printed invitations.
Food
When it comes to food, refer back to your theme. If your theme includes obvious food choices, your menu should be easy. If not, opt for simple solutions like make-ahead dishes. Avoid spending the entire time in the kitchen by keeping it easy. An outdoor party with grilling is an opportunity to ask guests to bring a pot-luck side dish. In the example above, have guests bring ingredients for the pizzas. Make this an afternoon or lunch party and have everyone bring their favorite appetizer.
It's always helpful to have easy finger foods, especially if there are young guests. Dollar sandwiches, fruit kabobs, chips and cookies or cupcakes are always a hit with the littles.
For goodness sake, if you don't want to have a lot of cleaning up to do, use paper products and plastic utensils. Honestly, unless you're having food that a paper plate won't support or meat that can't be cut with a plastic fork, your guests won't mind. Especially if it's an outdoor event or casual occasion. If it is a seriously formal, important event that may warrant the extravagance, go ahead and use regular dishes.
Activities
Don't just invite family over to eat and sit, though sometimes that is appropriate, too. Make it memorable and fun by providing an activity or game. Look at your theme for ideas. Get out old photo albums and tell family stories. Play Red Rover or croquet, washers, cornhole or Giant Jenga. Play in the water, play cards, play games.
If you're looking for outdoor games for kids I have some suggestions here. And Rebecca at Financially Minded Millennial has some additional suggestions for outdoor activities for an affordable family get-together. Offer options to suit the guests you are expecting. Encourage guests to join in.
Decorations
Start by looking around your house for things you already have to use. I hosted a wedding shower recently. The flowers used in my son's wedding last year also matched the colors used for the shower, so my daughter-in-law allowed me to borrow them. They were beautiful and worked perfectly! We have a yearly Daytona watch race party and reuse the checkered flags each year. Find ways to use what you already have to avoid spending extra money.
If you are unable to come up with suitable decorations, head to an affordable source like Dollar Tree for items you still need.
I hope these ideas help you to plan an affordable family get-together. Use the comment section to tell me about the parties you have hosted. Have a great get-together!
Memories are created by time spent with your family. Talk, laugh, and play together. Form bonds and traditions by hosting a family party. It doesn't have to be costly to be fun and memorable. Take the lead, offer to host, get started making memories.
Keep Passing Down the Love.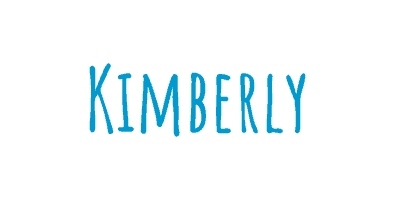 If you'd like to subscribe to our newsletter and receive a bonus, too, sign up here.
You may also enjoy these: