Family Wedding Traditions
The BIG day is right around the corner. The knot is being tied. They're getting hitched. Becoming One. Joining together in Matrimony.
Whatever you call it, it's an incredibly special day in your life or the life of someone you love.
Incorporating family traditions into the ceremony gives special meaning to the important event.
There are many ways to recognize and include your family in the day. Here are a few ideas.
Something Old
The bridal tradition, "something old, something new, something borrowed, something blue", is a long-observed wedding ritual. The "something old" can make a wedding day memorable, even if the bride is the only one who knows about it.
For the women in our family, that "something old" was Grandma's pin. Not flashy, probably not a million dollar item, but valuable to us just the same.
The pin belonged to my Grandmother's aunt. She passed this pin down to my Grandma, who then entrusted it to my Mom to share with the girls in the family.
Mom and the girls have had the privilege to include this pin in our wedding memories since 1977. I was the first to proudly wear this pin on my dress when I married my husband many years ago.
Each of my sisters and my niece wore it on their wedding days. In honor of my Grandma, I also wore this special pin when each of my sons married.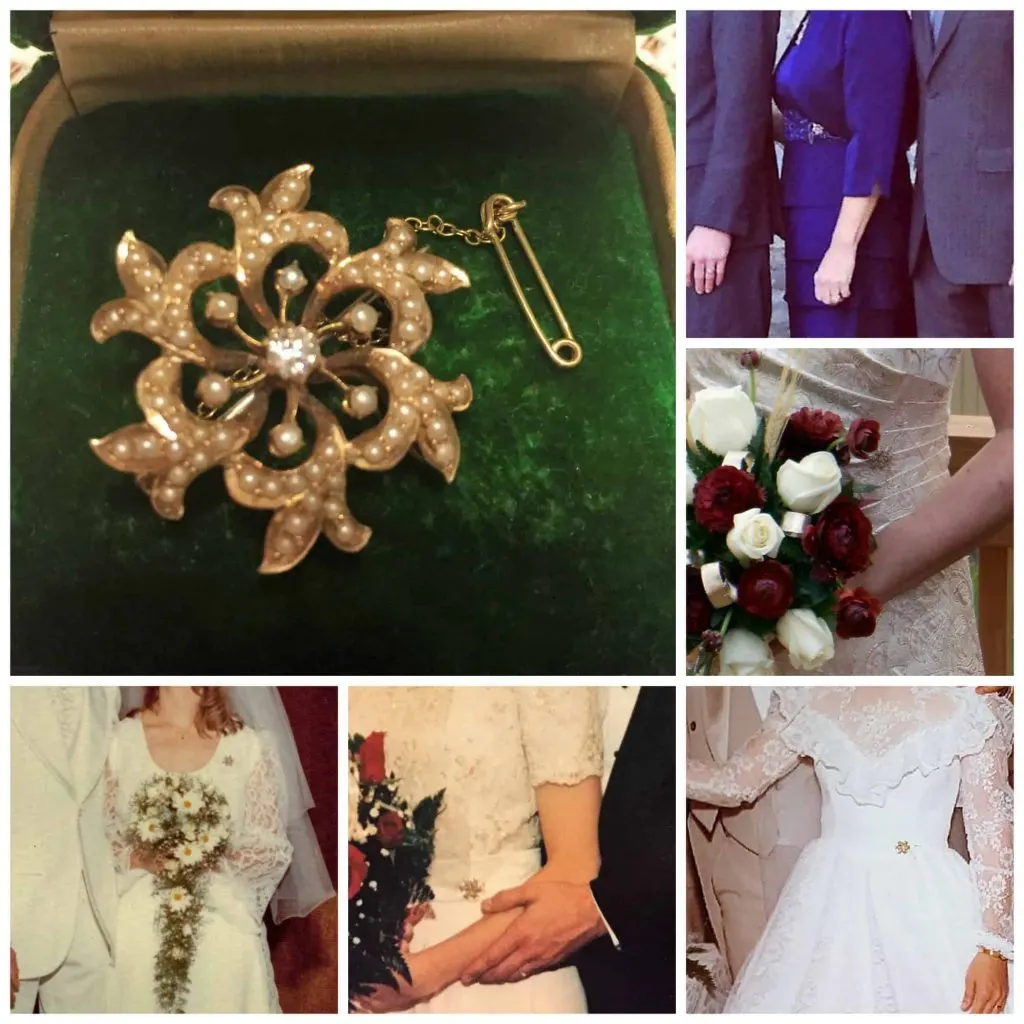 As an Amazon Associate and a participant in other affiliate programs, Passing Down the Love earns a small commission from qualifying purchases at no additional cost to you.
Jewelry
Jewelry that may have been around for decades, can connect generations when passed down through a family. Their value is tied to the memories and love they represent.
A necklace, pin, or ring can be worn or used in many different ways: Simply wear the piece, attach it to your bouquet, or wear it hidden on the inside lining of your gown. It may also be appropriate to ask a mother or grandmother to wear the piece for you.
Even if you don't think it complements your style, including this type of family wedding tradition in your own day will bring a smile and happiness to those who know the meaning.
Pictures
Family members with a history of successful marriages are an inspiration to a young couple just starting their life together. Adding a display table at the reception is a great way to honor those marriages.
My son & daughter-in-law who recently married, come from families where both sets of parents and all of their grandparents have had long, happy marriages. Each couple loaned a picture from their own wedding and they were displayed in a designated area at the reception.
Acknowledging these important people in their lives was very special, reinforcing the goal to also have that kind of life together. Here are some great ideas for displaying pictures.

Personal Items
Your Grandmother's handkerchief wrapped around your bouquet like in this example or your grandfather's pocket watch for the groom would fall into this category of family wedding traditions.
Including these things at your wedding is a way to honor those that may not be with you on this day. And if you are fortunate enough to still have them with you, think how much they will cherish this gesture.
Music
Another way to incorporate family traditions is through the music you choose for your wedding. Choose a favorite song to play during the ceremony.
Dance to a meaningful song with your parent during the reception. Music has a way of stirring memories, injecting some nostalgia, or bringing a smile.
Memories are reflected in the music. Use music in your ceremony to recognize family connections and create a lasting memory.
Include Your Traditions
Every woman is beautiful, especially on her wedding day. Excited, happy, and in love with her groom, she prepares for the big moment when she looks into the eyes of the one she loves and says "I do".
Incorporating family traditions into your ceremony can make the day memorable for you and your guests as well. Honor your family as you
Keep Passing Down the Love,