Kimberly's Sweet Tea:  The Healthier Version
It's a hot summer day.  You and your Grandkids are looking for some refreshment.  Sweet sugary drinks like Kool-Aid or juice boxes will only serve to amp them up.  To avoid that sugar rush and its consequences, Kimberly's Sweet Tea may be the perfect drink and the answer to your dilemma.
What better to quench that thirst, but some sweet tea?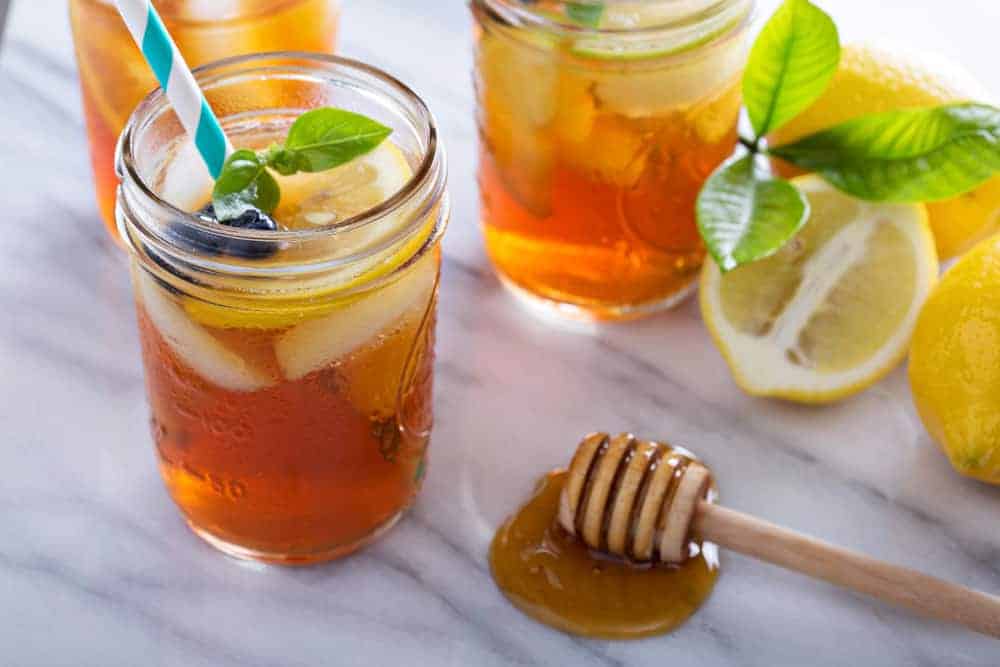 Sweet tea, usually found in the Southern half of the U.S., has many variations, but each one demands a massive dose of teeth rotting, diabetes causing, unhealthy sugar (sorry, folks, but it's true).  Or the use of artificial sweeteners which we're really trying to avoid and wouldn't serve to the Grandkids anyway.
So, in response to the apparent need for a sweet tea without the use of sugar and a sweet tea that is just as good (or better), this recipe was born.  By using honey to replace the sugar, a better, more good-for-you tea exists.
I know what you're thinking.  It won't be as good as sweet tea with sugar.  You might think you're going to miss the sugar, right?  Well, you won't, I guarantee it!
How do we do it?
The secret to keeping all of the beneficial properties of honey is to get the water hot, but not boiling.  This way the honey incorporates well into the mix but does not lose the good nutrients inside.  So pay attention to the instructions.  Heat the water to steaming, NOT boiling for the best results.
Kimberly's Sweet Tea:  Good and good for you.  It doesn't get any better than that!
Get the recipe
You can download this recipe and any of our other recipes from our Members Only area when you subscribe to our newsletter.  The Members Only area has recipes, PDF's, Grandparent checklists, printables, and other valuable content.
Sitting on the back porch on a hot afternoon sipping a cold glass of sweet tea.  The perfect refreshment on a summer's day!
If you aren't a fan of sweet tea, maybe you are a strawberry fan.  For a thirst-quenching, delicious summer drink, you may like this Easy Strawberry Lemonade recipe.  Or this Strawberry Lime Smoothie recipe.
Keep Passing Down the Love,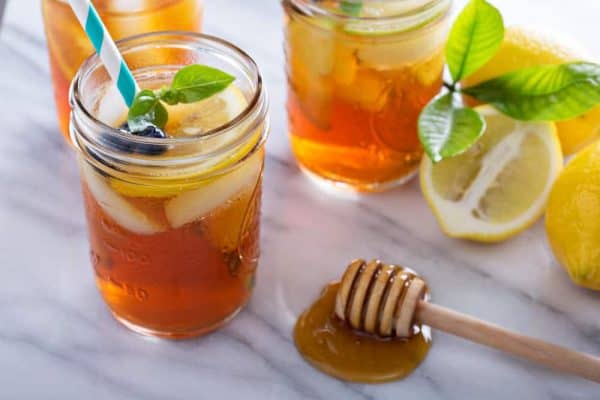 | | |
| --- | --- |
| Servings | people or 1 really thirsty person |
| | |
| --- | --- |
| Servings | people or 1 really thirsty person |
Heat 2 cups of the water in a saucepan on the stove just to the point of steaming. Add tea bags. Allow tea to steep for 8 minutes or a little longer for a stronger brew.

Remove tea bags and stir in the honey. Add the remaining 6 cups of water to a 1/2 gallon pitcher then add the tea and stir. (If you're serving this tea right away, replace 2 cups of the water with 2 cups of ice.)

Slice the lemon and add it to the mixture. Add the mint leaves to the pitcher, or to the individual glasses. Mint is optional based on your taste preference.