Remember the Saturday morning cartoons you watched back in the day? Those vintage cartoons take you back to a simpler time. Nostalgic TV and old-school cartoons have a way of doing that…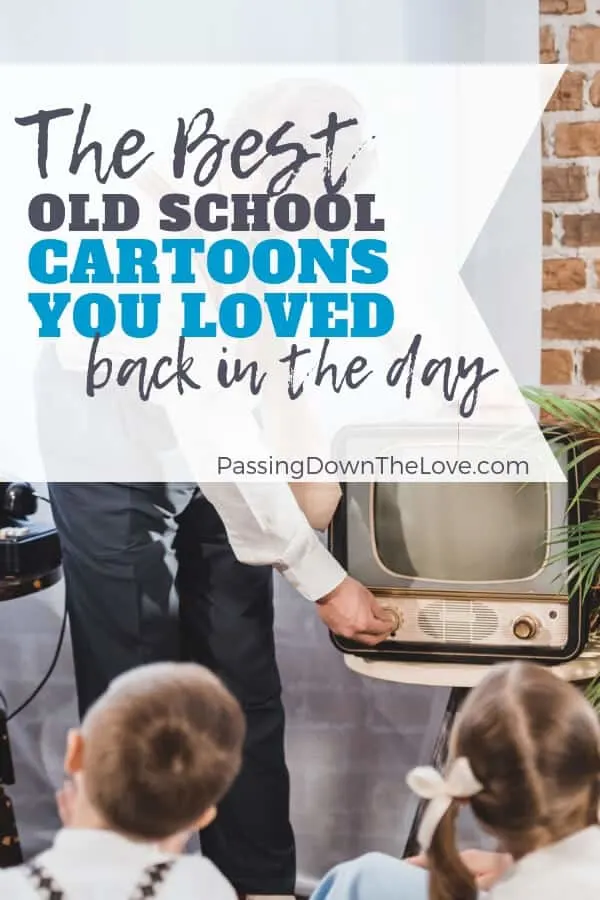 As an Amazon Associate and a participant in other affiliate programs, Passing Down the Love earns a small commission from qualifying purchases at no additional cost to you. See full disclosure here.
As Grandparents, we want to share our pasts with our Grandkids. Family history, old photos, traditions. Showing them little glimpses of the past can help them understand you and your "time in history" a little better.
With technology advancing faster than you can blink, you don't have to look too far back to see the changes that have come. Just think about the quality of animation today in movies like Hotel Transylvania 3 and The Incredibles.
But hold on. Even if the quality of animation was lacking, you have to admit, old school cartoons were crazy funny.
Try it. Share your favorite old cartoons with them. The kids will laugh themselves silly at the antics, animation, and downright ridiculousness of these old school cartoons. And you remember when I told you how important it is to laugh, right?
Here are some glimpses back at my favorite old cartoons – a dose of nostalgic TV just for you.
A Warning: Please be careful. I got pulled into these vintage cartoons and spent hours reliving the past! I know you're curious. You've probably already scrolled past these words and it's too late already, isn't it? Because we all love old cartoons!
Take a look, then tell me which one of these old school cartoons was YOUR favorite…
Bugs Bunny
M.I.C. K.E.Y. M-O-U-S-E… You're singing it, aren't you?
Mickey first appeared in the movies in 1928. Then a color version appeared in 1935. Micky came to TV in the 1950s on the Mickey Mouse Club. It was still in black and white for me until sometime in the 1970s. How about you? When did you first have a color television? (I'll bet the Grandkids couldn't even imagine that – black and white TV!)
Of course, Donald Duck was seldom alone in the cartoons. He had his pals Goofy, Pluto, Daisy, and many others who were adventurers together.
Do you remember this one? Jonny and his Dad go on adventures with Hadji and Bandit. I thought this was the coolest and couldn't wait for Saturday morning. It may have been a little edgy, you know, shooting up a giant spider and all… But really, wasn't Wylie Coyote and the Road Runner just a little bit violent?
The original Scooby Doo is from 1969 but still survives today in movie form. The Grandkids are still enjoying the Mystery Machine. Take a look back at where it began. Scooby Doo Where are you??
The Road Runner. Remember? Do cartoons get any funnier?? What was YOUR favorite?
RELATED:
The Pink Panther
Fighting all who rob or plunder… Underdog!
Someone else mentioned this cartoon to me, so I included it, but I don't really remember Atom Ant, do you?
I had forgotten all about this one until I started rummaging through You-Tube for these cartoons. Do you remember Cool McCool?
Rocky & Bullwinkle
These days I seem to have the same eyesight difficulties as Mr. Magoo…
I love the narration in Huckleberry Hound Dog. And I think the sheepherder episode is probably the one I most remember. Oh, my darlin', oh, my darlin' Clementine…
The Flintstones
And you can't forget the Flintstones. This is a favorite of everyone!
You may want to watch out for this episode, though. Don't get this song stuck in your head!
Yogi Bear & BooBoo
Yogi Bear episodes are perfect for watching with the Grandkids.
We packed a picnic (here is a basket like the one we used), put out a blanket in the middle of the floor, watched Yogi Bear and had dinner.
The kids laughed so hard that it had us in stitches, too. Let's watch it again, Grandma. And we did…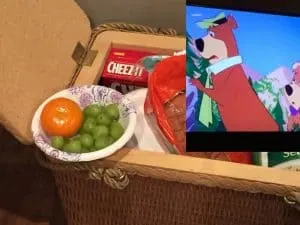 The Jetsons
I can think of a ton more like Tom & Jerry, Pixie & Dixie & Mr. Jinks, Quick Draw McGraw, Touche Turtle & DumDum, Magilla Gorilla, Dastardly & Muttley, and Popeye the Sailor Man.
But I saved the best (in my opinion) for last. These classic old school cartoons have to be my all-time favorite.
Wile E Coyote & the Roadrunner
Foghorn Leghorn
What was your favorite cartoon from "back in the day"?
Share your favorite old school cartoons with me and remember to…
Keep Passing Down the Love,