Dyeing Easter eggs is one of the fun memories you can make with kids. Here are some super fun Easter egg dyeing ideas that you and the kids will remember!
Easter Egg Dyeing Ideas
Easter egg time is almost here.
It's time to drag out your old T-shirt, boil some eggs, and get ready to make a mess!
There are a million Easter egg coloring ideas out in cyberspace.
Let's narrow it down for you!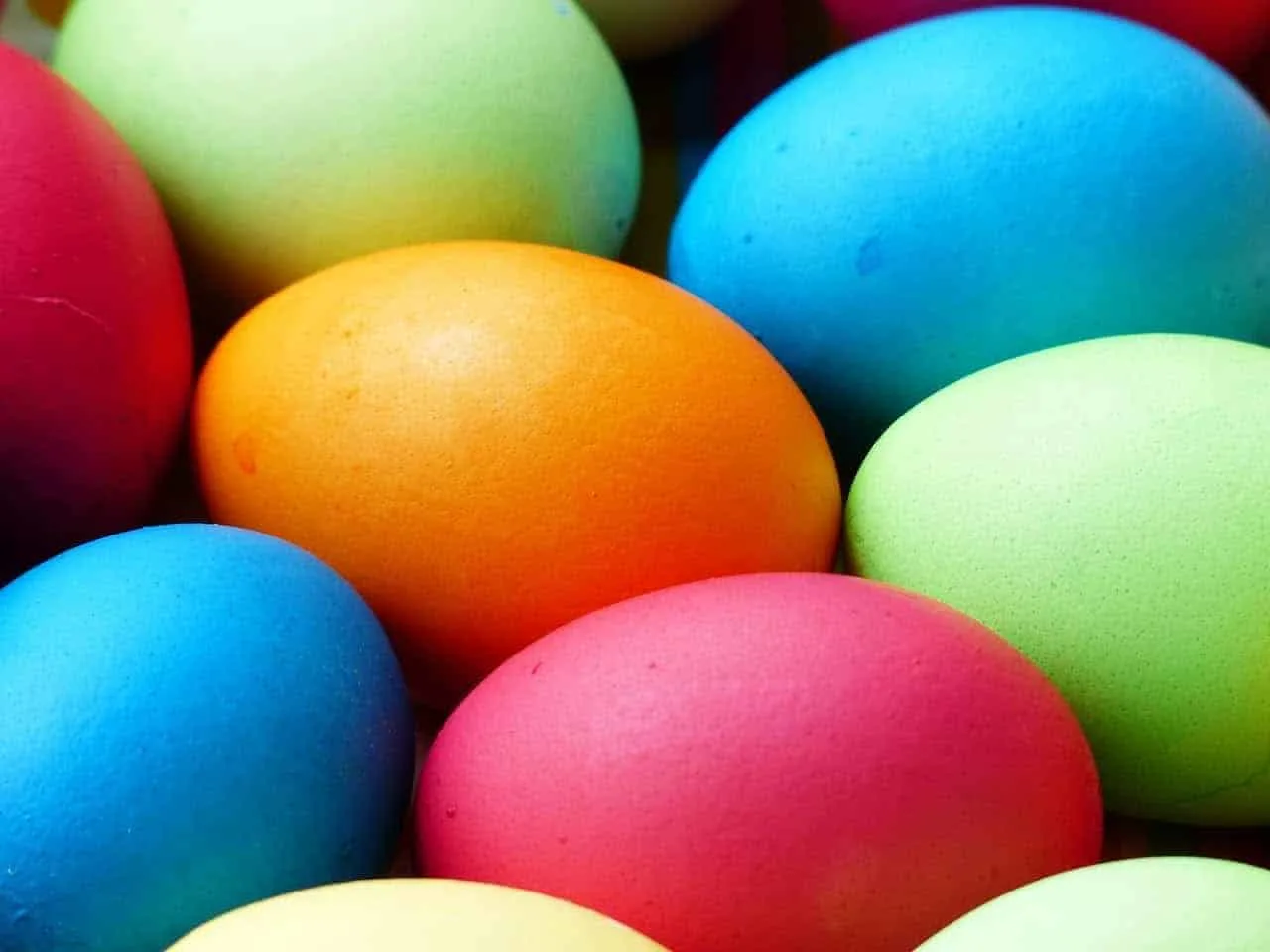 As an Amazon Associate and a participant in other affiliate programs, Passing Down the Love earns a small commission from qualifying purchases at no additional cost to you. See the full disclosure here.
Easter Traditions
My husband's family had a yearly tradition of gathering together for this Spring activity.
Tables were set up in the garage, multiple cups with different colors of dye, stickers, crayons, and dipping spoons and a variety of other "tools" are provided.
His family is large, so there was always a big group, having a great time together, anxious to see who can produce the best design.
My grandkids will be coming over again this year to help me decorate eggs, following in the footsteps of those before us.
In preparation for them, I've been looking online for some new ways to decorate this year.
Some pretty great ideas are listed below.
Visit these excellent sites and check them out.
You might find something that will work for you!
Egg Dyeing Ideas
How to Dye Easter Eggs
The simplest way to color eggs is to use items that are probably already in your cabinet, like vinegar and food coloring.
Video instructions can be found here at Realsimple.
Add Sparkle to Easter Eggs
For a little sparkle & glitter, check out AForksTale and their decoupage eggs.
Your Grandchildren will love adding jewels and bling to their Easter eggs!
Use a Natural Egg Dye
This batch of eggs is beautiful, but the method seems a little odd… and fragrant!
Find out how to dye eggs using produce at Kitchn.
Let me know if you try this one. I'm curious about the result.
Dying Eggs with Shaving Cream
This Grandma is Fun (this is a great website, by the way!) shares her method of using shaving cream to dye Easter eggs.
This one sounds like an interesting way to add color to our eggs.
And a little messy, no doubt.
But that's the fun of this, right?
Dyeing Eggs is a Science Project
This egg dying experiment from ToddlerApproved is just as much science as it is fun.
If your little one – or even your bigger one – is into volcanos, this method is for you!
Enjoy the eruption as your egg turns into a work of art!
Easter Egg Dyeing Supplies
Here are some supplies you might find useful to have on hand.
Depending on what method of Easter egg coloring you plan to use, pick and choose your supplies from this list.
Eggs, hard-boiled and dry.
Food coloring
Vinegar
Baking soda
Paint brushes
Cups
Plates with an edge or bowls
Water
How to Save Dyed Easter Eggs
Do you know that you can save dyed Easter eggs?
Choose one egg from those you've made – your very favorite one.
Make sure it is not cracked or broken at all, not even a little. Hard-boiled eggs can be preserved and not smell if they are not cracked.
The inside eventually hardens and after a year or two you can hear a hard ball rolling around inside. Just turn it – don't shake it or it can crack.
And remember what I said about cracking? 🙂
Put your dyed eggs in a small basket with some Easter basket grass.
Store them in a safe place where they won't be disturbed. We keep ours in the china cabinet where we can see them, but not touch them.
Get them out next year and take a peek. You'll remember all the fun you had doing those and will look forward to adding more to your collection this year.
We have eggs we made when my now 30+ year-old-boys were young and they're still awesome!
Make Memories Dyeing Easter Eggs with Grandkids
These are just a few of the many ideas floating around in internet-land.
The perfect egg dyeing adventure is waiting.
Make a memory with your family and friends by spending time together this Easter!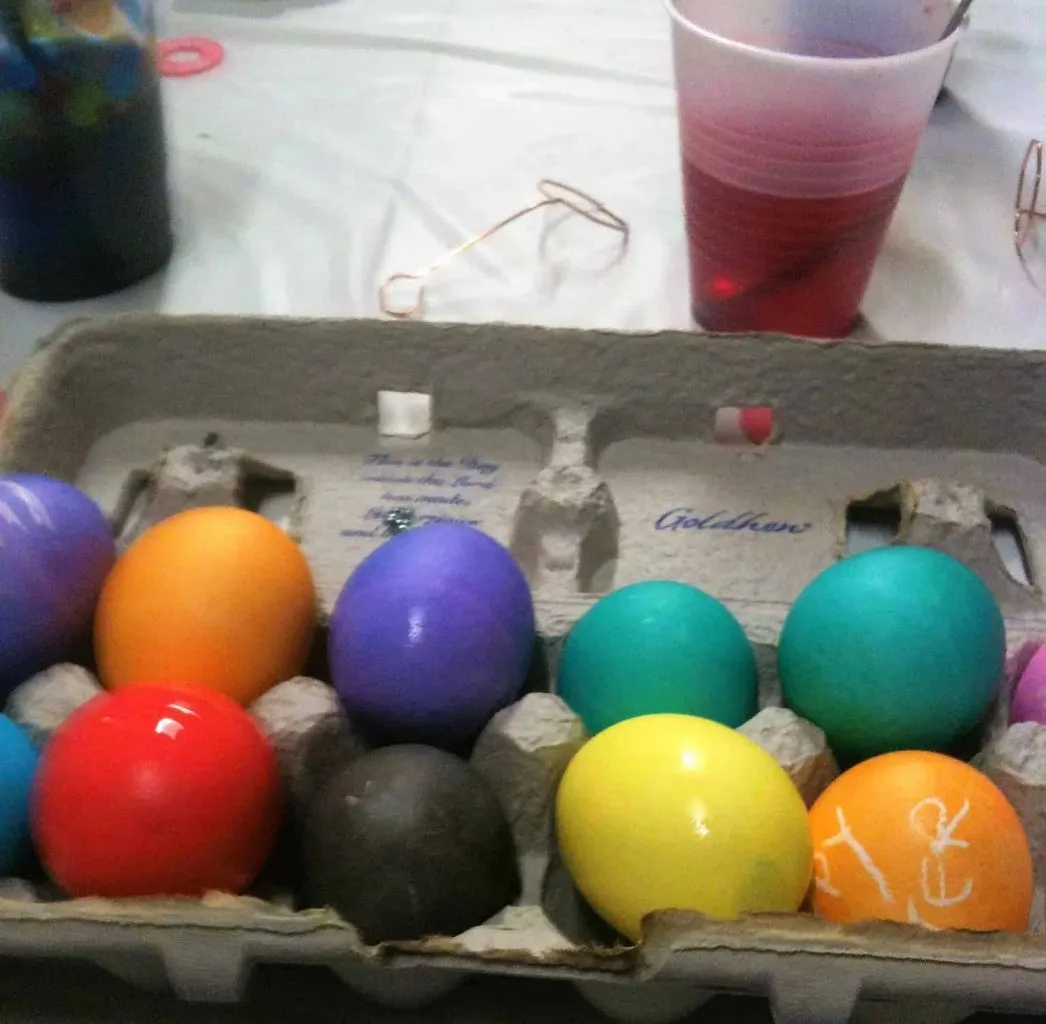 If you have any other fun egg dyeing ideas, please share them in the comments below.
Keep Passing Down the Love,