A little fruity, a little healthy, this quick and easy recipe for Frozen Banana Pops fits the bill! It's a fun and tasty recipe kids can make themselves.
Frozen Banana Pops
Making this yummy treat is easy and fun!
Even toddlers can help you to create a treat they'll love.
And it's not totally unhealthy, either, with Greek yogurt and a banana!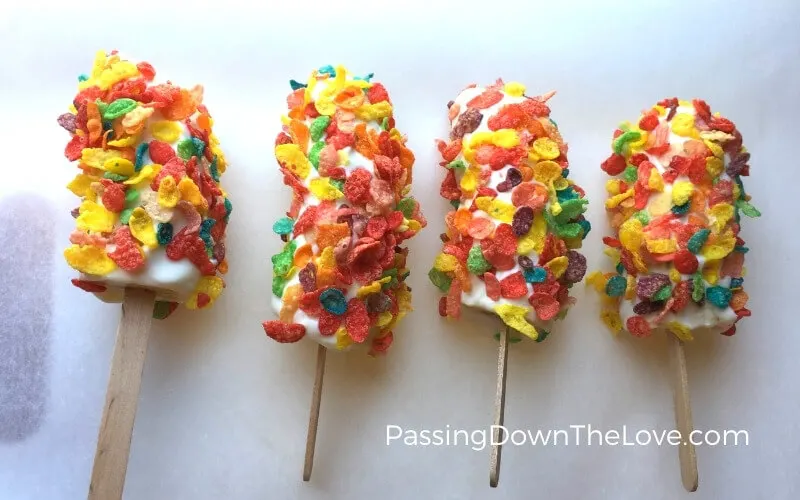 Kids Can Cook!
The kitchen is an awesome spot to start making memories with the kids.
Even when they're still small.
Toddlers can manage to pour cereal in a bowl, roll (or dip) a banana in yogurt, and roll it in cereal.
The hardest part will be convincing them to put them in the freezer for an hour or two to actually freeze them!
You know, though, you CAN serve them NOT frozen.
They'd then become simply "banana pops" instead of FROZEN banana pops.
And really, there's nothing wrong with that.
If you're looking for other things to make with kids, look here:
Where to Begin
Start with a simple ingredient list:
Bananas
Vanilla Greek Yogurt
Cereal
Popsicle sticks
Then follow the simple directions.
Cut the bananas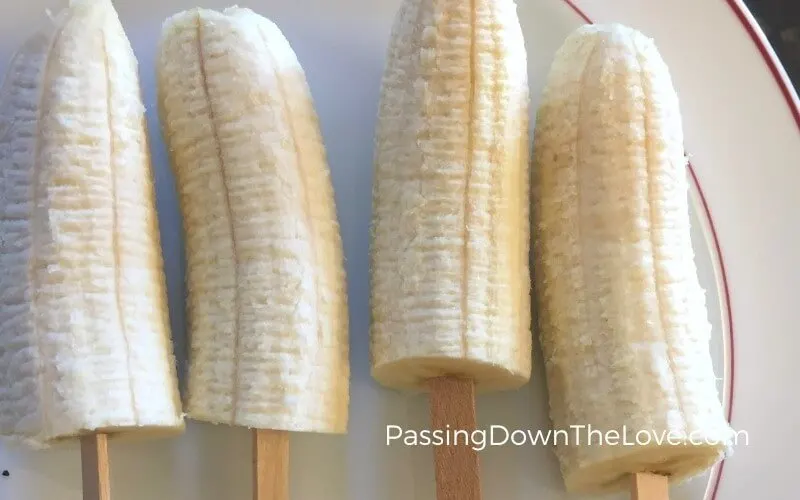 Put the yogurt on a plate and roll the bananas to coat them.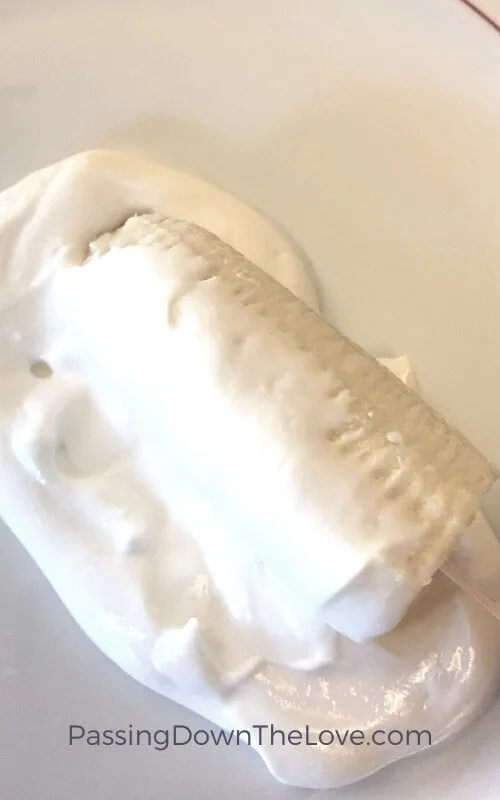 Roll them in cereal.
We used Fruity Pebbles to give this yummy treat a fruity flavor.
Cereals like Rice Krispies will have the same crunch, but might not be as sweet.
Your preference, dietary restrictions, etc. will determine which cereal is best for your pops.
(The Fruity Pebbles make the banana pops colorful and appetizing for little ones, too!)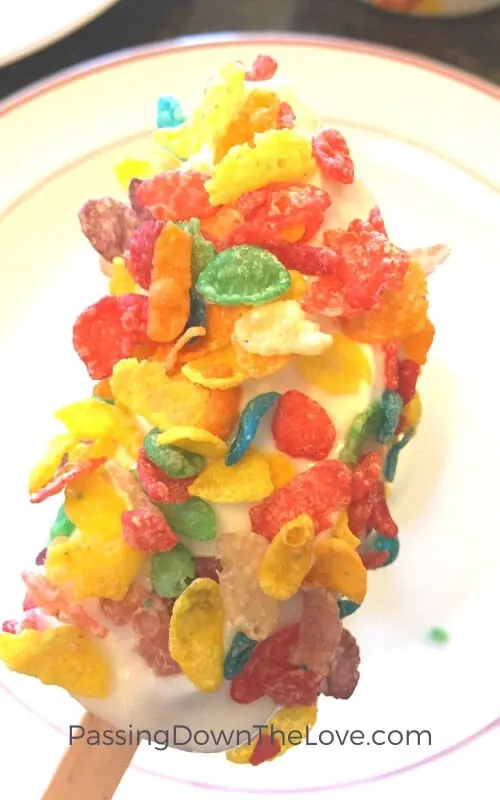 Now put them in the freezer for and hour or two.
And there you have it – Frozen Banana Pops, ready to devour, share, and enjoy!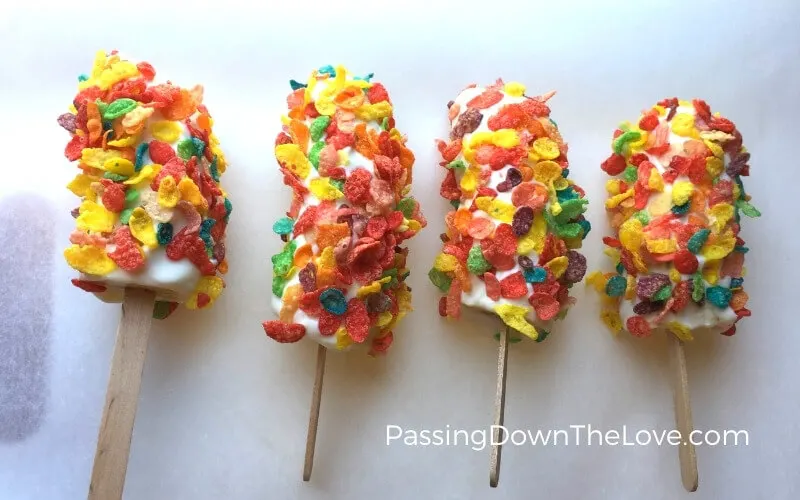 Here is a printable recipe for you if you'd like to have a paper copy to reference while making them.
Yield: 6 pops
Quick & Easy Banana Pops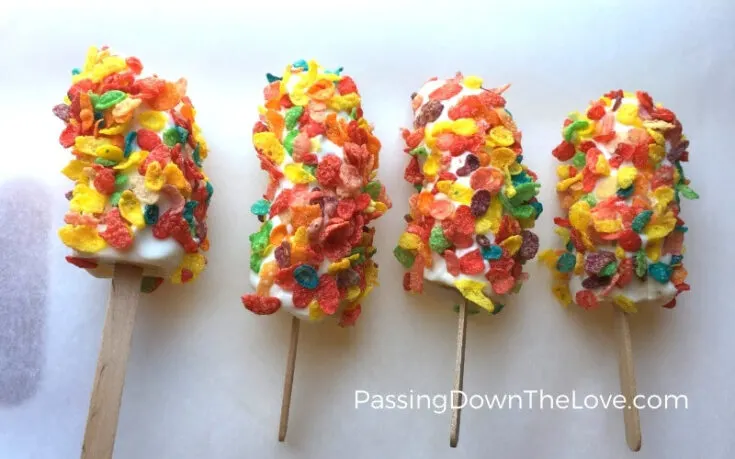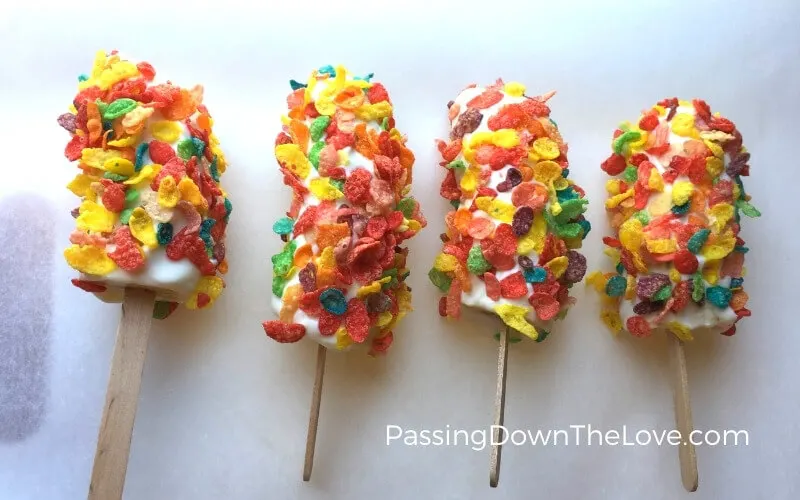 Quick and easy Frozen Banana Pops are nutritious and delicious!
Cool yourself on a hot summer day with these tasty treats.
Total Time
2 hours
10 minutes
Ingredients
3 Large Bananas
1 8oz Container Vanilla Greek Yogurt - or any other flavor you prefer.
1/2 Cup Cereal - Rice Krispies, Fruity or Cocoa Pebbles or similar cereal
Instructions
Peel bananas and cut them in half, cutting across (not lengthwise)
Pour and spread the yogurt onto one plate and the cereal on a second plate.
Insert a popsicle stick into the cut end of each banana.
Roll each banana first in the yogurt, then in the cereal.
Place the finished bananas on a cookie sheet or baking pan lined with parchment paper or wax paper.
Put them in the freezer for 2-3 hours until frozen.
Store them in an airtight container until you're ready to eat them!
Notes
For a variation on this recipe, roll the bananas in the yogurt then into chopped nuts, coconut, granola or mini chocolate chips.
Recommended Products
As an Amazon Associate and member of other affiliate programs, I earn from qualifying purchases.
Another version: Dip the bananas in chocolate instead of yogurt, use sprinkles, nuts or coconut and you have these: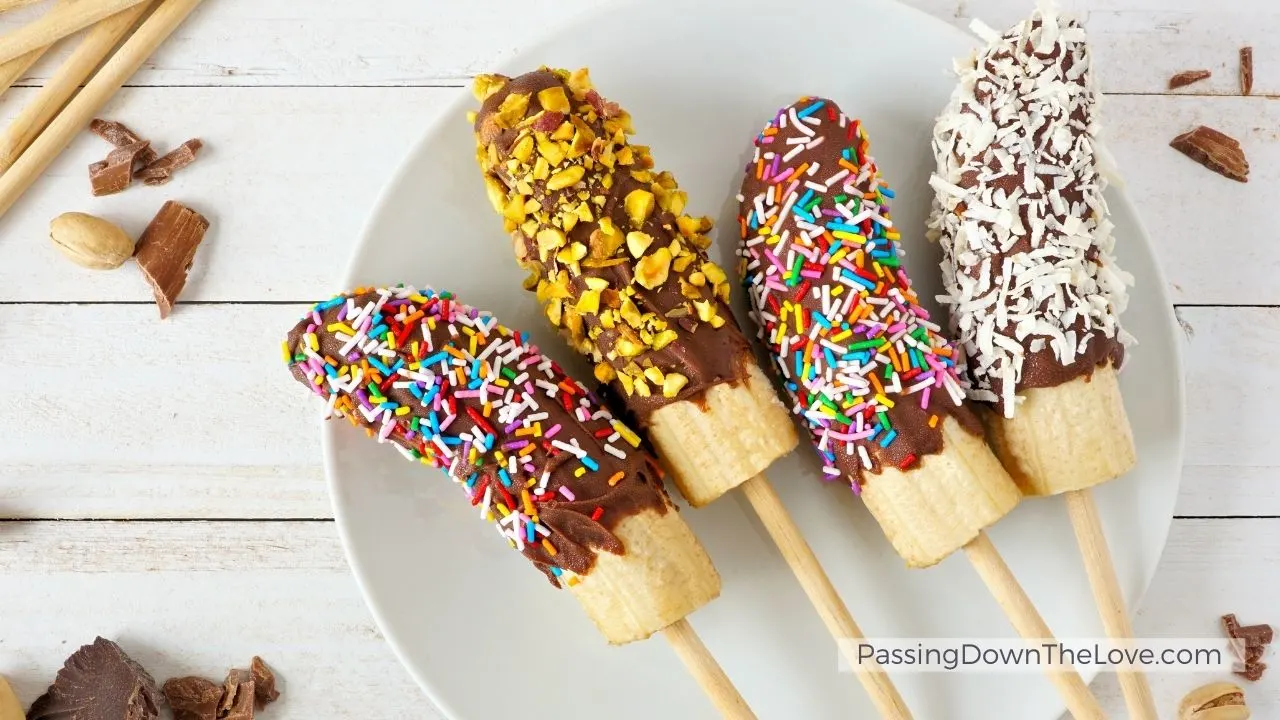 Enjoy the banana pops, but mostly enjoy the time you can spend in the kitchen making memories with the little ones!
Keep Passing Down the Love,