"Open When" letters and cards are a fun and easy way to let someone know you are thinking of them.
Give words of advice or encouragement through this thoughtful, meaningful gift. Here are some "Open When" letter ideas and printables for sending to children or Grandchildren.
What a clever way to say "I love you" to someone special.
"Open When" Letter Ideas for Kids and Grandkids
"Open When" letters and cards are a fun and easy way to let someone know you are thinking of them.
Give words of advice or encouragement through this thoughtful, meaningful gift.
Here are some open when letter ideas for sending to kids or Grandkids.
In fact, #2 of the "Top Tips for New Grandmas" is to be there, but not in the way.
What a perfect answer – with these letters, you're only there when the letter is opened. And when that happens it is their choice…
What is an "Open When" letter?
"Open When" letters are letters written to your child or Grandchild (or anyone you choose, for that matter) for a specific situation, time, or event. The purpose is to remind them of your love.
It is an avenue for you to send assurances that they aren't alone, and are worthy, appreciated, and cherished no matter what experiences that are having at that moment.
When I first saw "Open When" letters, I thought it was a great idea for couples.
With someone in the military, working out of state or out of the country, or for other long-distance relationships, they are a great way to stay connected.
But you know what?
These "Open When" letter ideas would also be great in other situations.
They would be perfect for parents to send to their children or Grandparents to send to their Grandchildren!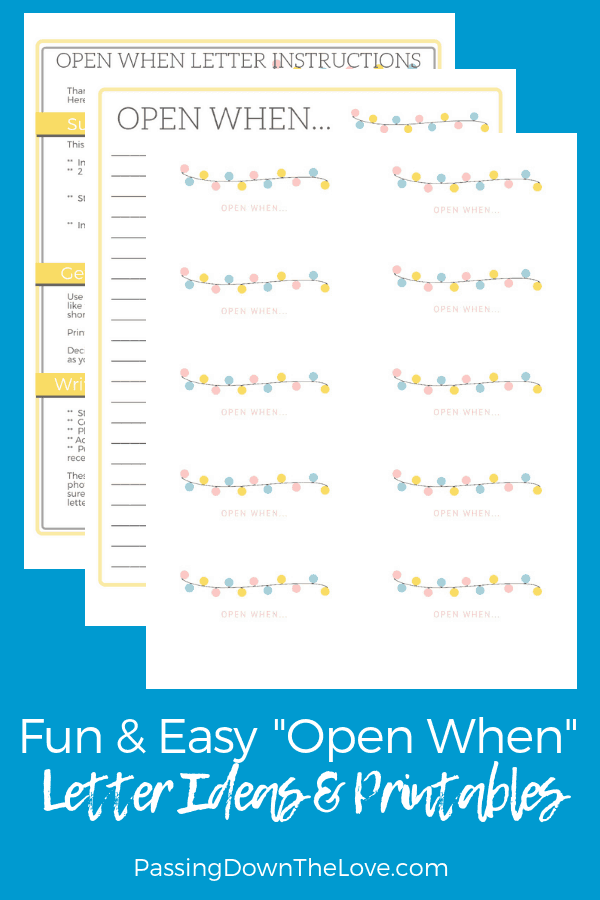 As an Amazon Associate and a participant in other affiliate programs, Passing Down the Love earns a small commission from qualifying purchases at no additional cost to you.
"Open When" letters are usually hand-written.
They are very personal and can convey feelings that otherwise might go unsaid.
A thoughtfully written "Open When" letter can bring a smile, a tear, or give the reader something to contemplate.
It can be encouragement, reassurance, motivation, support, or help with a difficult decision.
They can also be funny, corny, or silly. The decision is yours.
You can use these "Open When" letter ideas to suit your own personality and circumstances.
Situations where "Open When" letters would be used:
For Encouragement – "Open When" letters are not just for someone far away.
They can be appropriate for anyone who could use some kind words, support, or inspiration.
Connecting long distance – For long-distance Grandparents and Grandchildren who are trying to stay close, these letters can help to bridge that gap.
Your Grandchild will feel your presence and know you care each time they reach for one of the letters you have carefully prepared for them.
For an especially difficult time – Hearing from a loved one who cares, at just the right time can be such a valuable thing.
A child who is having difficulty in school, whose parents are divorcing, or is dealing with other challenging events would certainly appreciate your words.
To be sure that your words are heard on special occasions – Instead of doing a full-blown, little moment "Open When" letter series, you might want to do a "Major Life Occasion" series of letters for your Grandchild to read.
Prepare the letters and give this gift now, while you are still well and able to do so.
Then as each event unfolds, the letters can be opened.
If it happens that you don't get to be there, your voice will still be there to express your feelings about the special event.
This can be a treasured gift from you to your Grandchild.
To leave a legacy, just in case – These letters work well for a person with a terminal illness to leave for spouse, children or Grandchildren.
For Grandparents who may be facing a serious illness, "Open When" letters can afford them the opportunity to say things to their Grandchildren on those important occasions they might never see like graduation, marriage, or other life-altering events.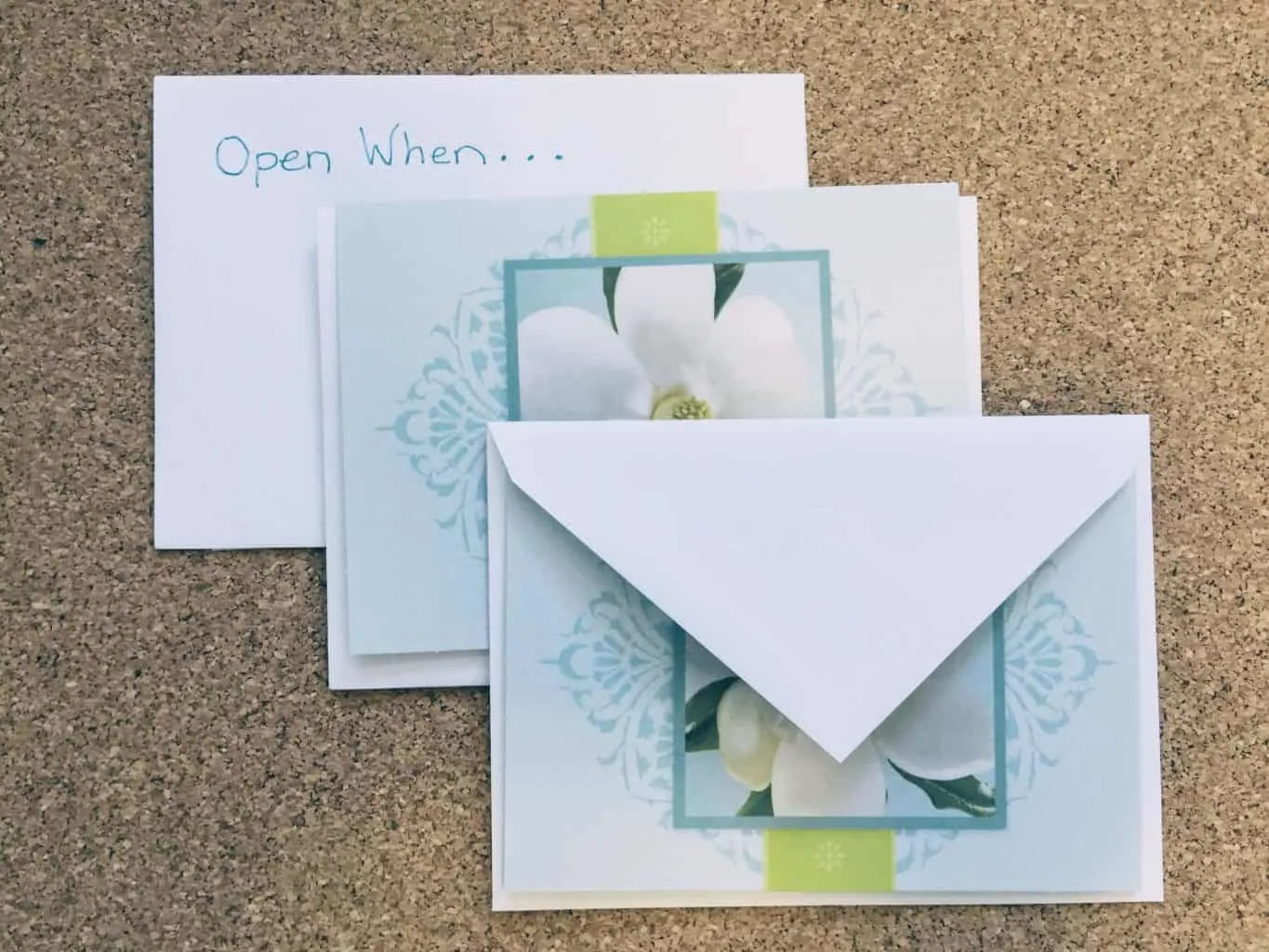 Rules for "Open When" Letters
When presented with your "Open When" letter gift, the recipient will need to know how to proceed.
Wrap the letters in a box, an envelope, or however you see fit. Place one letter on top which states "Open this one first".
Inside that letter, explain the "Open When" letter concept.
The letters should only be opened when the specified occasion arises.
No peeking, do not open more than 2 per week. Save the letters. They can be read over and over again.
Of course, these are just suggestions.
You can alter the rules for your "Open When" letters to your liking, according to the purpose behind the letters, and what makes sense for you.
"Open When" letter ideas for your Children and Grandchildren
Here are some open when letter examples to get you started.
You know your person and the relationship you have with them. Decide the letter topics that would be appropriate for you. Include many or just a few letters in your gift. Make them long or short, deep or whimsical, serious or light-hearted.
For everyday occasions:
Open when you feel: sad, happy, bored, alone, disappointed or scared.
Open when you: miss me, want a hug, need a friend, had a bad day, get mad at a friend or a friend gets mad at you, or you get good news,
Open when you want to: hide, cry, laugh, dance, go somewhere but mom says no, blame someone, or fight.
Open when it: rains, snows, seems hopeless, sounds too good to be true, is a difficult decision, can't get any worse.
For special occasions:
Open when you start: kindergarten, first grade, middle school, high school, college, etc.
Open when you: get engaged, are getting married, having your first child, graduate, fall in love, get your driver's license, etc.
Open when it's: your birthday, Christmas, Thanksgiving, Mother's Day, Father's Day, etc.
Open when you are: celebrating an accomplishment, starting your first job, going into the service, deciding on a career, etc.
Include special gifts like movie tickets, a gift card for ice cream, a book or poem, a sentimental item like your handkerchief if she's getting married or a joke, bubble wrap, gas card, coffee mug, popcorn, band-aids, pictures of you together.
Include something related to the note or nothing at all. It's up to you.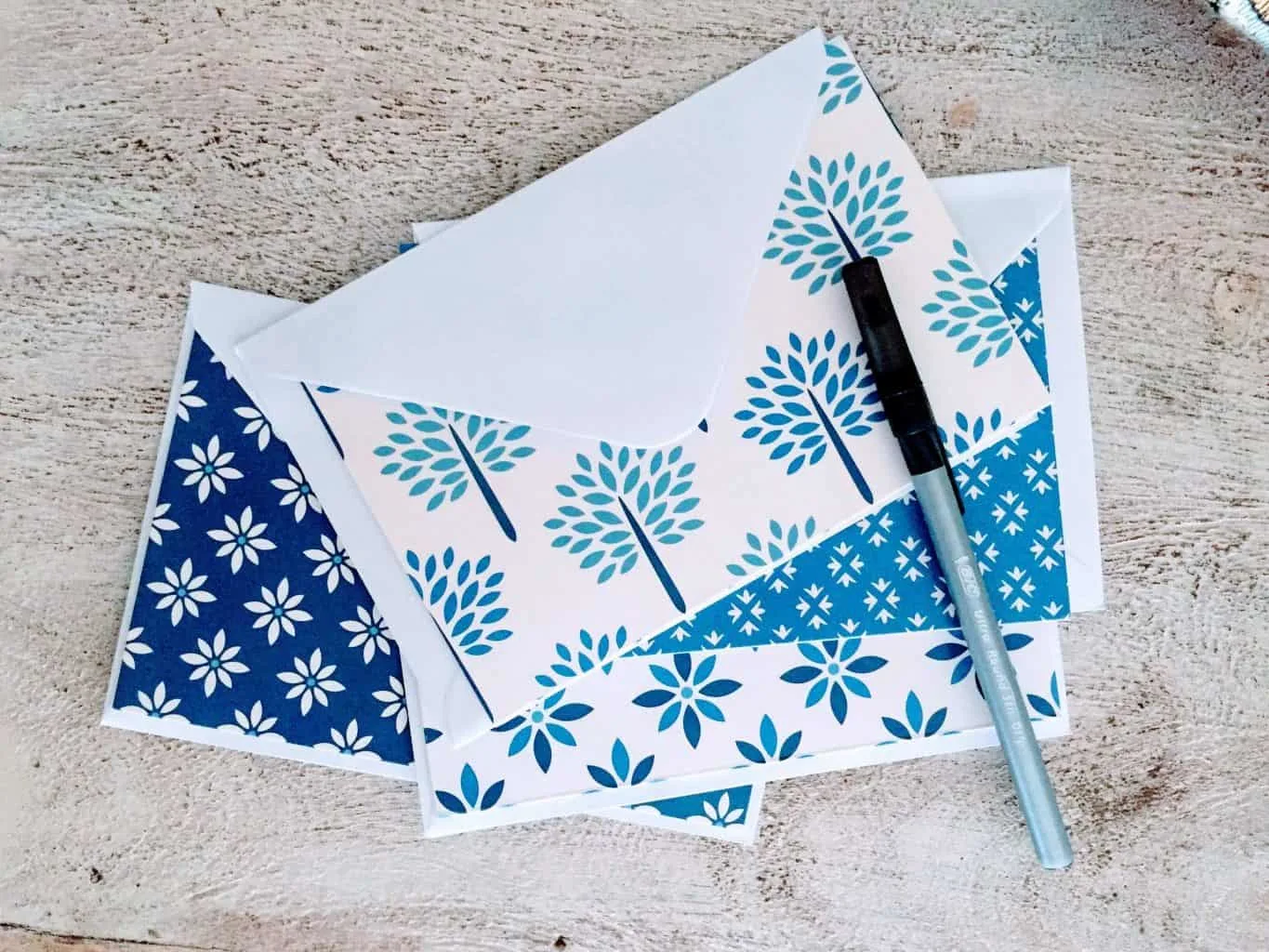 Preparing Open When Letters
Decide how many letters you would like to write and who will receive them.
Choose the times the letters should be opened. Use the letter ideas above or create your own.
Pick your materials.
** Check out the fun papers and envelopes available on Amazon like these notes with envelopes or these.
You could also design your own if you have the skills. Letters can be sent on 4X6 notecards, 8X10 stationery, or by whatever means you desire.
Write an introductory letter, then compose the rest of the letters.
Complete the letters, place the letter in an appropriately sized envelope and add your own "Open When" topic to the outside.
** If you get stuck composing your letters, this helpful article, "Letters to Kids: 8 Words Every Child Needs to Hear" from VeryWellFamily shares insightful ideas about communicating with kids through writing.
Add any item or gift you have chosen to include and seal.
Put them in a box or container, tape the "open when you receive this" letter to the outside, and give them to your loved one.
Would you like an easy way to do this?
Get an Open When Letter Kit that's already done for you with our "Open When" Letter printables! (More to come soon, I'm working on some different designs…)
Check it out in our Shop:
Print these on your color printer or take them to a printer like Office Max or Staples. They can also be printed in black and white.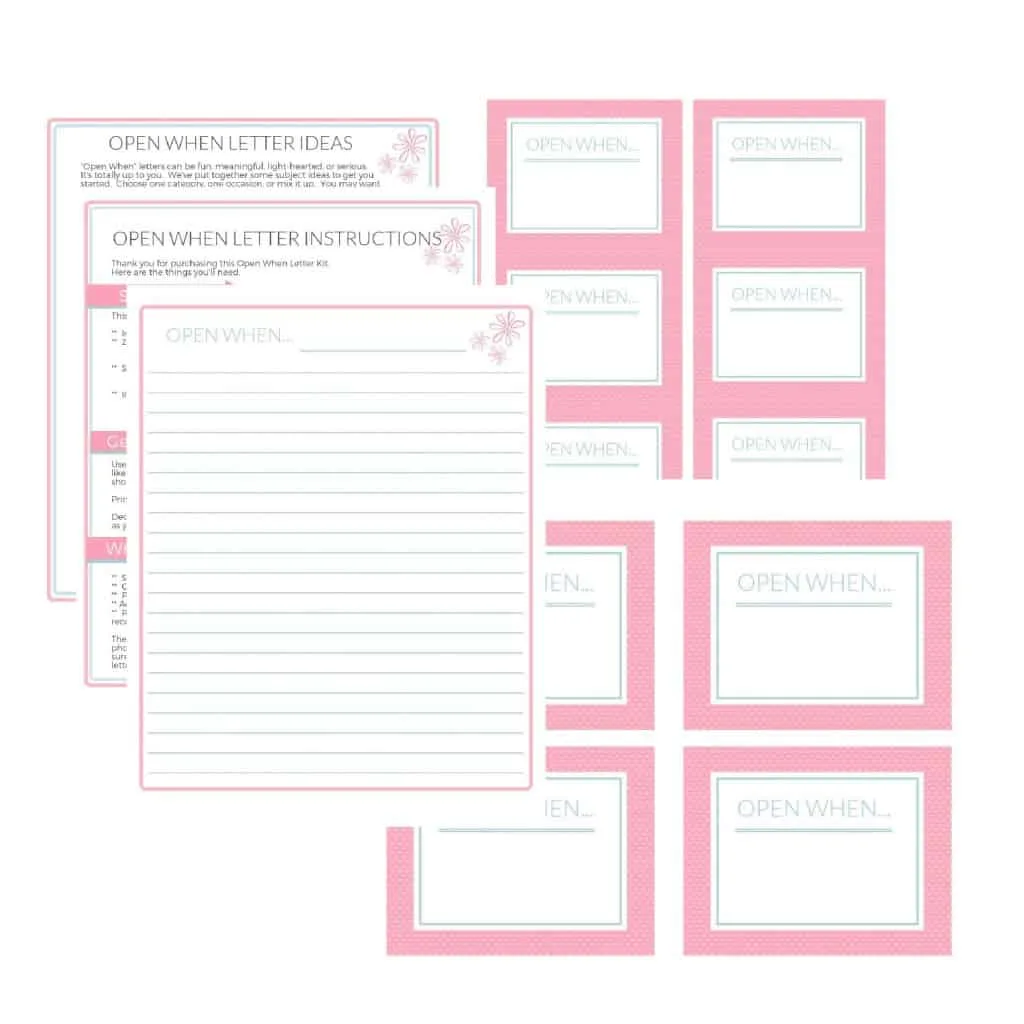 Your loved one will cherish their "Open When" letters and cards.
Use these "Open When" letter ideas and printables to send letters to your children, grandchildren, spouse, partner, or anyone else you love.
"Open When" letters make a great gift on any occasion.
Words from you to someone you love will be a treasured keepsake for years to come.
Hand-written letters can be read and re-read many times over.
Give the gift of encouragement, advice, and a legacy long after you are gone through "Open When" letters.
How will you use these "Open When" letter ideas? Share your own ideas in the comments below.
Remember to —
Keep Passing Down the Love,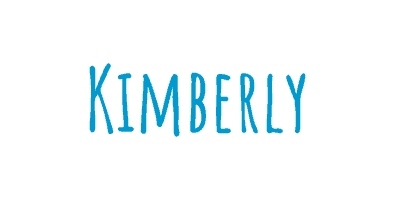 Other posts you might like: