A warm breakfast on a cold winter morning…  This amazingly delicious French Toast recipe is so easy to make and tastes great, too.  Healthy and full of protein, your whole family will love it!
As an Amazon Associate and a participant in other affiliate programs, Passing Down the Love earns a small commission from qualifying purchases at no additional cost to you. See full disclosure here.
This French Toast is The Best French Toast Recipe, always fluffy on the inside and toasty brown on the outside.  Served with jelly, syrup, powdered sugar, or fruit topping, it will be a hit with toddlers, kids, teenagers, and adults alike.
French Toast made with sprouted grain bread like Ezekiel bread and eggs is healthy and full of protein.  Add a fruit topping like bananas or strawberries, and you have a breakfast everyone will love!
By the way, Ezekial bread can be found in your store's organic food section, usually frozen.  It's pretty expensive on Amazon, but I'm including this link so you can see what it looks like.  In my local grocery store, it was around $5.  You don't have to use this bread.  Choose any sandwich or Texas Toast type bread you like.
Related: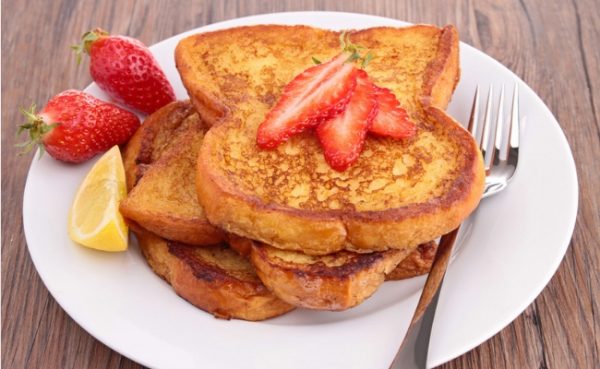 | | |
| --- | --- |
| | |
Preheat griddle to 375 and grease with butter. You can also use a greased skillet set on medium-high heat.

In a medium sized bowl, whisk together all ingredients, except bread, to combine well. The bread slices should easily fit into the bottom of this bowl.

Dip the bread slices into the egg mixture, coating both sides well and place onto the hot griddle or skillet.

Cook until the bottom is browned and flip to the other side and do the same thing.

Remove onto your serving dish. Serve with fresh fruit, syrup, jelly or powdered sugar.