How to Start Keeping a Grandmother Journal
You think you'll remember.  This is a special time.  How could you forget it?
You won't if you're keeping a Grandmother Journal!
Keeping a Grandmother Journal is a way to preserve those precious times, feelings, and details you experience as a Grandmother.
Your Grandmother Journal can be shared with your Grandchildren in the future.  It will show how you felt, things you did, reactions from others and the specifics surrounding their birth and life experiences with you.  They would love to know your thoughts about your time together, the funny things they did as a baby or small child, and the things about them that are important to you.
As a mother yourself, you know that these children won't be children forever.  They eventually turn into human adults.  Taking time to journal keeps a record of the memories you make together for you, your children, your Grandchildren, and maybe even THEIR children and grandchildren.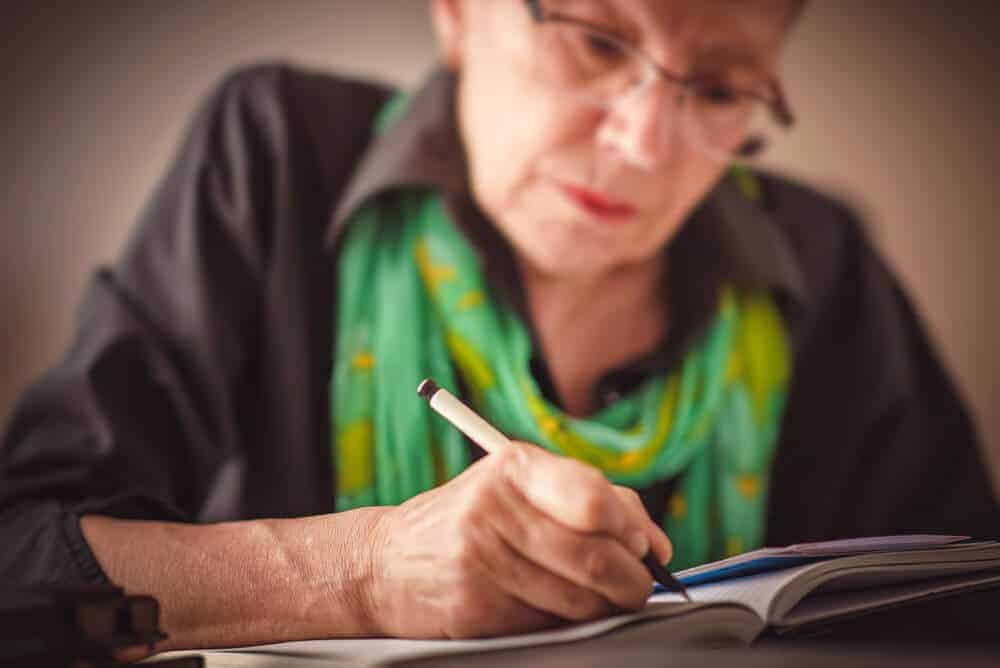 Passing Down the Love is a participant in the Amazon Services LLC Associates Program, an affiliate advertising program designed to provide a means for us to earn fees by linking to Amazon.com and affiliated sites. This means that if you click on a link and make a purchase, we may be compensated a small amount at no additional cost to you.  
While there are many ways to record your memories with your Grandchild, here are three ways to start keeping your Grandmother Journal.
Written Journal
A journal that is written by you in your own handwriting is probably the most personal of the options.  You can tell a lot about a person from their handwriting.  That will come through in your journal entries.
There are two types of written journals available to purchase, or you can simply use a notebook to record your entries.
Use a blank page journal like this.  Blank page journals require you to make your own categories but allow you the freedom to use the space however you see fit.  My "Writing Prompts for your Grandmother Journal" printable can provide you with sample questions to help get you started.  If you are already a tribe member, you can find this in the Member's  Only area. If you aren't yet a member, you can download this free writing prompt printable when you join our tribe of Grandmothers here:
The other suggestion is a preformatted journal like this.   This type of journal has writing prompts included, sections for each suggested topic and helps you through the process.  If you'd like this kind of guidance, maybe this method is for you.
Keeping a Grandmother Journal is a great way to keep memories around for your Grandchildren long after you're gone.
Blog Journal
If you aren't afraid of technology, you could start your own blog to record your memories.  Blogging is fun and a great way to present your thoughts.  A word of caution if you choose this direction.  Obtain clear permission from your Grandchild's parents before putting any pictures of them on your blog.  If you have their blessing, go ahead.  For my blog, I chose to not show the faces of my Grandchildren and don't use their names.  Have this discussion before you proceed with this idea.
Blogging may be a route you'd like to take.  If so, you can use our guide to starting a blog for memory keeping to get started with your online journal.
Electronic Journal
The electronic journal is one you keep privately on your computer, tablet or phone.  Entries are made in a journal type format using Word, Google Docs or some other means of recording your thoughts.  With this method you can cut & paste selected entries to send to your children or Grandchildren, keeping the private things private.  If you choose this option, be sure to make regular backups to assure your journal is safe.
Another electronic option is using an app like Project Life to record in scrapbook form.  This is a fun way to journal and include pictures as you go.
Here is one additional choice for an electronic type of journal.  This is perfect if you'd like to share your thoughts with your Grandchild at a later date.  Make each entry into an email for them, send your entries, notes, pictures, etc. to this email address.
This could span a few years if you're late getting started, or from birth to college or beyond if you start from the beginning.  Whenever you decide it is time, give them the password.  They will enjoy all of the emails you have sent from your experiences together, photos you've taken, and words of wisdom you've shared.
What to Include in Your Grandmother Journal
Now that you know how to start keeping a Grandmother Journal, you should think about what to include in your Journal.  Journaling is a very personal thing, so you, yourself, should decide how much information you'd like to share.
In Part 2 of this series, I will share some ideas with you to get you started writing in your Journal, no matter which recording option you have chosen.  Stay tuned for more.  In the meantime, you can download my "Writing Prompts for Your Grandmother Journal" (click the link above).
A link to Part 2 of this series:
Keep Passing Down the Love,
If you missed the previous posts in the #AtoZChallenge series,
Other posts you might like:
As an Amazon Associate and a participant in other affiliate programs, Passing Down the Love earns a small commission from qualifying purchases at no additional cost to you. See full disclosure here.