Participating in Memorial Day activities with kids is an opportunity for fun, learning, showing respect, and remembering. While all of the Memorial Day activities are fun and exciting, it is also a time of remembrance. A time to honor those who have given their lives for our country.
UPDATE: 3/21
With all the measures our world is currently taking to stay safe during 2020 and beyond, some of these suggestions may not be appropriate or just aren't happening at all this year.
No matter what the circumstances look like this year, the message and meaning of this holiday remain the same.
Find a way to remember those who served and the real reason for the holiday. And share that with your kids.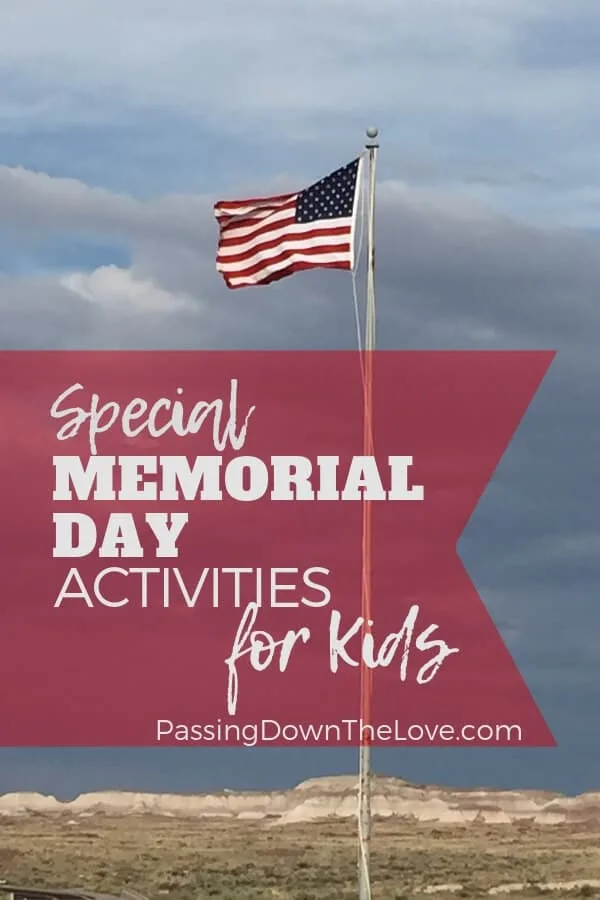 As an Amazon Associate and a participant in other affiliate programs, Passing Down the Love earns a small commission from qualifying purchases at no additional cost to you. See full disclosure here.
Memorial Day Activities with Kids
Memorial Day is the unofficial beginning of summer, a three-day holiday weekend, the opening of the neighborhood pool, a Bar-B-Que, time spent with friends.
While all of the Memorial Day activities are fun and exciting, it is also a time of remembrance.
A time to honor those who have given their lives for our country.
Participating in Memorial Day activities with kids is an opportunity for fun, learning, showing respect, and remembering.
Teach Children the History of Memorial Day
The Civil War resulted in the loss of many lives. Those who survived were looking for ways to honor the soldiers taken.
The idea of Memorial Day originated around 1868 during the years following the Civil War.
Union Generals proclaimed a day as "Decoration Day": a time to decorate graves and honor the fallen soldiers.
The tradition continued and developed into Memorial Day which was celebrated on May 30 each year.
In 1971, a change was made by President Nixon who declared that instead of celebrating on the same date each year, the last Monday in May would now be the National Holiday: Memorial Day.
Teach Children the Meaning of Memorial Day
Although we appreciate the sacrifices of our military men and women EVERY day of the year, Memorial Day is a special day that is set aside to honor and remember the ones who have "given all" to their country.
Enjoying the freedoms we have: the freedom to pray, to speak, to protect ourselves and our families, to obtain an education, build a business, to actually BE free, is possible because of the many who were willing to lay down their lives for us.
Taking some time during our holiday weekend to show our support and appreciation to them and their families is an important way to teach children about the gift of freedom they have received.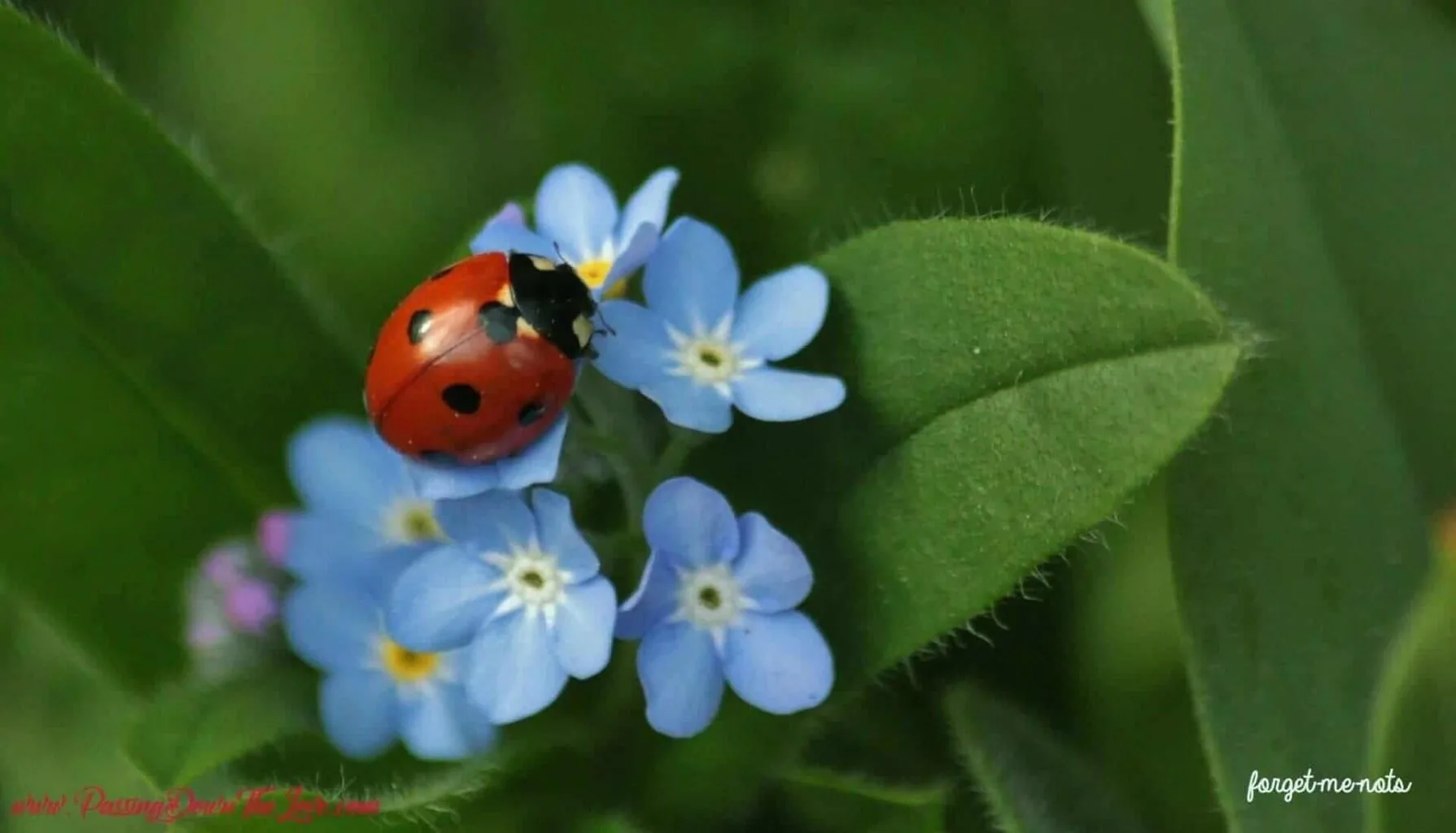 Teach Children Patriotism with these Memorial Day Activities
Fly Your Flag
Our Flag is a symbol of our freedom and should be displayed.
Place a flag on your house, in your yard, or inside your home.
Memorial Day is a perfect opportunity to teach children about honoring and respecting the flag.
Saying the Pledge of Allegiance, learning the proper way to care for a flag, singing songs about the flag, or reading books such as "F is for Flag" for 3 to 5-year-olds or "Red, White, and Blue" for older kids.
Explain how the flag creates a feeling of patriotism in American citizens.
Attend a Parade
The National Memorial Day Parade, held each year along Constitution Avenue in Washington, DC, shares the story of American honor and sacrifice from across the generations.
Most cities and towns across the country celebrate Memorial Day with their own parade.
Locate a parade in your area by visiting your city's web page. Local VFW and American Legion posts help organize and participate in the annual event.
Teach children to stand and clap for the veterans as they pass by. Explain to them that the veterans are marching in memory of their fallen comrades.
Visit a Memorial or Cemetary
The National Cemetary system has locations all across the USA.
The cemeteries are decorated with flags on Memorial Day Weekend, often thanks to the Boy Scouts or other local organizations that participate in their programs.
They have ceremonies and activities to honor the military members who gave their lives in service to their country.
You can visit the National Cemetery Administrations web page for details about the plans in your area, but since 2020 and the pandemic, things have changed. Check their website for the current status of ceremonies and activities.
Observe the National Moment of Remembrance
Congress established The National Moment of Remembrance in 2000.
It asks Americans, wherever they are at 3 p.m. local time on Memorial Day, to pause in an act of national unity to pay our respects to the men and women who died in service of our country.
For a duration of one minute, stop all activity, and reflect on the meaning of the day. The time 3 p.m. was chosen because it is the time when most Americans are enjoying their freedoms on the national holiday.
The Moment does not replace traditional Memorial Day events but is an act of national unity in which all Americans, alone or with family and friends, pause to remember.
Wear Red Poppies on National Poppy Day
This year National Poppy Day is May 25, 2018, the Friday before Memorial Day.
The tradition of wearing the red poppies began around 1918, when a war worker, Moina Michael, pledged to wear them as an emblem of "keeping the faith with all who died". The poem "In Flander's Field" talks about decorating the graves with the red flowers.
Today, disabled and needy veterans in VA Hospitals help assemble the VFW's own Buddy Poppy Pin. Purchasing the Red Poppy Pins helps to support our veterans. Get your VFW Buddy Poppy items here: Buddy Poppy Pins, etc. or here: Buddy Poppy Pins.
Share Personal Stories
Everyone knows a family member or friend who has served in the military.
Take the opportunity to talk to your kids about those who have served that you may know personally.
Maybe your grandfather was in the Navy (like mine), or your friend gave his life.
Maybe you were in the military yourself and saw the sacrifice made by a comrade.
Sharing stories from your family history brings the reality of the holiday into sharper focus for your children, as well as for you, yourself.
Show them the pride you have in the contributions made by those in your own circle of people.
Let them see that by participating in Memorial Day activities, you are not only honoring and remembering strangers but also the military members close to home.
Explain and Participate in Memorial Day Activities
Enjoy the three-day weekend.
Attend a Bar-B-Que, play horseshoes or volleyball.
Head to the neighborhood swimming pool.
Have a fun weekend, but be sure to take the time to remember those who helped guarantee your freedom to do those things.
Teach children the real reason we celebrate Memorial Day. Memorial Day is a day to honor and show appreciation to those who gave all in the service of their country.
Thank them for their sacrifice.
What are your plans for Memorial Day activities?
Do they include time honoring those who served?
Let me know what you're doing!
Keep Passing Down the Love,