So, what are you planning to do this 4th of July? Have you thought about it? Does your family have any 4th of July traditions? Think about some of these suggestions for fun with kids on the 4th of July. Maybe one of these ideas will strike your fancy.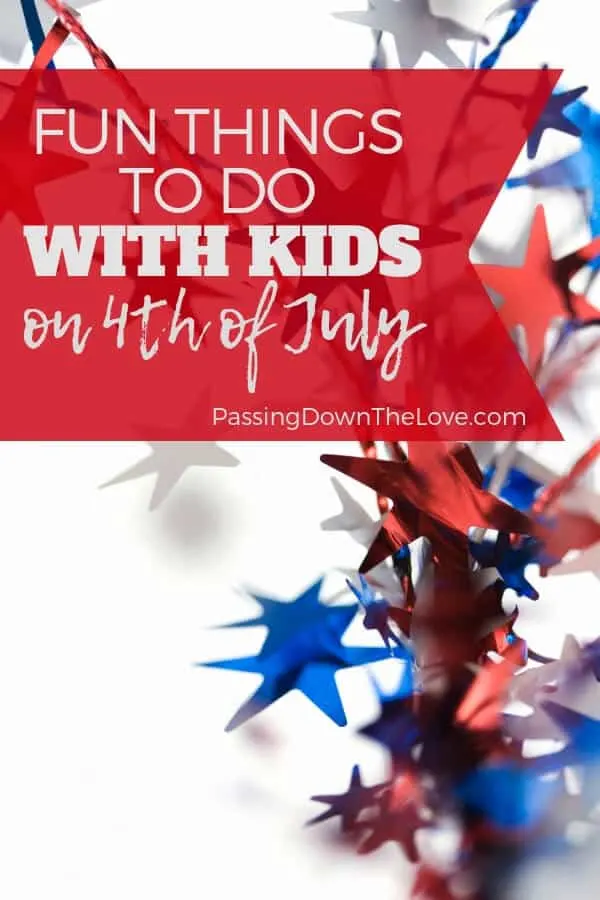 As an Amazon Associate and a participant in other affiliate programs, Passing Down the Love earns a small commission from qualifying purchases at no additional cost to you. See full disclosure here.
Have Fun With Kids on the 4th of July
Work a puzzle
Start by getting our 4th of July Word Search puzzle to complete.
Find Good Food
The holiday is a day for food, fun, and friends!
Enjoy a good barbecue, with burgers, dogs, pork steaks, corn on the cob, and watermelon or homemade ice cream for dessert.
You've never made homemade ice cream?
That's fixable. To start, you'll need an ice cream freezer like this one.
Your freezer will come with operating instructions, but you will also need a great recipe. Head here for my favorite recipe.
And here are some other patriotic dessert ideas from other bloggers.
Find a Place to Float
Maybe you'll get together with friends and head to the river for a float trip.
We have many rivers here in Missouri and beautiful scenery in the Ozarks.
Black River, Current River, and the Meramec are some favorites to float in Missouri.
Have you ever been on a float trip? Where did you go?
Catch Some Fireworks
How about a fireworks display?
Many cities provide elaborate displays, sometimes more than once over the course of a holiday weekend.
Another option, if you use serious safety precautions, is to put on your own display, or pool together with friends for a larger variety of fireworks.
Of course, you would do this in an area where setting off fireworks is legal.
Do you like to watch fireworks or set off a display of your own?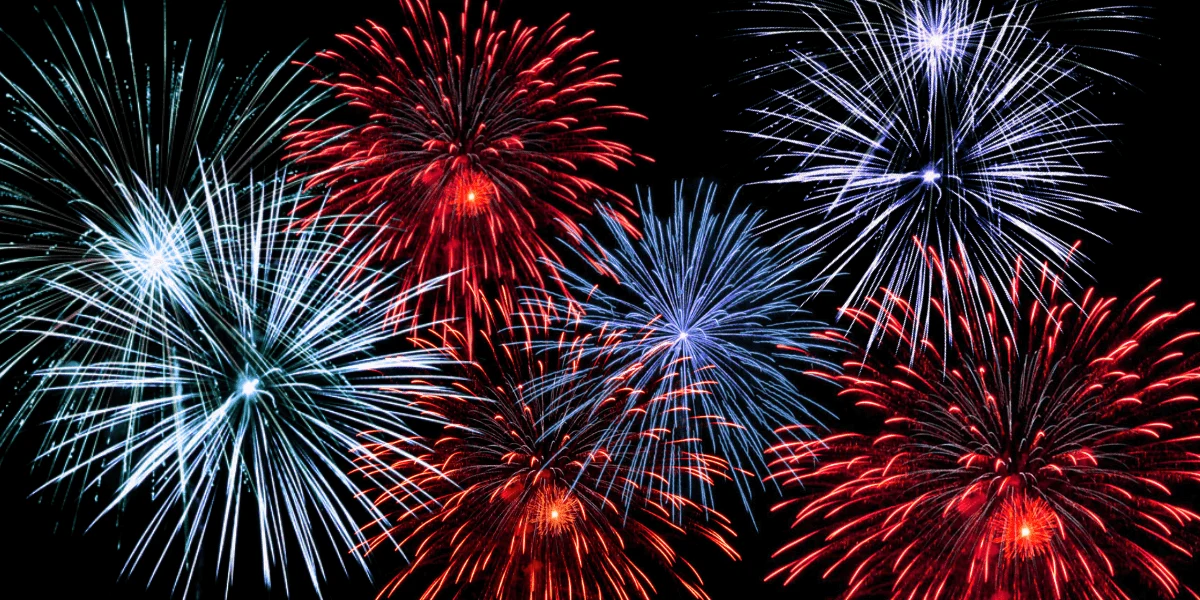 More Fun with Kids on the 4th of July…
Watch a Parade
Attend a parade. Floats, clowns, marching bands, military brigades, a parade of old cars, and treats thrown to the kids.
The festive atmosphere surrounding a parade is contagious. You know it will be a great experience.
Are you a parade fan or do the clowns make you a little nervous?
Make a Craft
Crafts are fun to make for the 4th of July. Have the kids help with this cute fireworks centerpiece or rocket centerpiece made from pool noodles.
Get on a Boat
Head to a local lake for boating, swimming, tubing, riding jet skis, or skiing. Boats, jet skis, and kayaks are sometimes available to rent.
Holidays are a busy time on most lakes, so it would be wise to plan early.
Spend time on the water, but don't forget the sunscreen!
Find Your Own Water Fun
If a lake or river water isn't your thing, how about visiting a nearby swimming pool or setting up a sprinkler in your backyard? Remember when you were a kid and played in the sprinkler with the Wham-O Water Wiggle?
What a blast!
They have some similar things today like the Hydro Twist Pipeline Sprinkler or the Surf & Slide.
A great way to have cold water fun with kids on the 4th of July!
Play a Friendly Game
Play games.
Outdoor games can be competitive, fun, and a good way to enjoy the holiday. Play washers, horseshoes, cornhole, or Giant Jenga.
Have a potato sack race or a watermelon spitting contest.
Show your team spirit!
Be Festive at a Festival
Most areas have some Festival happening on the 4th of July Holiday.
Look online for a guide to events in your area. Music, carnival rides, cotton candy, and vendors galore to entertain you for the day. Ride the rides, take a stroll, listen to a concert, people-watch, and have cotton candy.
Make Memories with Kids on the 4th of July
The 4th of July holiday represents the middle of summer. It's already halfway through the best season of the year. Savor the day off, if that's what it is for you.
Kick back and relax, sip a cold drink, and plan for the next half of your summer.
What do you have planned for the 4th?
No matter how you decide to celebrate Independence Day, do it with your people, enjoy yourself, and make memories.
Keep Passing Down the Love,