Sesame Street still brings back great memories! I thought I'd share some of mine with you here. This is my Tribute to the Letter T, brought to you by Sesame Street.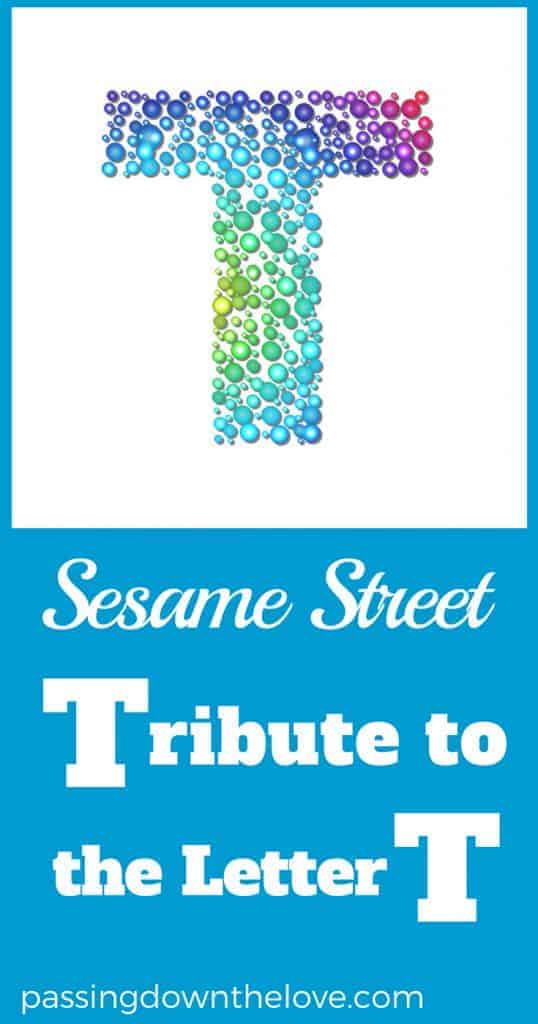 As an Amazon Associate and a participant in other affiliate programs, Passing Down the Love earns a small commission from qualifying purchases at no additional cost to you. See full disclosure here.
A Tribute to The Letter T Brought to you by Sesame Street
Sesame Street first aired on PBS in November 1969 and has been on the air ever since. The goal of its creators was to provide education, preparing toddlers for school. It was also entertaining for children and soon became extremely popular. Sesame Street earned many Emmy awards and a place for Big Bird on the cover of Time Magazine.
Sesame Street was popular with my family. My little sisters watched (I was a preteen by that time, so…), my 80's kids watched, and now even my Grandkids love Elmo and Cookie Monster. A favorite book at our house is still this Sesame Street book.
Share some of these Sesame Street clips with your Grandchild. These will still bring a smile, even after all this time.
While I was thinking about this post for the letter "T", I started singing the song. But it was Letter B, not Letter T. Do you remember that one? Let her be, let her be… Well, you can listen to it below, along with my own favorite Sesame Street song.
But first.
A Sesame Street Tribute to the Letter T.
T is for Turtle
A Tribute to the Letter T: Brought to you by Sesame Street
Tommy from Tennessee
Vintage Count von Count Messenger Bag
by SesameStreet
It Tastes like the Letter "T"
So there you have it – A Sesame Street Tribute to "T".
And as I promised you above:
This song was running through my head and was the inspiration for this tribute post to the letter T.
Letter B. By the Beetles.
..
Hard Working Dog
We had a cocker spaniel when my boys were growing up.
We always called him a hard working dog.
This was his theme song. Just for you, D & D, just because.
Be careful. This song will stick in your head…
Connect with your Grandkids through giggles, silliness and fun times.
Share the fun, a little learning, and a glimpse into the past.
Brought to you by Sesame Street and the Letter "T".
Keep Passing Down the Love,
If you missed the previous posts in the #AtoZChallenge series,
Other posts you might like: