Family memories and traditions bind a family together. Shared experiences, family adventures, stories, and moments are treasured riches that can connect generations. Who will record the family memories for your kids?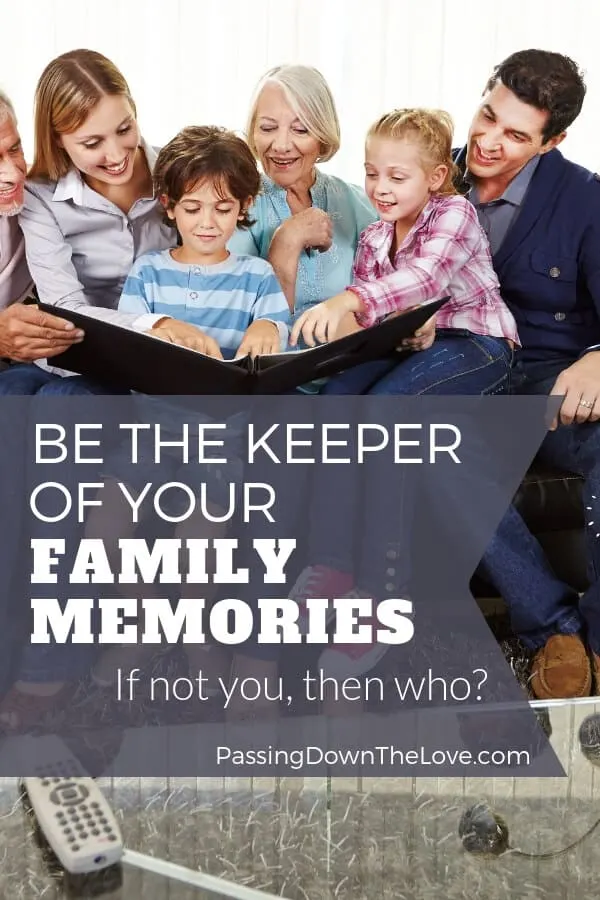 As an Amazon Associate and a participant in other affiliate programs, Passing Down the Love earns a small commission from qualifying purchases at no additional cost to you. See full disclosure here.
Keep Important Memories
Who is your family memory keeper? Who will be responsible for keeping your important memories?
Family memories and traditions bind a family together. Shared experiences, family adventures, stories, and moments are treasured riches that can connect generations.
Who is responsible for keeping your family's important memories?
The older generations
Young people often depend on the older generations to pass down memories and traditions to them. These would be the grandparents or great-grandparents. Many families are very fortunate to benefit from the wisdom, knowledge, and experiences of these family members.
Great-Grandparents
Are your Great-Grandparents still living and acting as the memory keepers for your family?
Few people are lucky enough to have their Great-Grandparents into adulthood. Count yourself blessed if you are an adult with this elderly generation still a part of your lives.
Great -Grandparents are the ones to pass down family recipes, tell stories of hard times, the depression, and the simpler days of the past.
They tell stories of the love (or lack of) received as a child, the sadness of losing a family member, the joy of marriage. Great-grandparents also tell us about the old schoolhouse, a first dance, and the pride of graduating from high school.
These family members are wonderful memory sources. If you haven't learned much about these people in your family, here is a list of questions to ask them.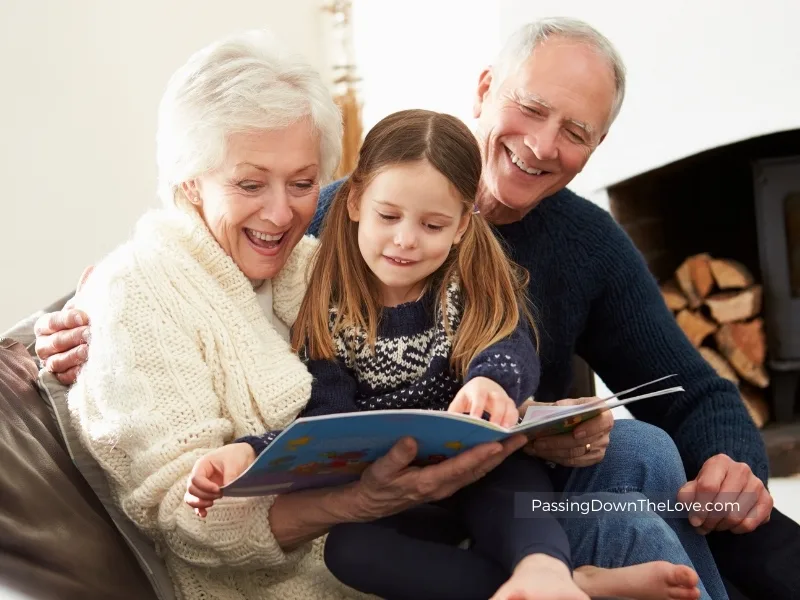 Grandparents
Are your Grandparents the memory keepers?
Your Grandparents are the next source of knowledge, memories, and family history. Are you close with your Grandparents?
Have you spent time really getting to know them? These family members can tell you what they know about their parents (your Great-grandparents), about their own lives as children, and what your parents were like when they were young.
You can use this list of questions to interview them, too. Find out more about your Grandparents and their memories by spending time with them. You may be surprised at the tales they have to share.
If you ARE the Grandparent or Great-Grandparent, do your best to record your memories in some way.
Share your stories so that the next generations will remember you, know their past, and value the family history and traditions that you have created. Here are some ways for you to start the process. YOU can be your family's memory keeper.
Your parents
Are your parents the memory keepers?
Through the years, your parents have gathered memories, carried on the traditions of their families, and watched you grow into an adult. They are a goldmine of information about your grandparents and their own life as a child and young adult.
They are also the ones who may have important memories of your childhood, especially those you were too young to remember yourself.
In order to take advantage of their knowledge, spend time with your parents, talking to them about their memories, stories, and traditions.
If you ARE the parent, make an extra effort to preserve your family's memories through photos, stories, journals, or any other suitable means. YOU can be your family's memory keeper.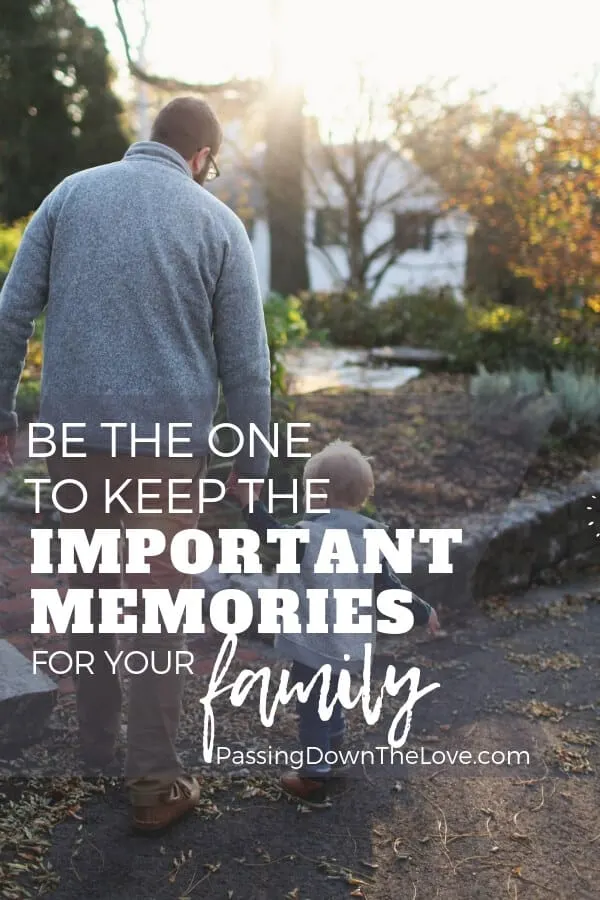 You
Could YOU be the one to keep the important memories?
There might be someone in your family who is already keeping records, snapping photos, making scrapbooks, or telling stories.
Are you depending on them to connect the dots for you, to be at all important functions, to know all the stories and traditions? If you are, there may be some disappointment in your future.
Your Great-grandparents quite possibly have already passed on. Your Grandparents may not be close, and your parents may not be interested in family things. You may already be the "elder" generation in your family.
Many circumstances, events, untimely deaths, or lack of interest may have created a lapse in your history, a shortage of traditions and connections, or limited sources for you to consider.
Here is what YOU can do.
If there are older generations of your family who are still living and able, visit them, listen to their stories, absorb and record as much information as possible.
Interview other people who are still available and willing – your cousins, aunts, uncles, older siblings, or close family friends.
Gather photos, record names & places, and preserve them digitally.
Research your family history with FamilySearch or Ancestry.com.
Meet, email, call others who may remember the older generations of your family.
Visit towns where your family has resided.
Record your information through photos, scrapbooking, blogging, notebooks, or other means.
Share your information with your family members.
It's up to you!
Even if your family is not close, you don't know your Grandparents, your Dad isn't in the picture, or you don't communicate with your siblings, you still have a history. Find out what you can about your past.
Most importantly, continue (or begin) to record your OWN family history, make new traditions with your kids and grandkids.
Make the effort to change the future for them by creating memories, sharing your favorite recipes, spending time together, and talking about your family.
Take photos and print them. Go on adventures.
Make a scrapbook.
Open a private family Facebook group where you can share your pictures and adventures with other family members.
In conclusion.
You may be blessed with a great family, full of memories, stories, and traditions. Connected and caring. Loving and close. Embrace your good fortune and continue creating the same for your own family.
If you weren't so lucky, change the story for your family. Be the memory creator and memory keeper.
Connect your family through the creation of new traditions, memories and design a new story.
YOU are the Memory Keeper for your family!
Passing Down the Love,