Becoming a Grandma for the first time changes everything. In this article, New Grandmas share their experiences and feelings about their changing roles and their new Grandbabies. How has YOUR life changed since you became a Grandmother?
If you would like to add your story about becoming a grandma for the first time to this article, please feel free to contact me – Kimberly @ PassingDownTheLove.com – with a photo and your brief comment.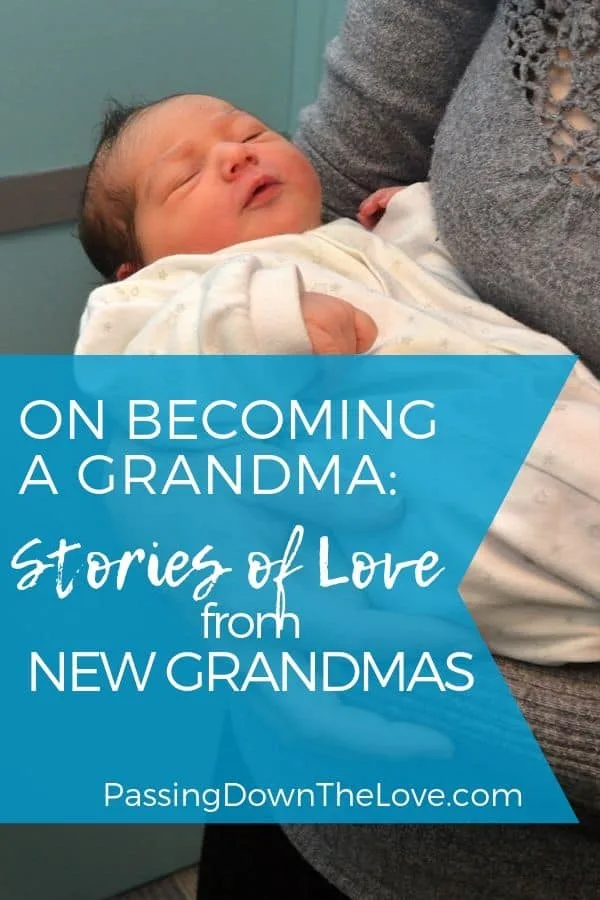 As an Amazon Associate and a participant in other affiliate programs, Passing Down the Love earns a small commission from qualifying purchases at no additional cost to you. See full disclosure here.
On Becoming a Grandma
Becoming a Grandma for the first time…
It was unexpected. And overwhelming.
You begin to view the world from a different perspective.
The love you have for your own children is multiplied many times over as you gaze upon this new life.
It's a lot like the moon…
I LOVE the moon. There is just something about being outdoors with a sky all lit up by a full moon.
You can see things around you, but they have a mysterious glow.
Everything looks the same, but different somehow.
You can see shadows on the moon and you wonder what those light and dark spots represent.
As the moon rises in the sky, it changes color, gets covered by a cloud, moves a little further away from you.
You stand in awe at the magnificent scenery God has created.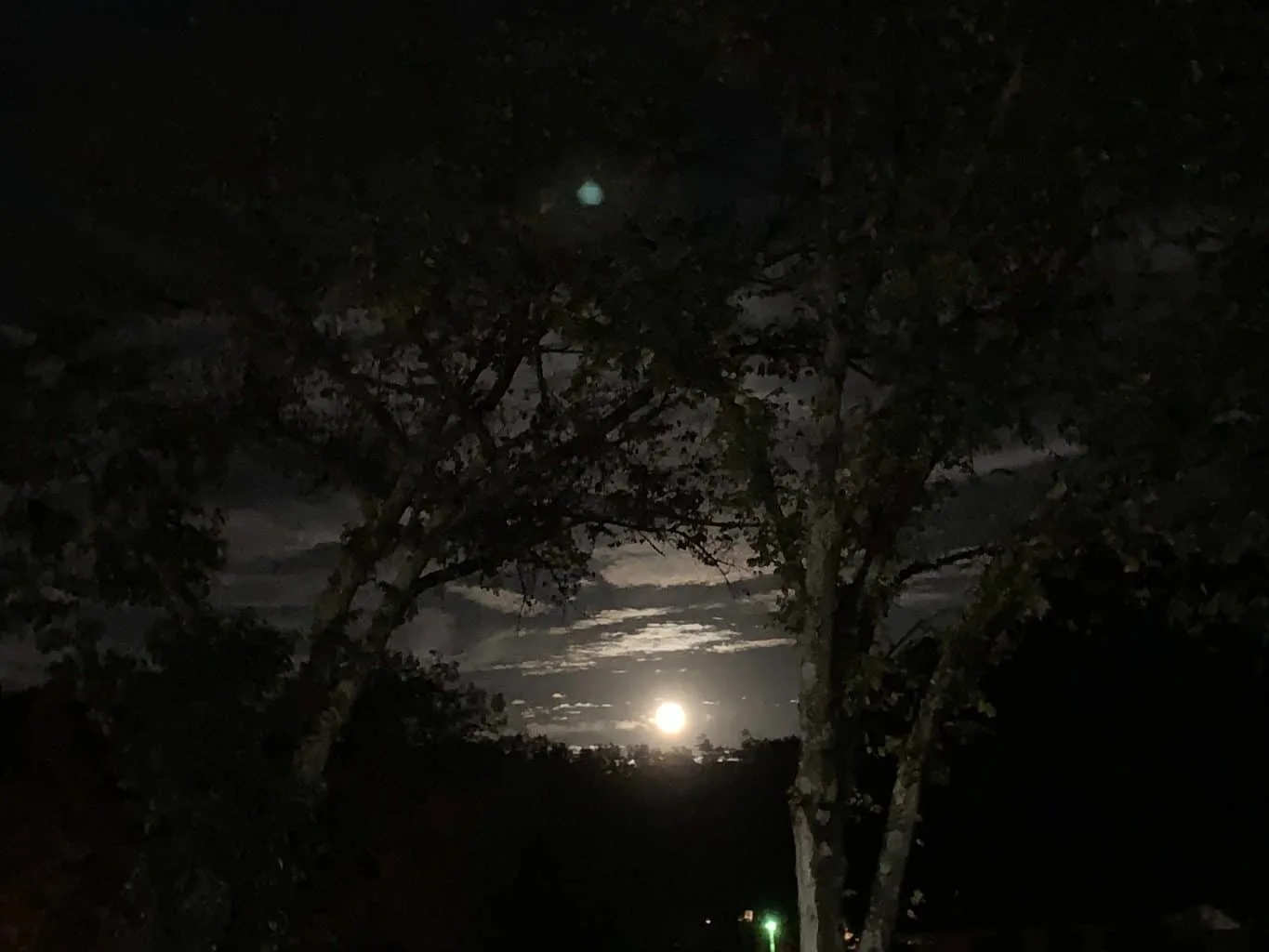 When You're Becoming a Grandmother for the First Time
Taking it all in…
Gazing at the moon is like becoming a Grandmother the first time.
Holding your newborn Grandchild, it all changes. You take on the mysterious glow of a Grandmother.
Everything around you is the same, but now different somehow.
This child's beauty, innocence and the miracle of life are reflected back to you.
You see this baby in your arms and wonder what he or she will become. What does this little life represent for you, your family and the world?
Becoming a Grandma
Changes come…
As this baby grows, there are changes taking place every day.
A personality develops.
This baby becomes a real person.
And you again marvel at this life God has created. A picture can't come close to showing others the beauty you see.
The cycle of life continues and you are part of it again.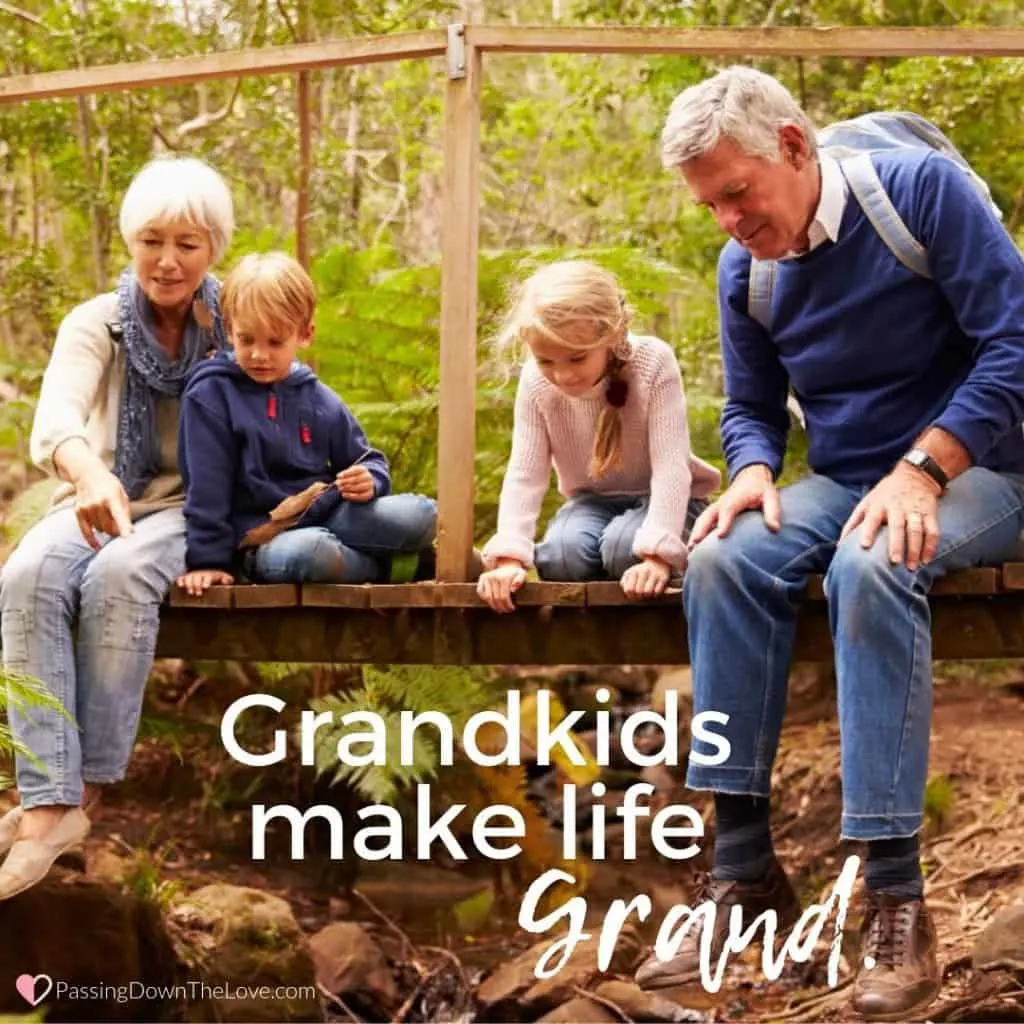 Words and Stories From New Grandmas
These new Grandmas are just like you. Real people. With real feelings. They wanted to share their experience of becoming a Grandma with you and express their sincere happiness and unexplainable love they have for their new Grandchild.
Maybe you are a new Grandma or are enjoying being a Grandma, and remember how you felt becoming a Grandmother the first time. If you would like your photo and story included in this post, please feel free to email me at Kimberly @ passingdownthelove.com.
Meet the Grandmothers
I asked a few Grandmothers to describe how they felt on becoming a Grandma for the first time and when they held that first Grandchild.
Here are their responses:

Becoming a Grandmother for the First Time:
A Wonderful Gift
Kimberly (that's me) – On becoming a Grandmother for the first time: "Seven and a half years ago there was a moment that changed my life.
They handed her to me.
My first Grandchild. A girl!
Becoming a Grandmother for the first time was a wonderful gift. Having had two sons and no daughters, this was incredibly special…
She was so tiny. Precious. Soft and warm.
She had that "new baby" smell. And my heart melted.
I've never been the same."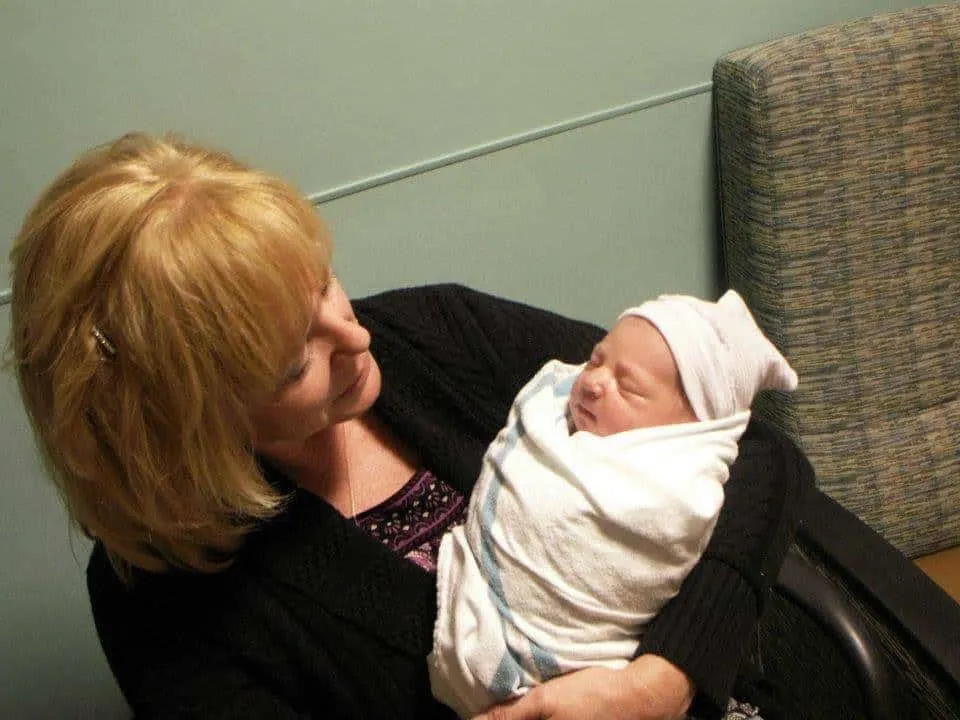 Love Like No Other
Alicyn — "I became a first-time grandma 17 days ago! It is so hard to describe the deep love that I have for this baby boy.
I have heard people say that the love they feel for their grandchild is like no other. Now I can fully understand that!
And, watching my baby hold his baby is amazing.
I am really looking forward to what the days, weeks, months and years bring.
I don't have a name other than "Grandma" at the moment.
I am thinking the perfect name will come from this beautiful baby boy and it will be music to my ears."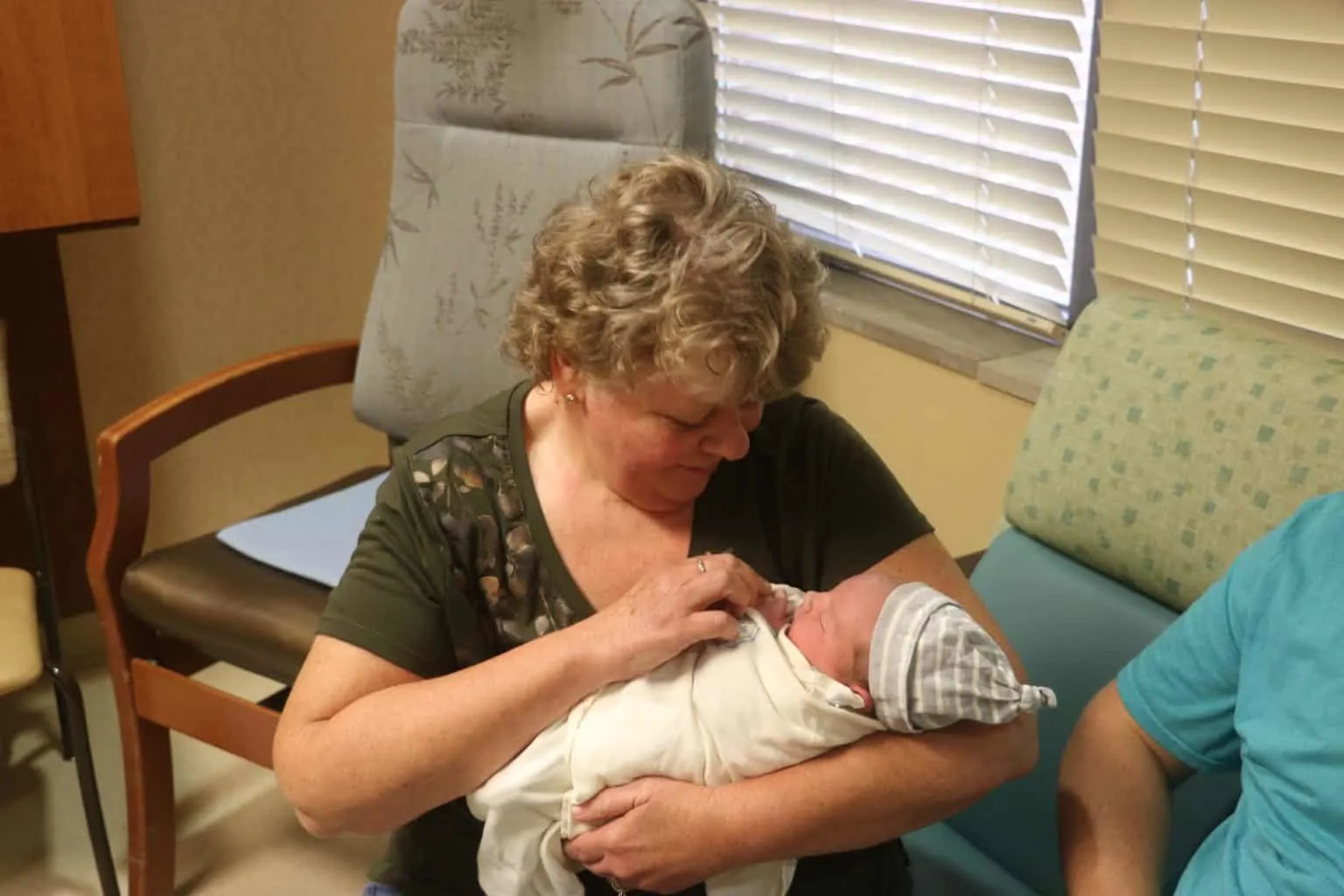 Worth the Trip
Marilyn — "Bill and I were overjoyed at the birth of our first grandchild.
The long trip to Utah to welcome him into our family was a dream come true.
Hard to believe this little bundle of joy will be 15 years old this December."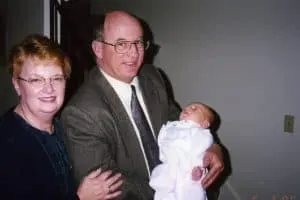 An Emotional Experience
Bonnie, AKA Grammy B — "I became a Grandmother for the very first time this past July.
My youngest daughter and her husband brought into this world the most amazing gift, not only for them but for this new Grandmother.
Here is a photo of myself holding my amazing grandson, just a couple hours after he was born.
I thought holding my own children when they were born was the most exciting experience I have ever had, but the moment I held my new Grandson in my arms, was an emotional experience.
I could never have guessed I could fall in love even more.
My child having her first child is definitely the most heartfelt miracle of all! The best gift of my lifetime!
My friends all had grandchildren before me and boasted about being Grandmothers. I thought they were just crazy thinking!
Having all those little children around all the time, Yikes! I could never have imagined wanting to be with my Grandson every day!
Grammy B will be spending a lot of time with this baby as Mommy & Daddy will be going back to work soon. Happy Grammy B!"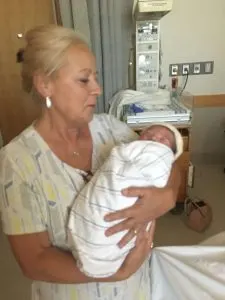 Becoming a Grandmother for the First Time
Sometimes Challenging, but Rewarding!
April – "My story is a tough one but I thought I would share because maybe it can help someone else out there.
This picture was so hard for me to see.
It's my daughter holding my grandson. Also, I have the pictures of her holding my granddaughter.
I was not allowed to be a part of her life during her pregnancies and births and it was and still is one of the most painful feelings I've ever had to deal with.
I did meet my grandson when he was 6 months old and then almost 2 years later my granddaughter when she was 6 months old.
My daughter and I had a very strained relationship and over the last year, we have completely healed and restored that relationship.
I went from not being able to be part of their lives to be one of the only ones besides her husband's parents and sister trusted enough to care for them almost daily. ❤
I want to encourage anyone out there that may be struggling with being a part of your grandbabies' lives for whatever the reason to never give up hope!
Please reach out to me privately in messenger if you are in a similar situation and I will share with you my testimony and be a friend to help you get through anything your heart might be breaking over when it comes to a mother/ grandmother love.
Thanks for letting me share. ❤"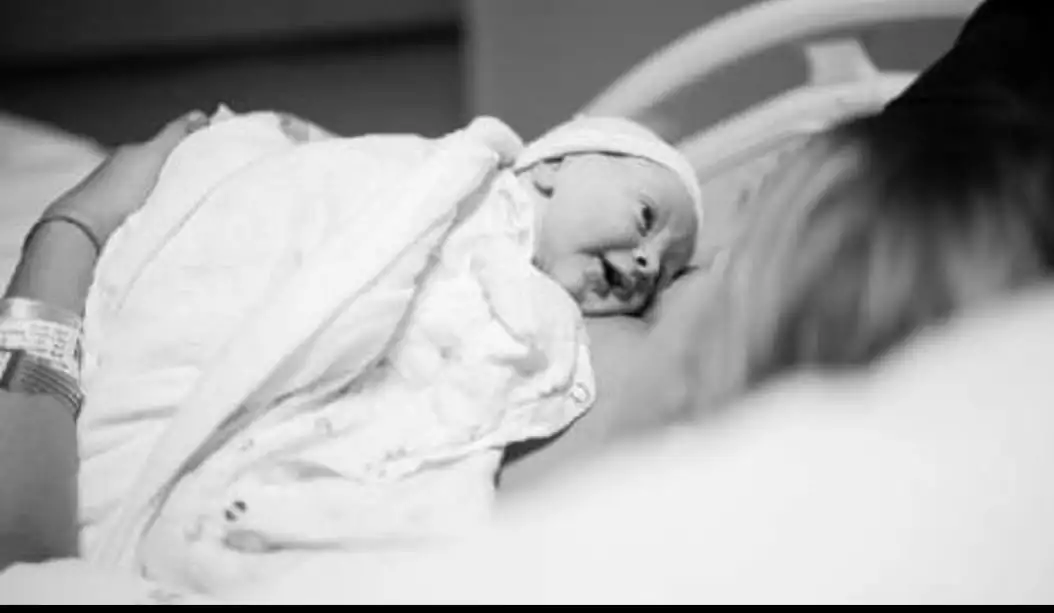 Note from Kimberly – You can find April and other Grandmothers in our private Facebook group: Grandmothers Passing Down the Love. To join you must be a Grandmother yourself and answer a few questions. We'd love to have you!

An Opportunity for Healing
Cheryl — "I held my first grandchild, a grandson, in my arms 16 years ago… and finally, my heart felt healed.
You see, 17 years prior to this we had lost our 9-year-old daughter due to complications after heart surgery.
Although we still had our wonderful son (13 at the time) my heart and soul were so very broken.
It took me a very long time to move forward and learn to smile again, but still, I just felt there was an empty hole in my life that would never be filled.
The night my son called us from the hospital, we rushed there to be with him and we all waited for hours with anticipation and many prayers that this child would be born strong and healthy.
Finally the next morning my son placed this amazing, perfect little bundle of joy in my arms, and I seemed to hear a voice that said, "Your heart is healed."
I realized at that moment that although we had lost so much, God had richly blessed us.
I will always miss that sweet child that we lost so many years ago, but I thank God each and every day for the grandchildren who have enriched my life beyond measure.
Today we also have a 13-year-old granddaughter and my life as a grandmother continues to be filled with joy, adventures, and so much love."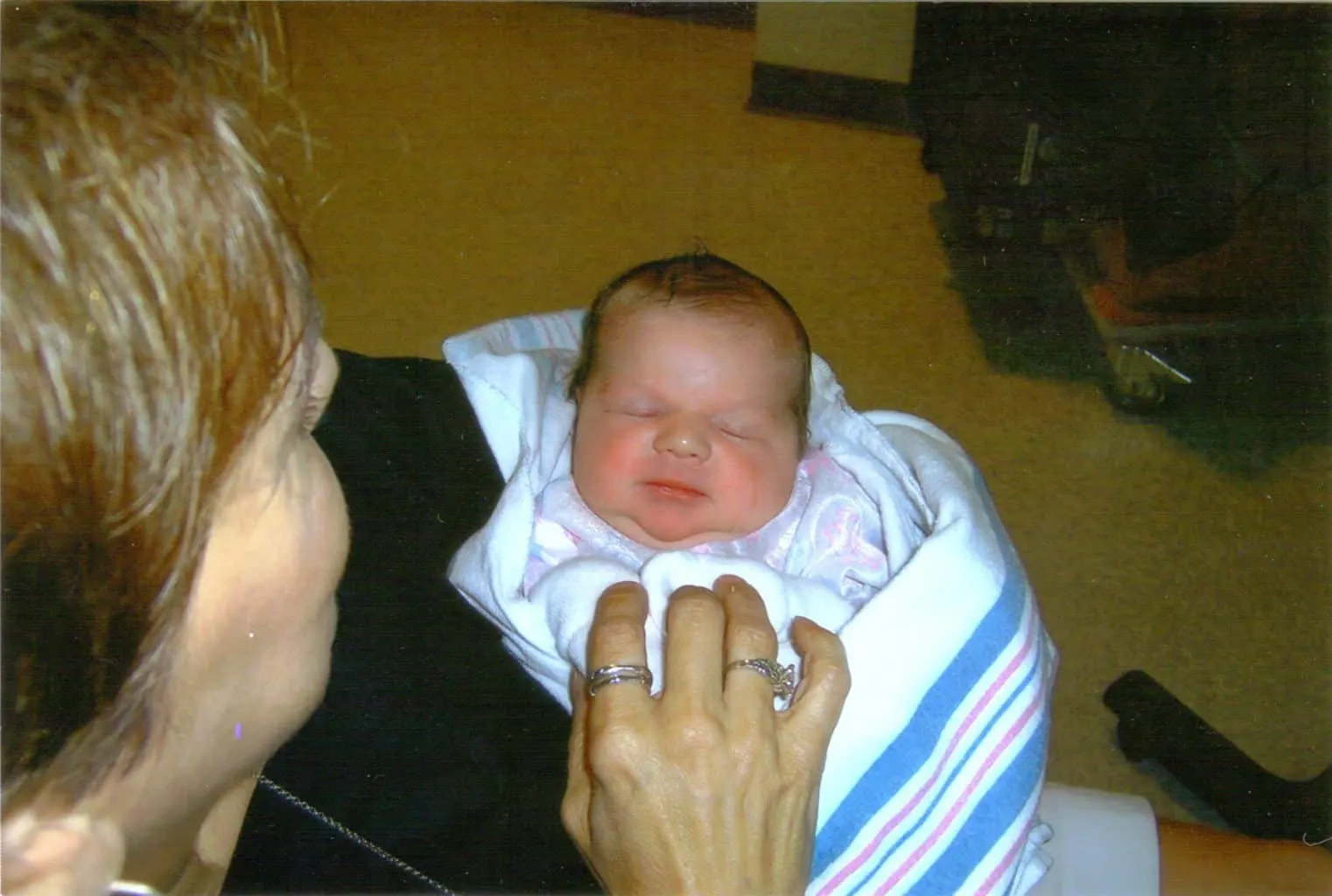 An Emotional Rollercoaster!
Dorothy — "This is Lexi Ann, the second of the twin girls. She was 3 weeks old when she was home from the NICU and I was able to hold her the first time.
I felt the most incredible Love ♥️ and Gratitude for the new life God has blessed our family with.
I am eager to get to hold her Twin Laci Regina and pray for her to come home from the NICU soon. "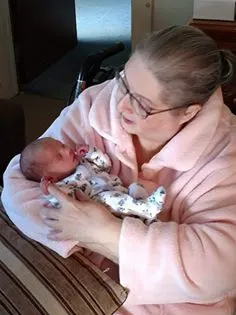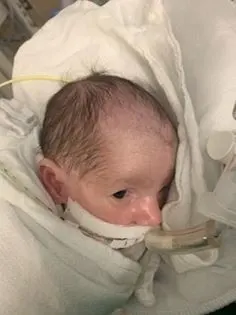 Becoming a Grandmother for the First Time: Surprising Love
Debra — "My eyes were full of tears that I couldn't see a thing. I had so much joy.
Not just at the fact I was now a grandmother, but my baby was now a mother.
I felt the joy I knew she was feeling because I felt it when I brought her into the world.
And that love I was feeling just doubled.
You experience the true meaning of life and love.
The first picture is my daughter holding my granddaughter.
The second is of me with my granddaughter. My gifts from God."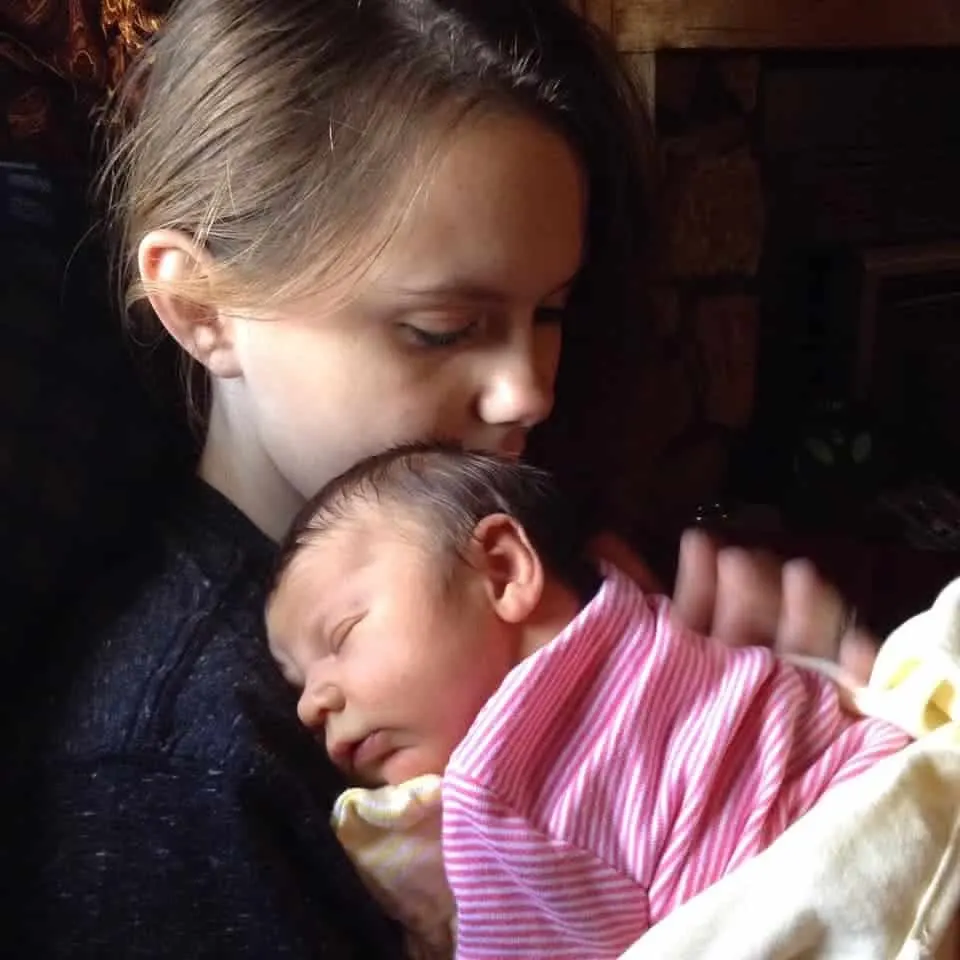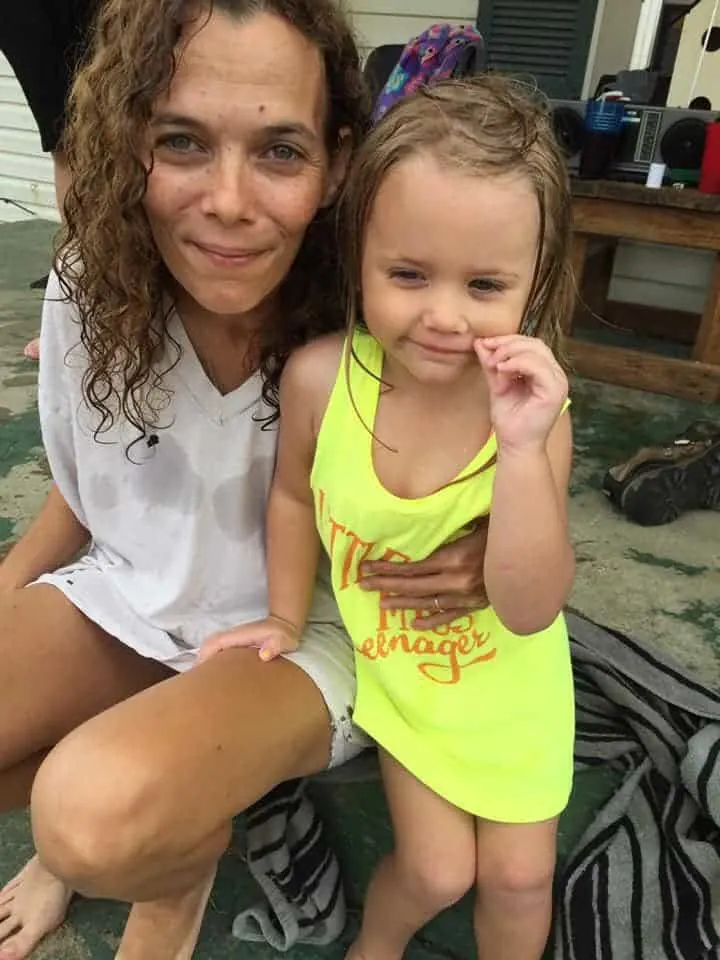 Tears of Joy
Ally – "My husband and I found out we were going to be grandparents for the First time at Christmas 2014.
Both our daughters were pregnant and neither knew that the other was pregnant.
I have to tell you my head was spinning.
I flew to Banff Alberta where my oldest lived.
When my first grandson was born there was so much joy and so Much Love. Just thinking about it brings tears to my eyes.
It was as Awesome as when my girls were born.
2 months later we had another beautiful Grandson and our Sweet granddaughter was born 2 years later.
I can't even express How Much I Love them."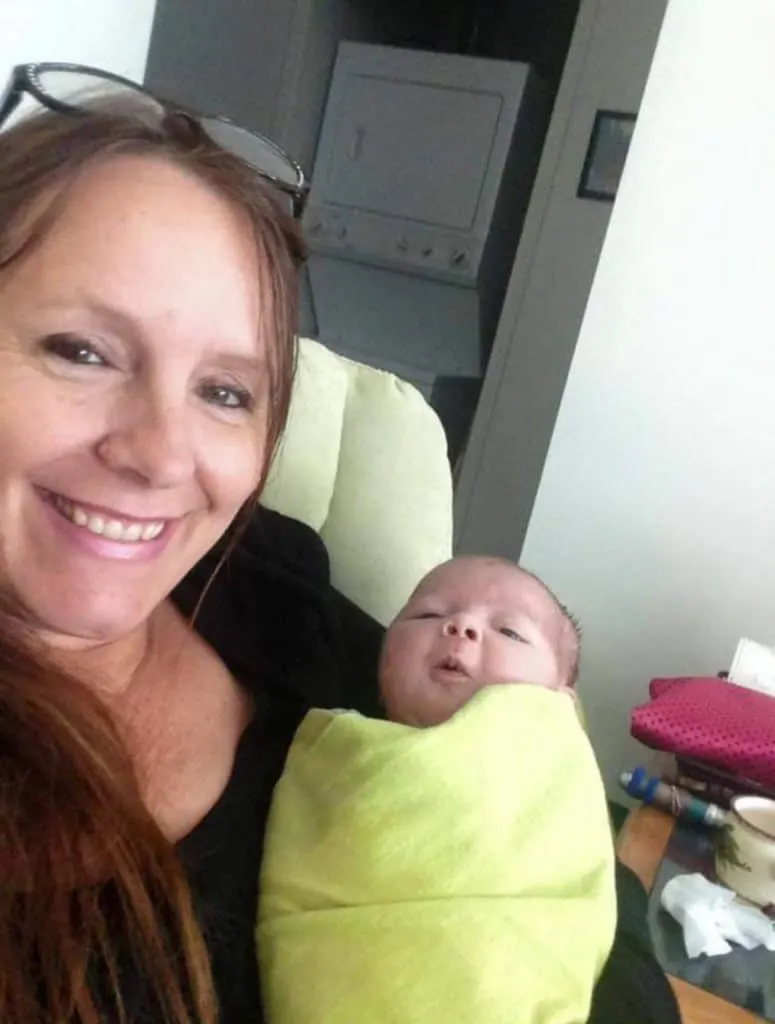 So Blessed
Sherri – "I first found out that my daughter and son-in-law were expecting on 12/2/18, and was absolutely shocked.
They have been married for 5 years, together for 12 years, and I guess I just figured that they were not going to have children.
My beautiful granddaughter, Khloe was born on April 18th of this year.
My daughter and son-in-law made everyone else wait in the waiting room so I could be the first to see her. I felt so honored and special.
I was excited about this new baby coming but had no idea the rush of emotions I felt when I first saw her and held her.
I unwrapped her from her swaddle, just as I did with each of my 6 children, and counted her little toes and fingers.
I just instantly fell in love with her and felt so very blessed that she was here and healthy.
She had a full head of black hair and beautiful big blue eyes with very long eyelashes.
I was absolutely amazed by this beautiful bundle that was conceived with so much love.
We are all so blessed by her, and I do not know what we did before she was here.
I am so lucky that my daughter and son-in-law live 2 miles away from me, so I can see her every day.
My heart melts when she looks at me, and am amazed by her. I feel that the sun rises and sets on her, and I love her so completely and totally with my whole heart. My life will never be the same, nor would I want it to.
I am so excited to see who she becomes and enjoy every second I have with her. I am so blessed."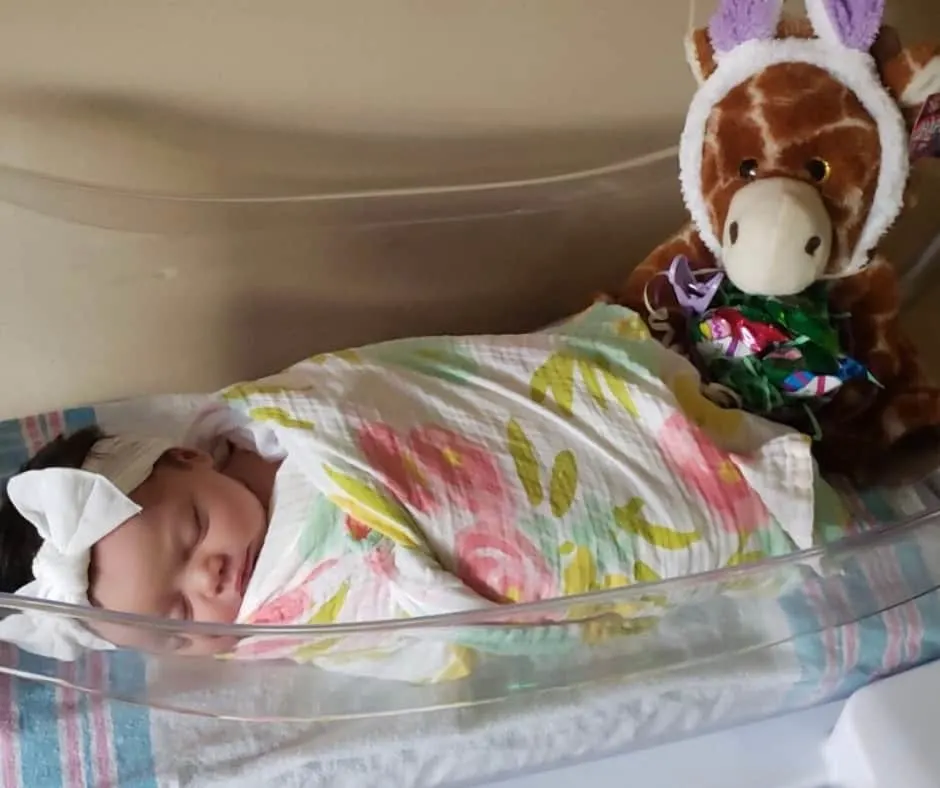 All the Feels Becoming a New Grandma.
Becoming a Grandmother for the first time involves all these emotions and more and being a Grandmother changes you in ways you'd never expect.
The sheer joy, love, and completely overwhelming emotions are impossible to explain!
How did you feel when you became a Grandma for the first time?
If you would like to add your story to this article about becoming a Grandmother for the first time, please feel free to contact me – Kimberly @ PassingDownTheLove.com – with a photo and your brief comment.
Keep Passing Down the Love,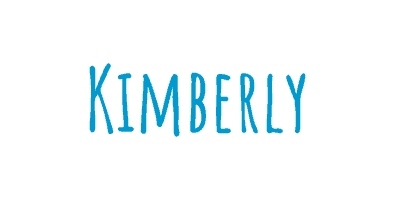 Being a New Grandma is an Adventure
How to Start a New Grandmother Journal