Making a Family Cookbook is easy and fun. Whether it's for a family reunion, for the new bride, or for your Grandkids, passing down recipes from generation to generation is a meaningful way to share your family traditions.
This post is sponsored by Family Cookbook Project and includes tracking links. For more information about tracking links and how to opt-out, please visit All About Do Not Track prior to clicking any links found in this post. #sponsored
Why Save Your Family Recipes?
Making a family recipe book to preserve your family recipes is an important way to continue family traditions and pass down memories of your family.
Family recipes and cooking your favorite family dishes can transport you back in time.
Here are some ways a family recipe book can aid in passing down your family history, traditions, memories – and actual family recipes.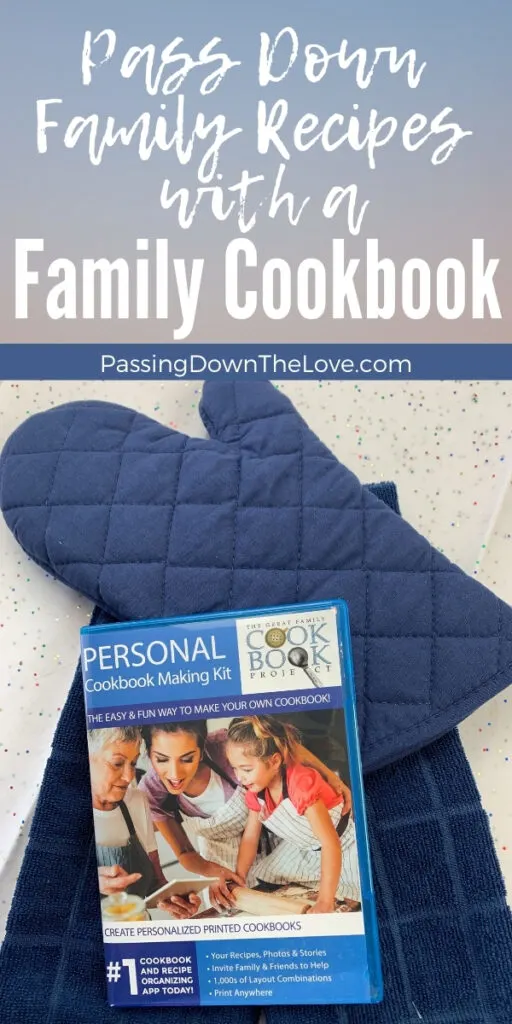 Sharing Family Stories
You know that every dish created by a family member also has a story.
When you share the food, you also share the stories of your family and their life, their circumstances, and their personalities.
Making a recipe your grandma used to make gives you the opportunity to remember her, talk about her and pass that information down to your children and grandchildren. In fact, this is what happens every time MY family makes, eats, and enjoys Grandma Grace's Lemon Whippersnappers!
Recreate Memories
Taste and smell are great memory triggers. Just a whiff from the kitchen can transport you back to a simpler time, an event, or place where memories reside.
Do you remember the smell of Grandma's house at Christmas time? Or on Thanksgiving? Can't you just smell those cinnamon rolls she made when you visited for breakfast?
Recreating those old family recipes helps to solidify and reinforce those special memories of taste and smell that are associated with our loved ones.
Connect Generations
Passing Down the Love through family recipes and a family cookbook makes a treasured connection between the past, present, and future generations.
Share your family history with the next generation through food – eating together, spending time in the kitchen, remembering those who came before you, and by creating and using a family cookbook.
When Should You Start?
You should start NOW!
Family members leave us every day. Traditions, recipes, and stories are lost when no one is left to tell them.
How long will Grandma be with you? Save her recipes while you still can. Ask her about her own mother's recipes.
When family members have gone, you'll have to be a bit more resourceful.
Look through the old recipe books left behind, ask other family members for recipes, stories and memories that they might possess, and contact other close friends who may have valuable information about your family.
How to Make Your Own Family Cookbook
Begin passing down family recipes by making a family cookbook for your own family members.
I've found an easy way for you to do this – with the Family Cookbook Project.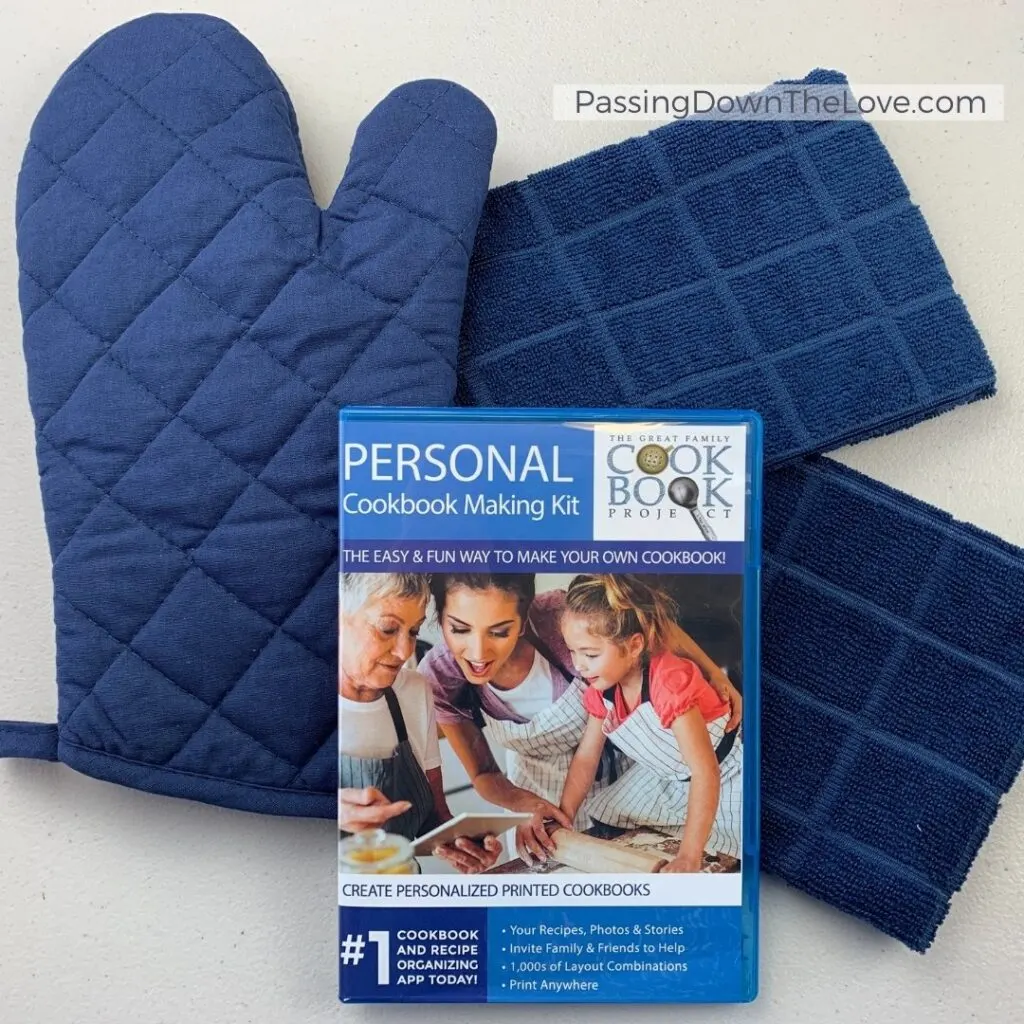 All about the Family Cookbook Project
Family Cookbook Project is a website that will help you gather your family recipes into a recipe book your family will treasure.
With their easy-to-use design features you can
Add photos of a handwritten version of the recipe
Add photos of the dish itself
Tell family stories about the recipe
Create categories and arrange your recipes the way you like
Design your own cover and dividers using their artwork or your own
Give credit to the recipe creator
You can also
Choose your recipe layout
Add cooking hints and tips
Preview your cookbook before printing
Ask for other family members to contribute
Order copies for others
See an online version
If you're ready to get started, check out the Family Cookbook Project here. Or continue reading for more information.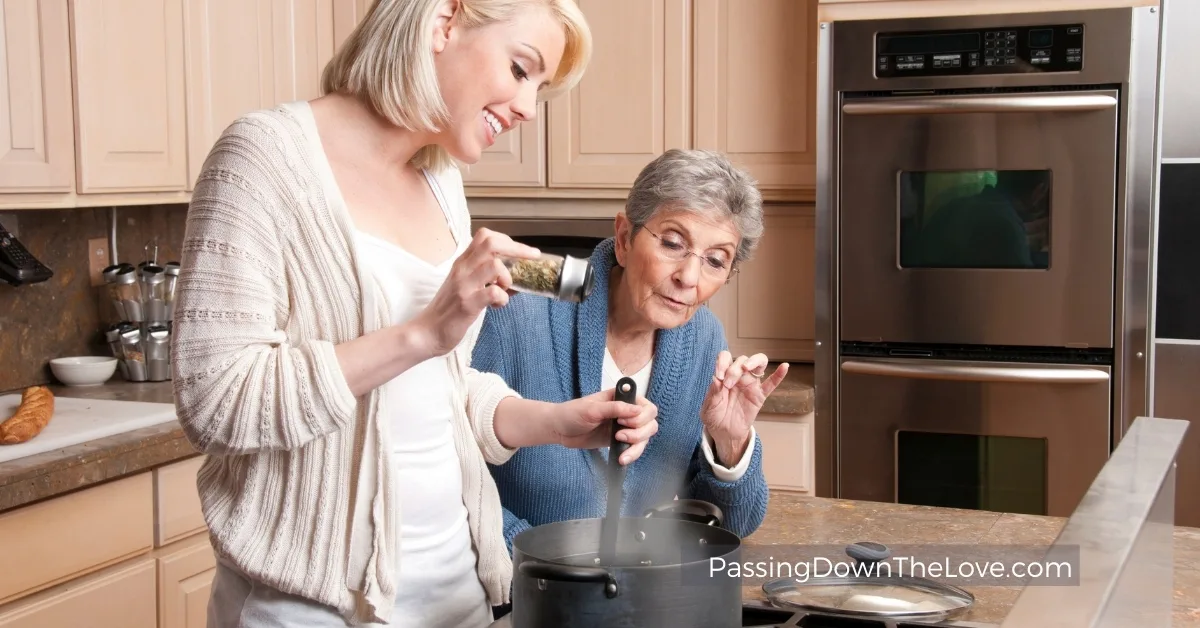 Where to Start
If you're ready to pass down family recipes with your own family cookbook, here is how you get started.
Begin with your own memories
Write down the dishes, cookies, desserts, special foods you remember from your childhood.
If you're like me, you may have a recipe box containing your favorites or recipes you've made many times. Consolidate your favorites into one place so they're easier to find!
Look back through old photos of holidays and see what dishes show up over and over. You might not have liked Grandma's Corn & Oysters, (I didn't!), but someone else did. Be sure to include EVERYONE'S favorites!
Contact Family Members
Ask your mom, sister, aunts, cousins, and other family members about the dishes they remember. They might actually have that Corn & Oyster recipe that Grandma always made. (Mom has it, I know.)
Then ask them to share their favorite family recipes with you to include in the book.
The Family Cookbook Project has tools that make contacting others and adding their contributions so easy.
The Software Allows Collaborators
Easily email family members and ask them to be a collaborator for this project.
Authorized cookbook contributors can add their favorite recipes themselves or send it to you to add. They can be sent by email, scanning, snail-mail, or they can physically bring it to you.
Making your own recipe book is less overwhelming when you have help from others. They'll love seeing their contribution included in the final product.
Use Photos or Scanned Copies of the Recipe
Having the original recipe (or a copy of it) to include in the cookbook is a sentimental way to remember the cook and the recipe.
Handwritten recipes are treasured keepsakes of the past and are awesome to share through this cookbook.
Hint: After you've scanned the handwritten recipe, be sure to preserve them well with an archival sleeve or sheet protector so it will still be of value for years to come. Read more about Archiving and Preserving Old Recipes.
Share Stories & Memories Associated with the Recipe
At the end of each recipe is a place to add your own personal story or information.
Include any details you can remember, or that other's have contributed, to make this recipe even more valuable to the next generation.
When was this dish first served, what was the occasion, describe the circumstances and the way you felt when you were served this dish.
Like Uncle Paul's Ice Cream, recipes have stories that give the dish it's importance and place in your family history.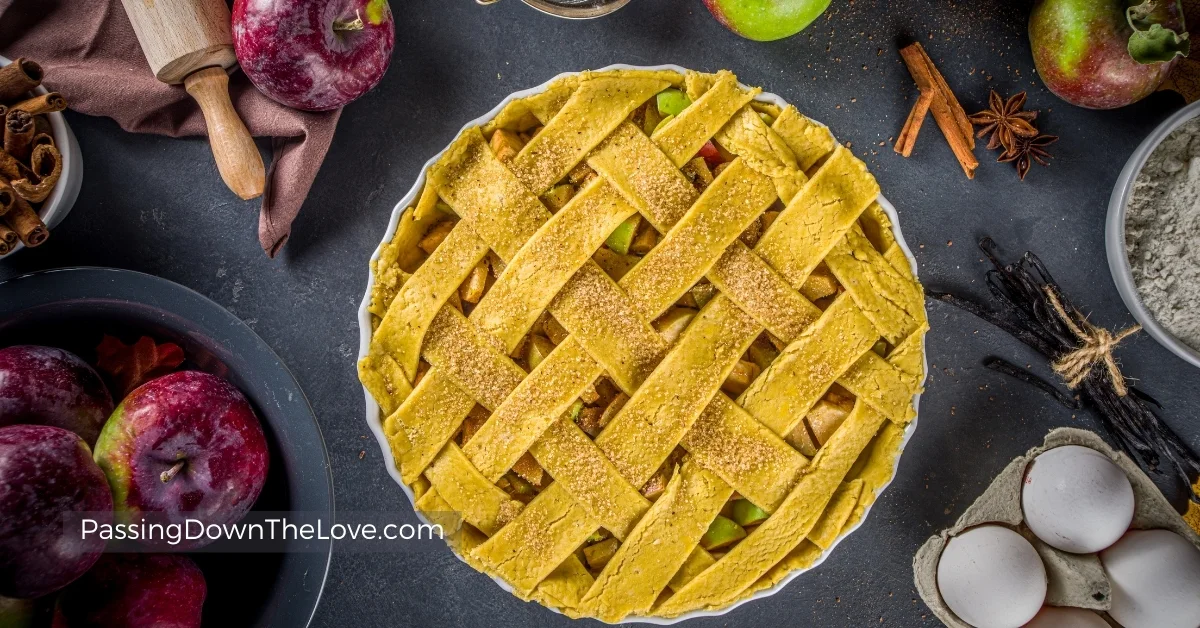 How to Use the Family Cookbook Project Software
The Family Cookbook Project software is highly intuitive and user-friendly.
Create a family recipe book in no time using their templates and designs or create your own.
From cover design, to table of contents, and photo display, Family Cookbook Project makes the entire process quick and fun.
Create your Family Recipe Book
Go to https://www.familycookbookproject.com and create an account with a username and password.
Make Your Family Recipe Book
Give your Cookbook Project a Name
Select the type of cookbook you are creating.
Allow or don't allow contributions from others and set up a deadline for submission. Adding collaborators is optional.
Use default recipe categories or you can create your own.
Add your family recipes – include photos of the dish or of a hand-written version of the recipe, and a story about the recipe to make it more personal.
Design your cookbook by choosing a cover, dividers, and layout. There are many included to choose from or you can design your own.
Use the calculator to estimate the cost which varies depending on the size and number of pages, recipes, and photos you include.
Once complete, place an order for your cookbooks. Unlike other publishers, there is no minimum number of copies required. Contributors can pre-order so you know how many copies to order for others.
Share Your Family Recipe Book
Share your family cookbook with others. Family members can order their own cookbook or you can order enough to share. They're affordable and make a great gift for Mothers Day, Fathers Day, or Christmas.
Your Mom may even enjoy having this gift on her birthday.
Share your family cookbook at a family reunion, or as a memorable gift in honor of Grandma or Mom.
One of the best gifts I received as a new bride (many years ago) was a recipe box from my sister-in-law that included all of their family recipes. This special gift has allowed me to make some of my husband's favorites that HE remembers his Grandmother making for him when he was a child.
Your family recipe book would make a great gift for the new bride & groom in your family.
Tips for Success
1) Learn the software yourself before inviting others to participate. Be comfortable enough with it to answer questions from your collaborators.
2) Use the "How-to" center to get answers to frequently asked questions.
3) After you've entered a few of your own recipes and understand how it works, invite as many family members or friends as possible to contribute their own recipes.
4) Get contributors to participate regularly on the site by emailing them a reminder.
5) Be sure to include stories and photos to make your cookbook more personal.
6) Complete your cookbook 3-4 weeks in advance of the date you will need it to allow time for printing and delivery.
Other Uses for The Family Cookbook Project
There are many other ways to use recipe books made with the Family Cookbook Project.
Make a community recipe book for a fundraiser for Scouts, schools or church.
Create a recipe book for kids with easy recipes and teach kids to cook with their very own cookbook.
Put together a cookbook with your favorite family meals that you and your family cook regularly.
Holiday cookbooks that include your favorite family holiday recipes is easy to make with the Family Cookbook Project software.
What other uses are there for the Family Cookbook Project?
Preserve the Past and Make New Memories with a Family Cookbook
Tasting a dish you loved as a child can conjure up memories of childhood. It can take you back to those warm moments in your past, recreate the smells and tastes of family dinners, and transport you to a happy place of long ago.
Make a cookbook with the Family Cookbook Project and share it.
It'll leave you with a desire to cook Grandma's Corn & Oysters. (At least it did me…)
You'll be glad you did.
Keep Passing Down the Love,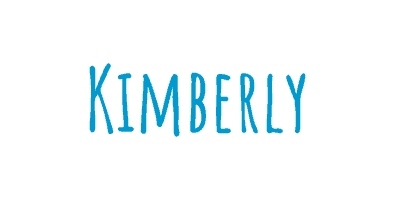 Related Content:
Teaching Kids to Cook: Passing Down the Love of Cooking
Pass Down Family Recipes and Treasured Memories
17 Benefits of Cooking with Kids: Making Memories in the Kitchen