Teaching kids to cook and sharing your love of cooking with them at every age. Pass down a love of cooking to the next generation!
Teaching Kids to Cook: Share Your Love of Cooking with Grandkids
Cooking is a fun activity to do together.
Teaching kids to cook, sharing your love of cooking, and spending quality time perfecting an activity that can have a yummy outcome: Priceless!
Kids appreciate new learning opportunities when they have a stake in the outcome, so make them part of the process.
Kids that participate in preparing their food are more likely to try new things, find more foods they love, and develop their ability to feed themselves one day.
Teaching kids to cook now gives them skills they will use throughout their lives.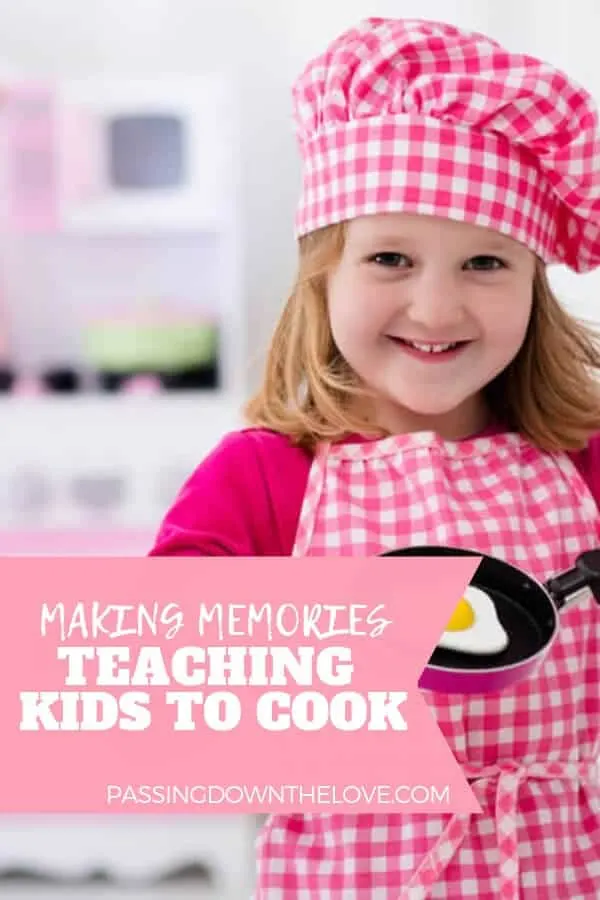 As an Amazon Associate and a participant in other affiliate programs, Passing Down the Love earns a small commission from qualifying purchases at no additional cost to you. See full disclosure here.
NOTE: If you're looking for cooking shows to watch with your Grands, try this cute one – Just Add Magic.
It's a kid's show on Amazon Video and you can watch it for free if you have a Prime Membership. (Get your Amazon Prime Membership here.)
The show notes say: "When Kelly and her two best friends stumble upon a mysterious cookbook, they discover the book's recipes are far from ordinary-they're magical.
Attempting to use the recipes to release Kelly's grandmother from a powerful curse, they uncover more clues surrounding Grandma's mystery and learn each recipe comes with a hefty price.
Bigger secrets are about to be unearthed when you Just Add Magic!"
It's a fun show, especially for girls 6-12, that also has a message. A great one to watch together!
Ways to share
Sharing a love of cooking with kids is easy!
There are a million ways to have cooking-related moments together.
Here are just a few:
Watch TV Cooking shows together, especially those that feature Junior chefs and children in the kitchen.
Decide on a recipe and go grocery shopping for the ingredients.
Read books about cooking or get them a kid's cookbook as a gift.
Make a cookbook that includes your favorite recipes: How to Make Your Own Cookbook.
Tour a restaurant (ask to go behind the scenes – maybe not during rush hour…). Some restaurants give tours. Just ask.
Talk about your favorite foods and how they are made.
Make holiday treats like Christmas cookies or Whipped Cream Salad.
Take a cooking class together. Many grocery stores hold classes for kids. Instead of getting stuff, this would be a great experience gift.
Go to a restaurant where they cook the food at your table.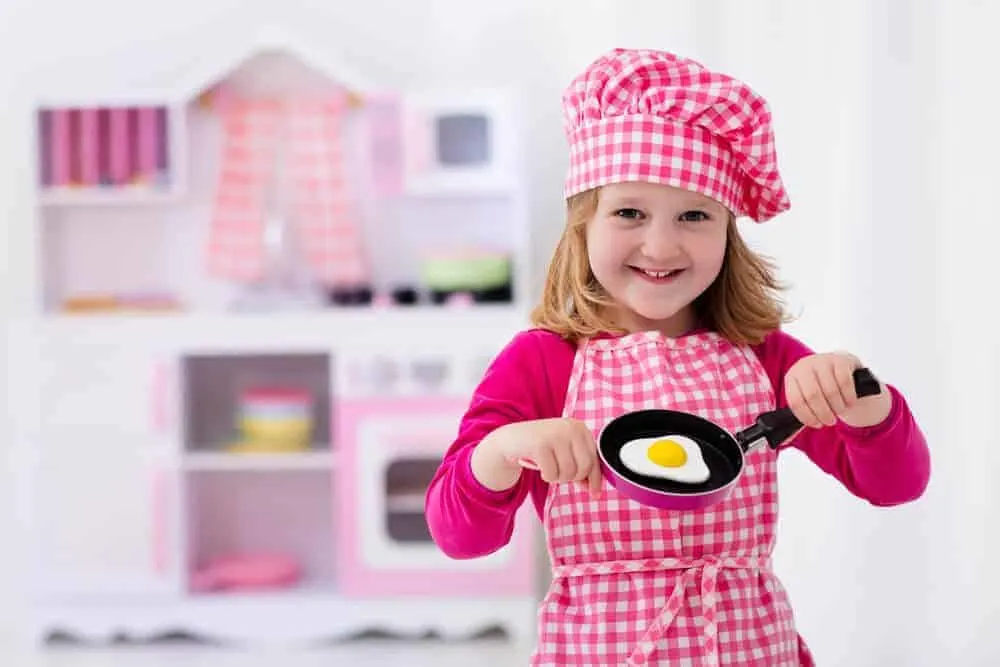 Teaching kids to cook: Start Young and Grow
Teach all kids kitchen safety:
There are hazards, dangers, and boo-boos just waiting to happen.
Take time to access the dangers and prepare ahead to make your kitchen safe, make kids aware of the rules, and use precautions when necessary.
Wash your hands before cooking and after using the restroom or wiping your nose.
Warn of the dangers and precautions with heat. The stove, boiling water, pans.
Be aware of hazards like sharp knives, cleaning products, and the burn of spices like red pepper flakes and jalapenos.
Don't climb on the counters. Use a sturdy step stool to reach higher places.
Wipe up spills, especially on the floor.
Tie back long hair to avoid getting it in the food.
Anything else I haven't thought of but little kids would surely find.
Teaching kids to cook: recommendations by age
The age recommendations given here are suggestions only.
Please consider the capabilities of the child.
Not every child is ready at the suggested age and others may be able to handle more difficult skills at an earlier age.
Use your best judgment to determine the tasks you assign based on the individual child's level of ability.
Related: The Benefits of Cooking with Kids
Pass Down Family Recipes and Treasured Memories
Not Your Uncle Paul's Homemade Vanilla Ice Cream Recipe
When they're little – 3 and under
Children this age will probably make a mess, but that's half the fun.
Give them a chance and watch them smile. Showing them something new, giving them some unfamiliar gadgets to play with, talking, and spending time together are the things that count!
Let them make a mess.
It will all wash off and it's worth the effort.
Play kitchen and food. Have them prepare something for you. Pretend.
Arrange, stack, and put items into measuring cups and plastic bowl as you cook.
Let them draw in the flour, spread sprinkles, or cut out shapes with cookie cutters.
They can mix dry ingredients, count out raisins or nuts, or simply put them from the bag or box into a container.
Stand them up to the sink on a sturdy stool and give them plastic, non-breakable dishes to wash.
Teaching kids to cook requires patience and an ability to handle a few messes. At least for a short time...
3-5 Year Olds
Kids at this age are developing a little more dexterity, motor skills are improving and they can follow simple instructions.
Give them some additional responsibility and a few more difficult tasks in the kitchen and watch them go!
Everything above plus:
Use a rolling pin or cookie cutters.
Shaping the dough into balls
Pouring ingredients, dry and liquid
Cracking eggs.
Washing fruits and vegetables
Mashing potatoes
Stirring batter
Spreading peanut butter and jelly
Picking vegetables from the garden
Snapping beans from the garden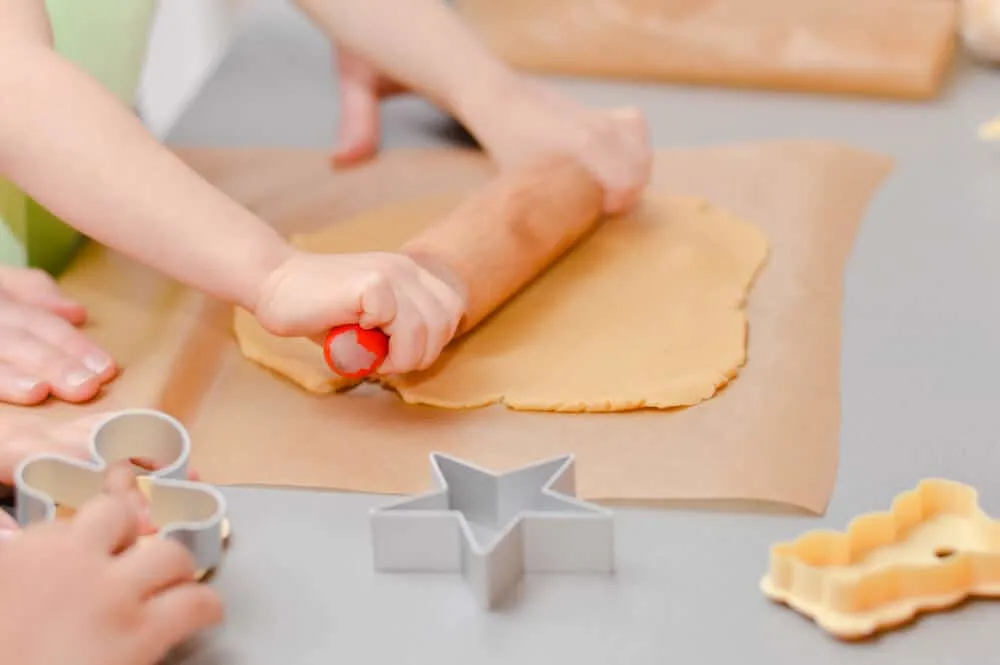 6-8 Year Olds
At this age, teaching kids to cook becomes a lot more about cooking than at earlier ages.
They are beginning to read well, can follow simple recipes, and they are able to better understand instructions.
Add to their skills by upping the game.
Give them more jobs in the kitchen.
Everything above plus:
Whipping or mixing with a hand mixer
Melting butter or chocolate in the microwave
Spooning cookie dough onto a baking sheet
Mixing cookie dough or brownie batter
Cutting strawberries or bananas
Measuring ingredients
Icing cupcakes
Greasing baking pans
Kneading pizza dough
Grating cheese
I'll show them my favorite recipe so they can fix it for ME one day!
9-12 Year Olds
If this age group is still interested in cooking, they will continue to join you in the kitchen.
If they aren't, let them opt out and choose another way to spend your time together.
Budding chefs will enjoy handling these responsibilities.
Everything above plus:
Using knives and scissors to cut and peel
Boiling eggs, pasta or handling other hot dishes
Taking food in and out of the oven
Following a recipe or directions on a box or bag
Making a shopping list
Using a can opener
Frying hamburgers or making grilled cheese sandwiches
Using a food processor or blender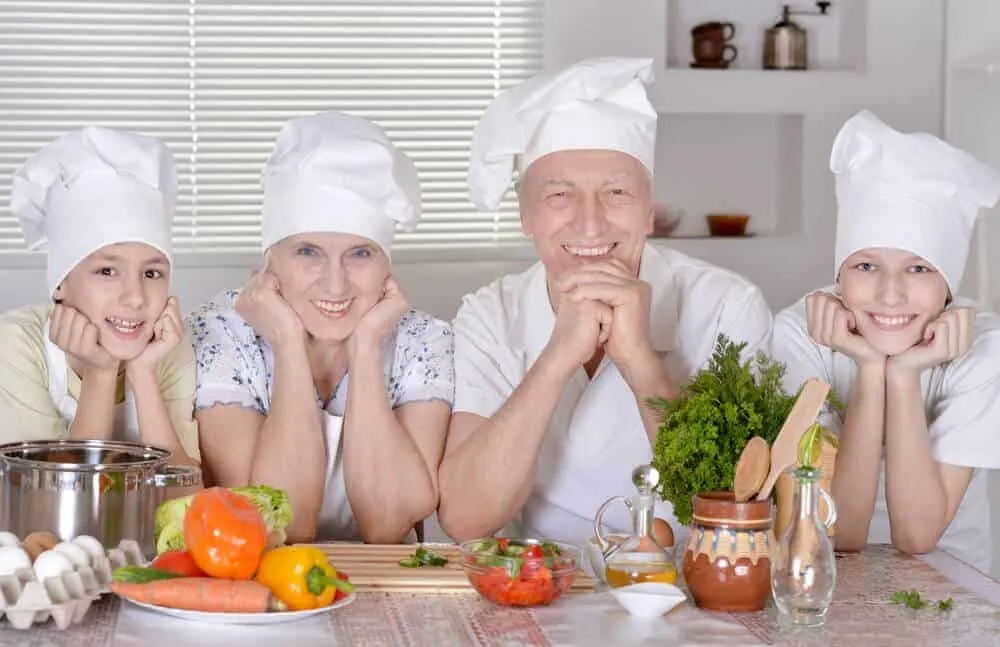 12+
By the time they reach the tween years, teaching kids to cook becomes easier.
Allow kids to dive in if they've been learning all along.
If they are new to the kitchen – and even if they're skilled, it doesn't hurt to stay close by and supervise, at least from a distance.
Let them show off their skills and take more control over the process.
Everything above plus:
Follow a more detailed or difficult recipe
Plan and execute a full meal
Use all small appliances and the stove/oven
Frying and grilling foods
Using the outdoor grill, either gas or charcoal
Recipes for Kids
21 Fun and Delicious Recipes you can Make with Kids
8 Campfire Recipes Kids Love to Make
If you're looking for 50+ more things to do with kids, click here and ask me for my free printable!
Teaching kids to cook: Explain and discuss as you go
Talk as you go with all ages, explaining in a way they can understand.
With younger kids, talk about the color of the fruit. With older kids, explain the use of spices and how they work together to influence the flavor of food.
Tell them stories about your Grandma's cooking, your favorite foods, and family dinners when you were young.
Share your family's recipes.
Engage kids in conversation.
They will learn from you and you from them.
Have fun!
Whatever you decide to do in the kitchen while teaching kids to cook, always remember it's worth it.
It's all about fun, bonding, and yummy results.
Be safe, enjoy your time together and
Keep Passing Down the Love,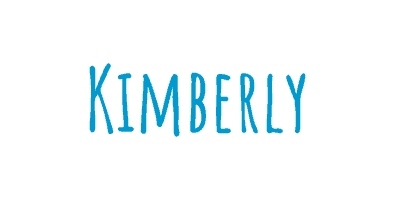 You might also like: