You're going to be a Grandma. What will your Grandchildren call you? They may make up a nickname for Grandma or you can encourage them to call you something in particular. Here is the help you need to choose your perfect Grandma name.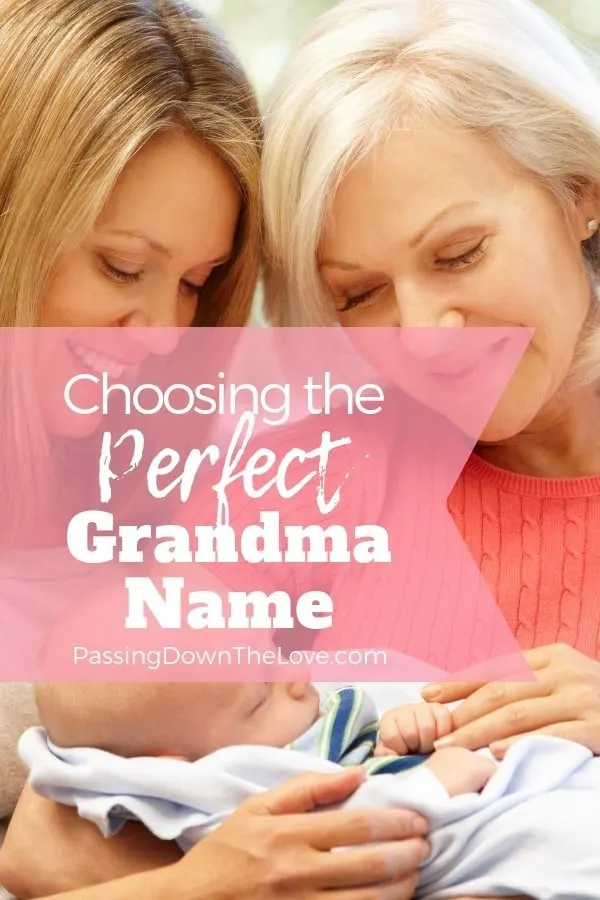 Pin this for later!
As an Amazon Associate and a participant in other affiliate programs, Passing Down the Love earns a small commission from qualifying purchases at no additional cost to you. See full disclosure here.
Choosing the Perfect Grandma Name
You've just found out you're going to be a Grandma. It's a Grand thing, being a Grandma.
I remember finding out I was becoming a Grandparent for the first time. What a whirlwind of feelings! Happy, excited, apprehensive, concerned…. and old.
But soon I was embracing the idea. Then it ran through my head. What will she call me?
This little girl would have 12 Grandparents. How would she keep us all straight? We needed to be sure she knew who we were! So I went about exploring Grandma names.
Selecting a Grandma name is an honor that comes with this coveted position.
There are cool Grandma names, unique Grandma names, family Grandma names, and many nicknames for Grandmas that you could choose.
What will your Grandchild call Grandma?
You may want to be the traditional "Grandma". Or you may want to be called Mimi or Pookie.
Hopefully, you will have a little input into the decision about your Grandmother name.
There are, however, a few things to consider when picking your Grandma name.
Be who you are
No matter which name you choose, make sure it fits your personality.
Do you fall into a more traditional role? Are you silly and carefree?
Take a Grandmother name that fits you and your style.
Remember to BE FLEXIBLE!
You may not end up with the grandma name you choose.
There may be other Grandmothers who "call it" first.
There may be many Grandmas and a need to differentiate between each other.
Your Grandchildren may have other ideas and name you themselves.
Be open, accepting, and ready to embrace the role of Grandma no matter what they call you.
Family Traditions
There may be a tradition in your family.
If all Grandmas in your family go by Nana or Gram, it may be expected that you will, too.
If their traditional name fits you and you want to continue the line, that's great.
But if you don't, don't feel guilty. Feel free to choose your own unique Grandma name.
Related:
Other Grandparents
If the other grandparents already have grandchildren who use the chosen name, you may have to concede to them.
You don't want to confuse the Grandkids.
After all, there are many names for you to adopt.
Either add your first or last name, like I did (Grandma Kim), or go with an alternative Grandma name that's not already taken.
Easily spoken by your Grandchildren
You may find that your Grandchild is unable to clearly say your chosen name.
Either they will temporarily morph it into something else then eventually be able to say your name, or you may become known by their variation.
Be ready for either of these outcomes.
Approved by your Grandchild's parents
Be sure to ask for your child's approval of the name for Grandma.
It may be easier to simply choose an alternative Grandma name than to cause conflict.
After all, your chances of a smooth relationship and maintaining the "Awesome Grandma" status may involve a little compromise.
There may be a valid reason for their opinion about your choice of Grandma name.
Find a name you both can agree upon.
Cultural, Geographical or Ethnic considerations
Some cultures see their specific names for grandparents as respectful and to call them anything else is disrespect.
You may want to choose your Grandma name based on your ethnicity, something commonly used in your region, or a Grandma name based on your country of origin.
Grandma Names:
Here are some names to consider when it's YOUR turn to be a Grandma.
Traditional Grandma Names
Grandmother
Grandma
Granny
Grannie
Nan
Nana
Nanny
Gran
Grana
Gram
Grams
Gammie
Gamma
Gams
Gramma
Grandmama
Memaw
Meemaw
MawMaw
MaMa
MayMay
Modern Grandmother Names
Maybe you are too young to think of yourself as someone's Grandma.
Try out one of these more modern takes on the name Grandmother.
Gigi
G-maw
Coco
Bunny
Glamma
Teeny
Bunny
MiMi
LaLa
Lolly
YaYa
G
Gaga
Mia
Abba
Pippa
Graham Cracker
International Names
Maybe you would prefer a name from another country or region?
Some Grandmothers choose names that reflect their heritage.
Or maybe they just like the way the name sounds.
Hawaiian – Tutu
German – Oma
Spanish – Abuela or Abuelita
Italian – Nonna
French – Grand-mère or the less formal Mémé
Russian: Babushka
Greek – YaYa
Other cute nicknames for Grandma include:
Cookie
Bunny
Peaches
Granny Pie
Honey
Cha-cha
Mia
Nina
Nanoo
Nooni
Twinkles
Gabby
Gogo
Nima
Muffy
Toots
Tootsie
Conclusion – What to Call Grandma: Choosing The Best Grandma Name
Did you find a name in this list that fits your personality and style?
Whether you choose a traditional name, a modern Grandma name, or some other cute Grandma name, be sure to keep an open mind and heart.
Your Grandchild may have other ideas about your name.
My Dad used to say, "I don't care what you call me, just be sure to call me for dinner".
I'm sure you'll be proud and happy, as long as they call you, right?
Whatever you do, remember to
Keep Passing Down the Love,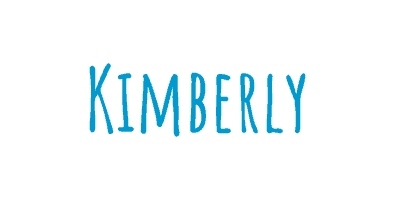 Related: