St. Louis is a great city, full of entertainment, excitement and unique activities. Let's talk about some fun things to do with kids in St. Louis Missouri.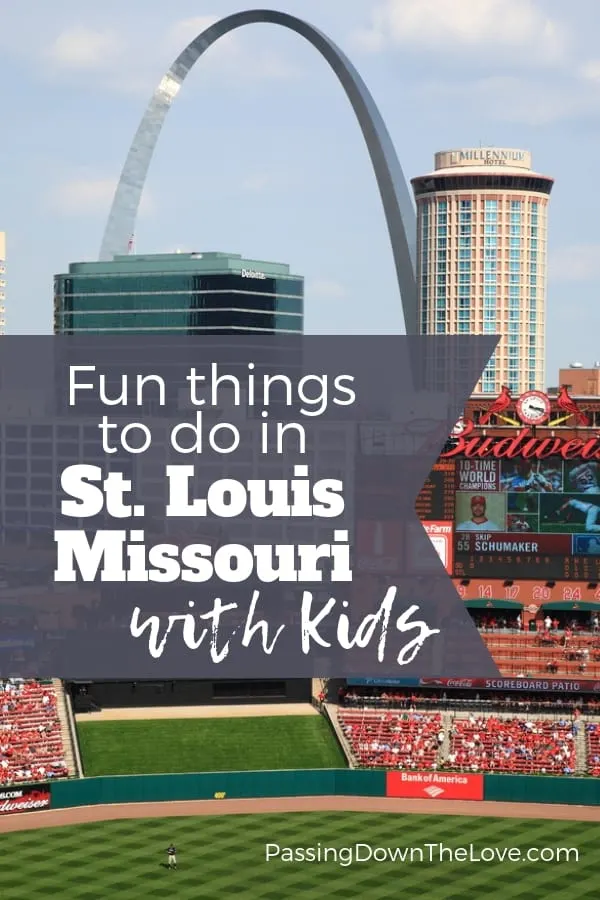 Passing Down the Love is a participant in the Amazon Services LLC Associates Program, an affiliate advertising program designed to provide a means for us to earn fees by linking to Amazon.com and affiliated sites.
Fun Things to Do With Kids in St. Louis
There are so many fun things to do with kids in St. Louis, MO. Some of these you probably already know about and some may be new to you. I'm going to hook you up with some links to the most popular places and also clue you in on some lesser known, but very interesting places that we've found here.
We always look forward to having a day with our grandkids, or maybe a weekend here and there. St. Louis is a large metropolitan area with many possible activities. And even if you aren't close to the city, an occasional day or weekend trip may even be an option for you. We are fortunate to live in the suburbs of St. Louis and have a ton of options available to entertain the kiddos. Here are some fun things to do with kids in the St. Louis, MO area. Whether you live close by or are just visiting, there is something for everyone!
Forest Park
Forest Park is home to several wonderful venues – The St. Louis Zoo, St. Louis Science Center, The Muny, The Missouri History Museum and the St. Louis Art Museum.
Head to Art Hill in Forest Park where you'll find outdoor concerts and movies, paddle boating and fishing in the summer, and sledding down the hill in the winter. You will also find the St. Louis Art Museum. The Saint Louis Art Museum is one of the nation's leading comprehensive art museums with collections that include works of art of exceptional quality from virtually every culture and time period.

The Muny is a wonderful outdoor theater with live performances of Broadway shows like A Chorus Line, The Unsinkable Molly Brown and Little Mermaid. Grab a sandwich and a drink to take with you and sit in the free seats. If you prefer to sit closer, you can purchase seat tickets, but it's great to go early, snatch a free seat, enjoy your sandwich, and watch the show. Shows run evenings from June to August. Check their website for times and show information.

One of our favorites! My adult kids still talk about the many fun times they had with their grandparents at the zoo, even years later. (Those grandparents are now taking their GREAT-grandchildren to the zoo!)

The Zoo is located in Forest Park and offers one of the best zoo experiences in the country! Every kid or kid at heart will enjoy the Bears, the Penguin & Puffins habitat, the Children's Petting Zoo and, of course, a ride on the train. The zoo has a variety of places to catch a snack or have lunch. Check out the website for feeding times and shows. Watching the elephant show, sea-lion feeding or the reptile show will provide a little education, hands-on experience, and a sense of wonder for every kid (or kid at heart).
Take a trip to the St. Louis Science Center for all things exploration, science, and discovery. Enjoy a movie at the Omni-Max theater, check out the newest exhibit (the dinosaur exhibit was awesome!), gaze at the stars at the Planetarium. The Science Center has interactive stations to engage all ages with science fun!
We are searching for fun things to do with kids in St. Louis, MO. Stop by often for new ideas!
Other fun things to do with kids in St. Louis
A trip to St. Louis would not be complete without a trip to the iconic Gateway Arch, the Gateway to the Midwest. Journey to the top for an incredible view of St. Louis, the Mississippi River and into Illinois. The Arch and grounds have just finished undergoing a renovation. Enjoy an all-new tram ride, new museum, updated visitor center and an access bridge to the rest of the city. Completion of the improvement projects is anticipated in July 2018.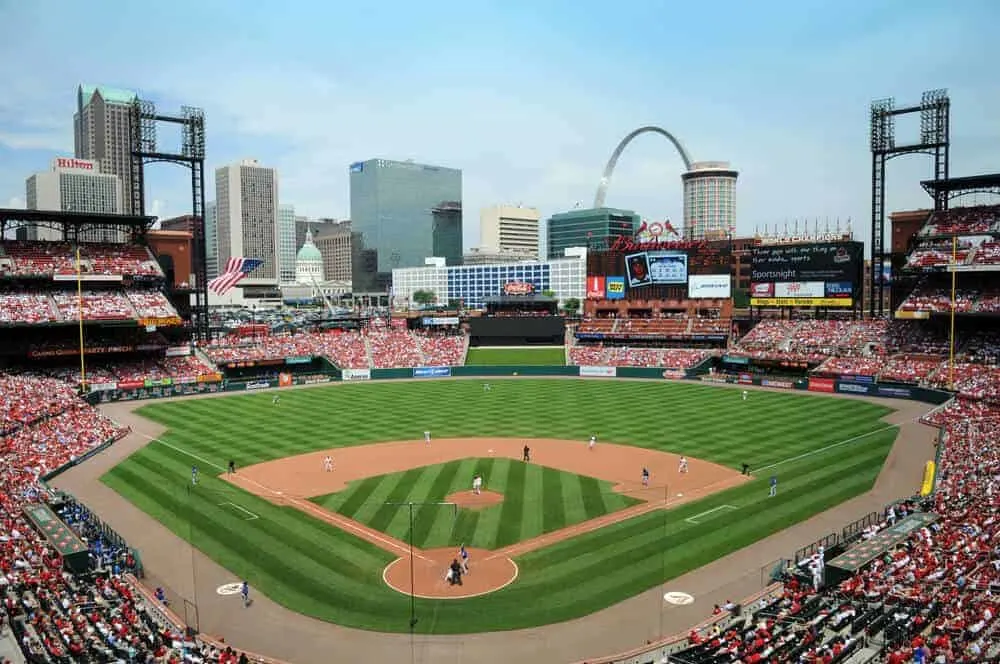 If you are from St. Louis, you probably already know this, but St. Louis has the VERY best fans in all of baseball. A trip to Busch Stadium for a Cardinals game is a must-do, for sure! The stadium is beautiful, the food is great and the St. Louis Cardinals are the bee's knees! (Can you tell I'm a Cardinal Fan?) As an alternative, and to still be part of the action, head on over to Ballpark Village to have a bite to eat and watch the game on the massive TV's where you will see a lot more Cardinal red. Sweet memories have been created between those who share the baseball experience. Take your kids or grandkids to Busch Stadium.

The Fabulous Fox is an old, ornate, incredibly beautiful theater which opened in 1929. The Fox is host to Broadway Shows like The Lion King and Wicked, as well as entertainment like Pentatonix and Jerry Seinfeld. Just being inside the Fabulous Fox for an event is a thrilling experience in and of itself. Check the theater's website for tickets, times and shows.
If you love roller coasters, water parks, shows or concerts, Six Flags St. Louis has it all. Thrill seekers will like Batman the Ride, Dragon Wings or Fireball. Younger kids would enjoy Tweety Twee House or Marvin the Martian Camp Invasion. Enjoy an inside show at Miss Kitty's Saloon, especially nice on a hot Missouri day! Six Flags has a schedule of concerts throughout the year, special events on Halloween – Fright Fest, and Christmas – Holiday in the Park. Six Flags St. Louis is an attraction for kids of all ages.

Grant's Farm is a popular and FREE ($12 parking fee) St. Louis destination and home to some of the famous Budweiser Clydesdales. There are paddle boats, train rides, camel rides, a carousel, animal shows and so much more. Grant's Farm also houses over 900 animals from around the world. Everyone in the family will enjoy the chance to feed a parakeet or baby goat and have the opportunity to attend learning sessions about elephants or other creatures.
From their website… "Housed in the 600,000 square-foot former International Shoe Company, the City Museum is an eclectic mixture of children's playground, funhouse, surrealistic pavilion, and architectural marvel made out of unique, found objects. Artist Bob Cassilly and his crew constructed the museum from the very stuff of the city; and, as a result, it has urban roots deeper than any other institutions'. Reaching no further than municipal borders for its reclaimed building materials, City Museum boasts features such as old chimneys, salvaged bridges, construction cranes, miles of tile, and even two abandoned planes!"

I couldn't describe it better myself. An unusual, interesting, sometimes bizarre mix of this & that. Climb, slide, poke, and shuffle your way through and you'll have a surprise around every turn. Watch the video for an inside peek at the museum. Check their website for prices, hours, and rules.

The Magic House in St. Louis, Missouri is a children's museum designed to provide an environment where children can learn through playing and exploring. Unlike traditional museums, children's museums are specifically geared toward friendly, interactive, and creative learning experiences just for kids. For coupons and to find out more, see our article about The Magic House here.

Lesser-known/hidden gems:

We are on a mission to discover some of the hidden gems in St. Louis that you may not have visited yet. These are the places we have found so far. We will add to this list as we search for unusual places to make memories and find fun things to do with kids in St. Louis.

Myseum is an interactive science museum in Town & Country, Mo, in St. Louis County. Hands-on fun for kids with Giant Legos, a bounce house, a dinosaur dig and many more fun things to do with your kids. See our complete description and review here: Myseum: Kid Friendly Fun in St. Louis, MO.

The St. Louis Carousel at Faust Park is in Chesterfield, MO, in St. Louis County. The restored 1920's carousel is a trip back in time. The rides and organ music are a page from history. Visiting the carousel is a great time for kids of all ages. See our complete description and review here: The St. Louis Carousel: Kid Friendly Fun in St. Louis, MO.

Just what it sounds like, a frozen treat, the best in the country or maybe the world, according to most St. Louisans. We've been here, too. See our complete description and review here: Ted Drewes Frozen Custard.

Located in Faust Park close to the St. Louis Carousel in Chesterfield, MO is this unique paradise of approximately 1,500 different species of butterflies, educational opportunities, and fun. See our complete review here: Sachs Butterfly House.

Our continuing search for fun things to do with kids in St. Louis, MO:

Here are some other places we intend to visit in the near future. Reviews and recommendations from others indicate these places are also on the list of desirable destinations in St. Louis. And if you know of a place in the St. Louis area that we should check out, please feel free to comment or send me a message!

Free admission, animal display

Petting Zoo & Educational Park.

Cave, camping, river activities

This is an incomplete list of fun things to do with kids in St. Louis, I know. The more well-known and popular attractions can easily be found through a Google search. We are on the hunt for some of the more unusual, lesser-known places and would like to share them with you.

Sharing experiences such as these with the people you love strengthens the bonds between you.

Making time for important things can provide a lifetime of irreplaceable, treasured moments.

Keep spending time together, creating memories and

Keep Passing Down the Love,
You know, Sharing is Caring. If you like this post, please share with your friends on Facebook, Pinterest or Twitter. Thanks for your support!
Other posts you might like:
That Uneasy Feeling: St. Charles is Haunted
August A. Busch Memorial Conservation Area
Sachs Butterfly House – Kid-Friendly Fun in St. Louis, MO
Hometown Tourist Project: St. Charles, MO