How in the world do you make a blue baby shower punch? Well, I've tracked down some blue and pink baby shower punch recipes for your Baby Shower. These recipes are delicious!
Blue and Pink Baby Shower Punch
Do you know that serving punch at a baby shower is a long-standing tradition?
Way back in the day of dinosaurs, when I was given a baby shower, we had a baby shower punch.
Remember the kind with sherbet floating in it? So good, right?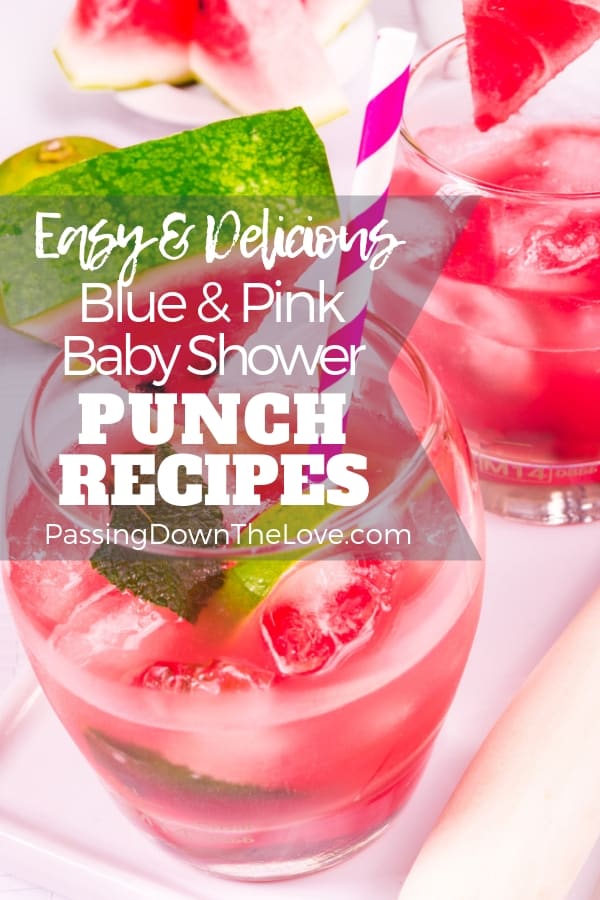 As an Amazon Associate and a participant in other affiliate programs, Passing Down the Love earns a small commission from qualifying purchases at no additional cost to you. See full disclosure here.
Baby Shower Punch may be a little "too much" to serve at your Grandma Shower, (see why here)but these recipes would be great to share with your Grandkids as a special treat or birthday, for your niece's shower, or to pass along to your daughter to use at her friend's wedding shower or baby shower.
(Just PIN it or share it with them on Facebook!)
If you're planning a shower, you'll also need our Shower Planning Checklist.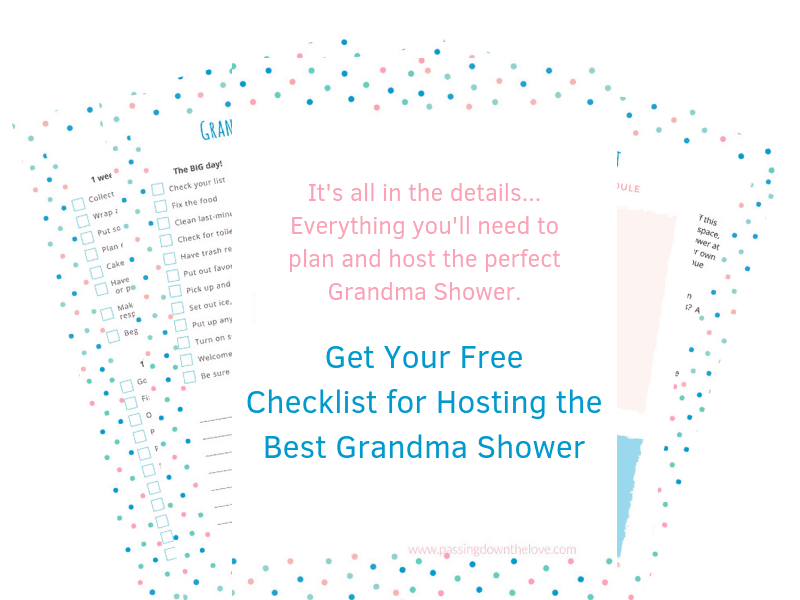 Coloring Options
There are several different ingredients you can use to end up with a blue or pink baby shower punch.
For blue baby shower punch, you could use blue Kool-Aid, Gatorade Cool Blue, Gatorade Glacier Freeze, Fanta Blueberry, Hawaiin Punch Berry Blue Typhoon, or Hawaiian Punch Polar Blast, (a little turquoise – perfect for a beach theme or water-related punch).
Did you know Pepsi Blue was a "thing", but it was discontinued in the U.S. in 2004?
Too bad, because that would have been awesome – blue and fizz both in one drink!
But it's available in Indonesia or the Philippines if you happen to live or visit there. That's according to Wikipedia.
For pink, there are many more choices.
Dilute any "red" drink, and, hey, you get pink!
Try Original Hawaiin Punch, red Kool-Aid (cherry, strawberry, etc.), cranberry juice, watermelon, V8 Strawberry Banana, red soda like Cherry 7-up (which is already a little pinkish), or Minute Maid Fruit Punch.
The list of red liquids to use in pink baby shower punch goes on and on!
The trick is to meld the blue or pink with other flavors and colors to get the look and taste just right.
Whether you prefer a blue baby shower punch or pink baby shower punch, there should be a recipe here that suits you.
Baby Shower Punch Recipes
Make a blue or pink baby shower punch for your party.
Your guest will love these great-tasting, fun baby shower punch ideas.
Any of these Pink or Blue Baby Shower Recipes would be awesome to serve at your baby shower.
They would also be perfect for birthday parties, anniversary parties or any other large gathering of people.
Pick your favorite and give it a try!
For your Shower, you might also need some games:
Keep Passing Down the Love,