Host a Grandma Shower for the new Grandma in your life. The whole idea of a Grandmother Shower is not without controversy.
However, if done right, you can make your Grandma Shower a big success. The Grandma-to-be will be happy to share her excitement with you!
How to Host a Perfect Grandmother Shower
Hosting a Grandmother Shower is becoming a popular trend. Have you ever heard of a Grandmother Shower? I hadn't either, until recently.
It's a chance for friends to celebrate the new grandmother-to-be.
And it's a way to help her stock her home with the supplies and fun stuff she will need as a new Grandmother.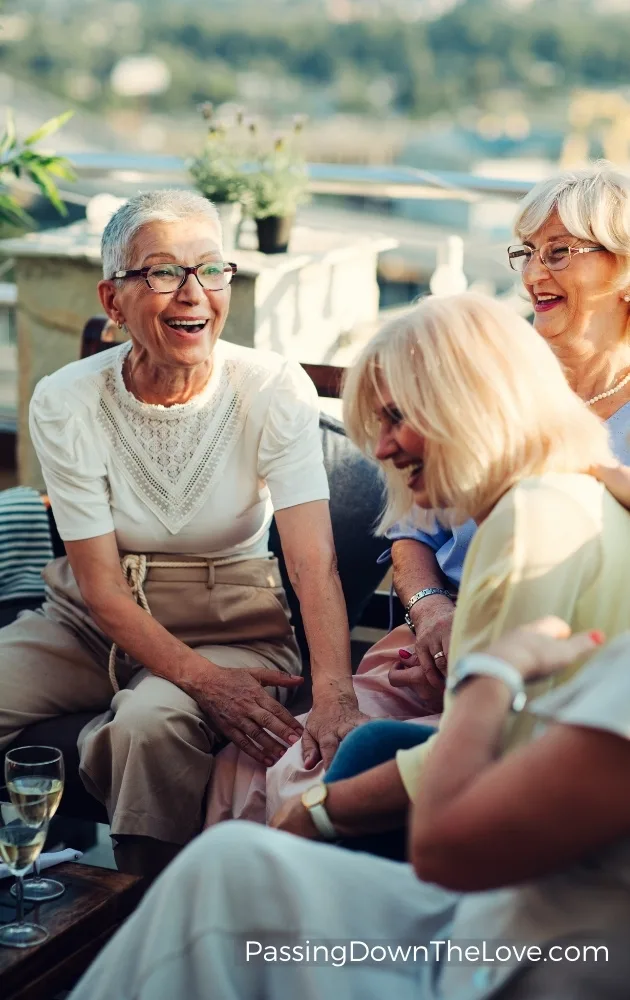 Although some people think that it's simply a gift grab opportunity, if done right, it can be a fun time for everyone.
The excitement of being a grandma for the first time is even greater when sharing that with your closest friends.
This is the perfect reason to throw a party!
Be the fun friend who plans a baby shower for the Grandma-to-be.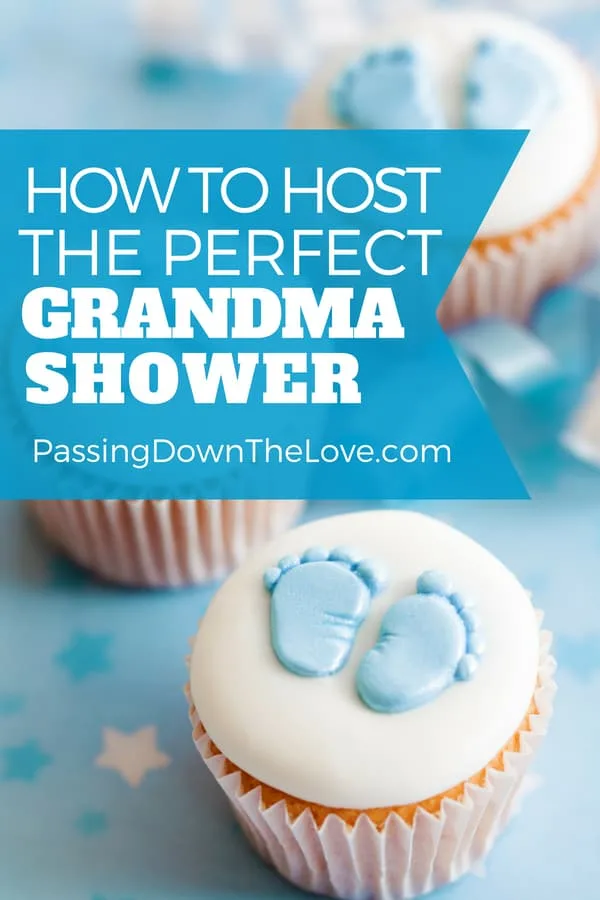 As an Amazon Associate and a participant in other affiliate programs, Passing Down the Love earns a small commission from qualifying purchases at no additional cost to you. See full disclosure here.
I'm here to help with some tips and ideas for hosting a Grandmother Baby Shower for someone who is becoming a first-time Grandma.
And if you can't be there in person, host a virtual baby shower!
(If you don't have time to read this right now, just Pin It for later.)
Get your Free Grandma Shower Planning Checklist Printable here.
Check out some Thoughtful Ways to Say Congratulations, Grandma.
Keep it simple.
Keep this celebration a little low-key. A new grandmother may not want anyone to hold a baby shower and make a big fuss.
But she probably wouldn't mind a "little fuss".
And your party should not overshadow any shower plans for the Mom or take the attention away from her.
Invite close friends.
Make it a small gathering with just her closest friends.
This shower should be an opportunity to share the entrance into grandmother-hood with the special people who are sincerely happy for her.
Make it a lot about celebrating.
The gifting is an important part of the shower, too, but should be secondary to celebrating.
Hosting a Grandmother Shower in the evening.
Most baby showers are held on a weekend afternoon.
Having the shower in the evening is less apt to compete with Mom's shower.
If you'd like to make this baby shower for the new Grandma a surprise, having it in the evening will surely be more unexpected.
Meet at a restaurant or park.
Hosting a Grandmother Shower at a restaurant or park removes the need for elaborate decorations and desserts.
Having the shower at a neutral location makes it easier to share the hosting responsibilities with others in the group as well.
Related: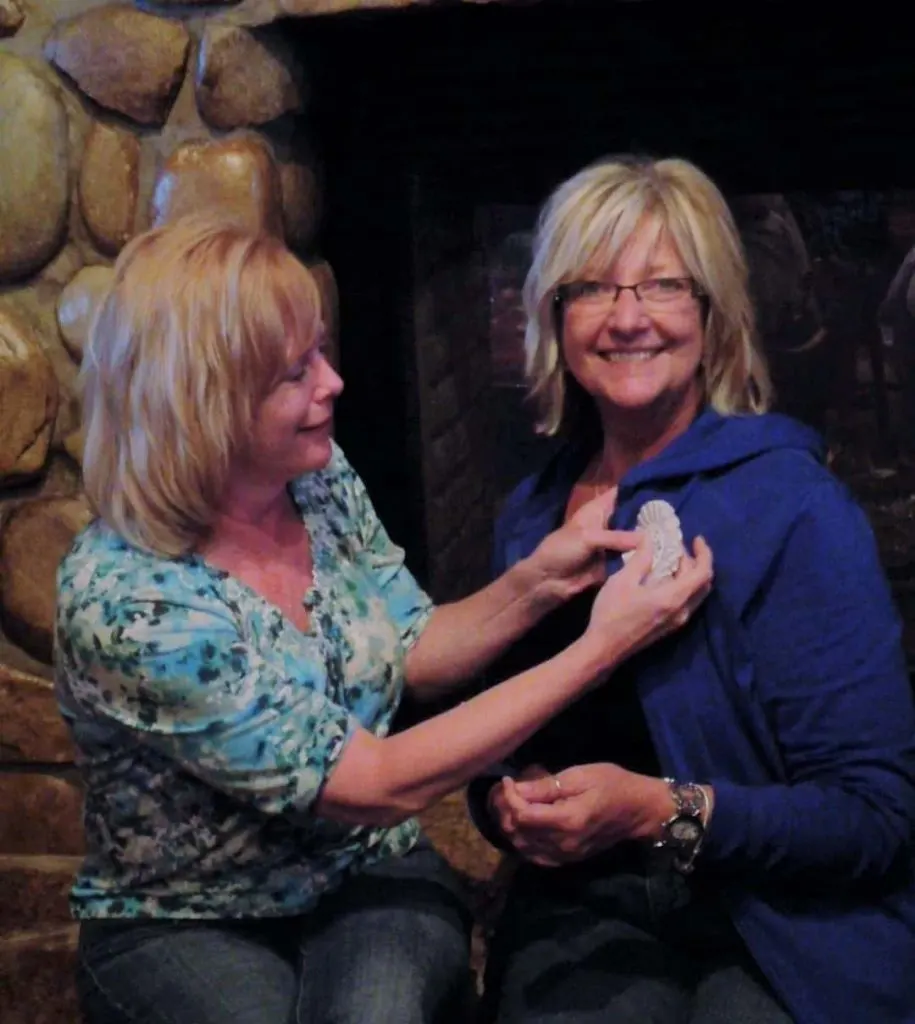 Pass the New Grandma Award.
Are you wondering what I'm talking about with this one?
Well, my story is simple, sweet and meant a lot to me when I became a Grandma for the first time.
I have a group of friends who all became Grandmothers within a short time frame.
The ribbon was passed from one new Grandmother to the next.
It is a simple award ribbon, like this one. It didn't cost much but was a gesture that meant so much to me.
I didn't keep it for long, though, because another Grandma was born a few months later.
(They even have one for the Grandpa…)
Start the New Grandma Award tradition in your group.
Play a Grandmother Baby Shower game.
This could be fun, especially if you go to a park or to someone's home.
Some may even be appropriate for a restaurant setting.
Baby Shower Bingo or Baby Word Scramble are fun games.
Go to this post for more game ideas.
Give Useful Gifts.
When I became a Grandmother the first time, it had been almost 25 years since I had a baby in the house.
I needed baby supplies.
If this new Grandma lives close and the baby may visit often, give gifts to the Grandmother-to-be that will help her stock her home.
It will be more convenient for Mom to visit if Grandma has some basic supplies on hand.
And Grandmas LOVE it when their Grandkids (and their children) come to visit.
Baby essentials that she might need in order to make life easier with a grandbaby would probably be appreciated.
Bibs, baby washcloths, wipes, diapers, a blanket, books, or even a used stroller or Pack 'N Play.
If she doesn't live close to her grandbaby, visits will likely be less frequent.
Give things like a photo album, brag book, picture frame, or a bottle of champagne to celebrate the day the baby arrives.
Or give gifts that she could deliver to the new Mom when the baby arrives.
She could probably use items to make her home safe for her grandchild.
Read more about that here: "Be Prepared: Make Your Home Safe for Your Grandchildren". Consider the new Grandmother's situation and choose accordingly.
Check out this gift list for special gifts for the new Grandma.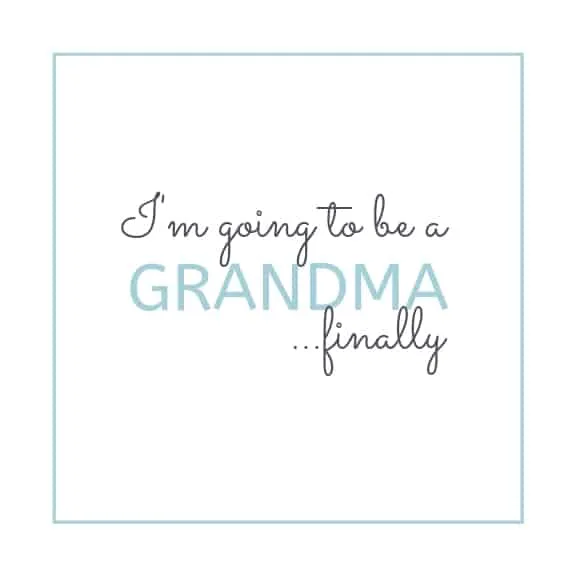 Share Wisdom.
The women in attendance who are already in the role should share their wisdom with the newbie.
Becoming a grandmother for the first time can be overwhelming and life-changing.
It's an adventure, for sure!
Hearing from those that have gone before can give the new Grandma insights that only other Grandmas possess.
This could be verbal, around the room, or written on cards to give to the new Grandma.
Share your experience and shorten her learning curve!
Just send her to this website for the valuable information we freely give.
We'd be glad to show her around the Grandmothering world!
Make it a Couple's Shower.
If you're the one who plans the baby shower and your friends are mostly couples, you could include Grandpa in the celebration.
A couple's wedding shower has become popular, why not have a Couple's Grandparent Shower?
Grandpa's life is changing, too.
A Grandparent Shower will celebrate the new Grandpa as well.
Here is a cute gift for the happy Grandparents.
A New Grandma Starter Kit.
Instead of everyone bringing a gift, consider pooling your dollars and making a Grandma Starter Kit for her.
Every new Grandmother needs to have supplies on hand. Make and fill a basket, wagon, or baby bathtub with gifts.
Go Green.
If the new Grandma is someone who has everything, has already shopped for her new addition, or you would just rather not make the shower a gift-opening event, "green" is always a great gift.
Giving "green" to help Grandma start a savings account for the new baby would be appreciated by Grandma and the baby's parents.
If You Can't Be Together in Person.
If you are apart because of circumstances, you are a long-distance Grandma, you live too far from your friends, (or as is the case in 2020 – you're quarantined…), host a long-distance shower.
Some call it a virtual shower.
It's easy to do with these instructions: How to Host a Virtual Baby Shower.
Plan Your Grandmother Shower.
Ok, so maybe I've given you something to think about.
Being a new Grandmother is a very special event. Help celebrate this momentous occasion by hosting a new Grandmother Shower.
Remember:
It's a stage in life that should be celebrated. Being a Grandma is an exciting, awesome feeling!
Share your wisdom and advice with the new Grandma.
Keep it low-key, really. It's about the celebration and congratulations!
It's not about gift giving and getting.
Respect the baby's parents and their feelings. The true honor is theirs and the attention should be on them.
Plan and host a Grandma celebration. In fact, "Grandma celebration" might be a better description than Grandma Shower…
Let her know you're excited and happy for her and her family.
Have fun!
AND Get your Grandma Shower Checklist Printable Free in the member area when you subscribe.
Grandma's Tip of the Day: To keep cut flowers fresh for your party, add 1 Tbls sugar, 1 tsp. vinegar, 1 tsp. mouthwash and 3-4 drops of dishwashing detergent to 1 quart of water.
Here are some other Grandmother articles that you may like:
As always,
Keep Passing Down the Love,