Would you like to know how to throw a baby shower for someone who lives far away? Hosting a virtual baby shower may be your answer.
How to Host a Virtual Baby Shower
Here are some ideas for an online baby shower that will help you connect and have a fun baby shower even when you're long-distance or separated by circumstances.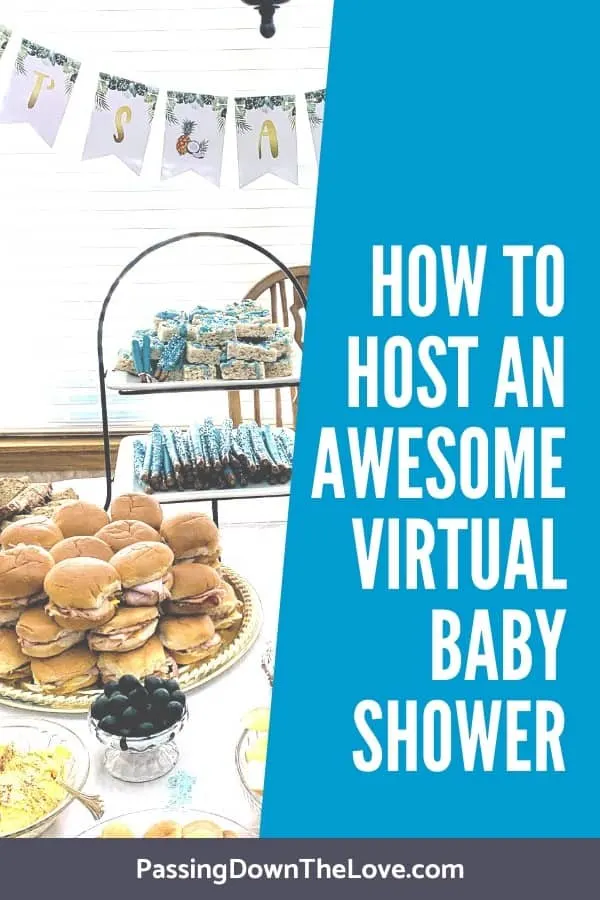 As an Amazon Associate and a participant in other affiliate programs, Passing Down the Love earns a small commission from qualifying purchases at no additional cost to you. See the full disclosure here.
What is a virtual baby shower?
A virtual or online baby shower is a baby shower that is hosted by connecting the mother-to-be and guests through the internet.
You can see and speak to each other even if you aren't in the same location. How awesome is that?
In this day of social distancing, it may be the only way to celebrate!
Even though this was not an issue at the time this post was first written, it certainly is an issue today.
There are many ways to hold a virtual shower.
In this article, I'm going to share our experience with you, then below you will find other options for hosting an online baby shower.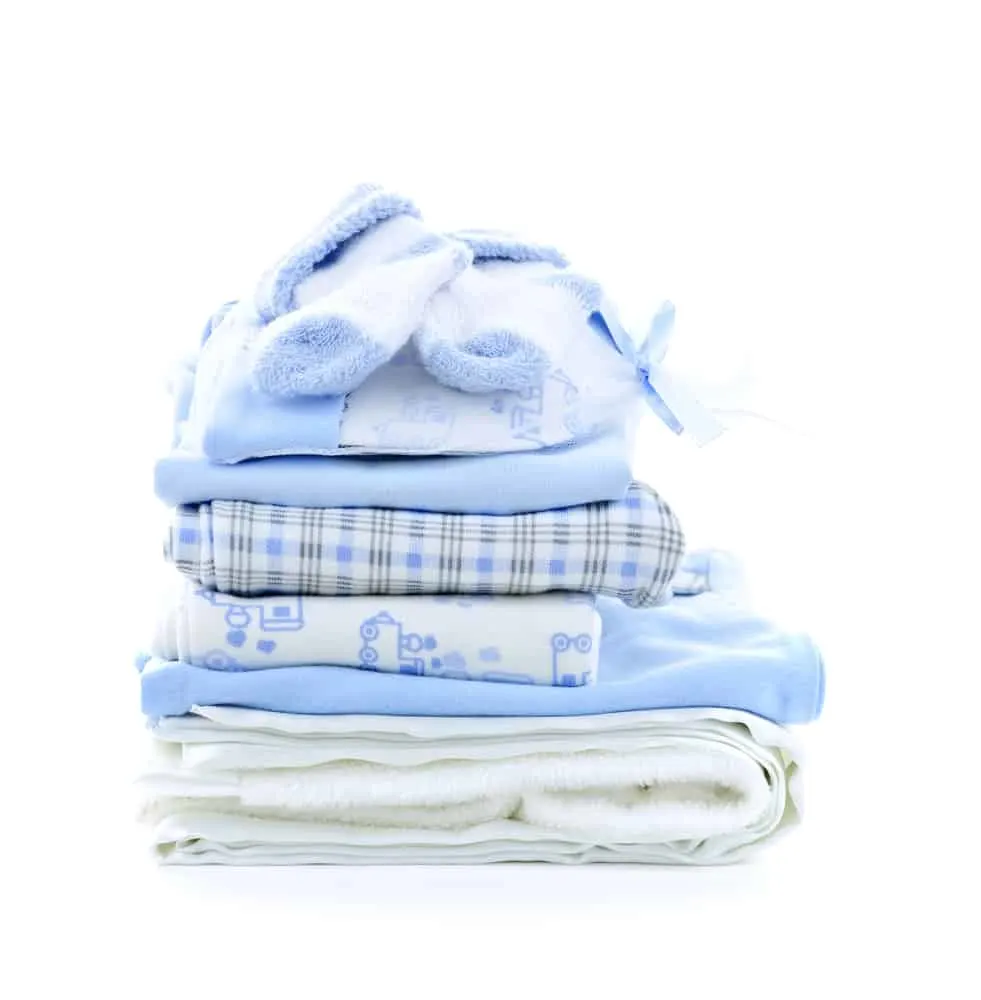 Related: Games to Play on FaceTime with Grandchildren
Consider Your Own Situation.
You are Long-Distance
In our particular situation, the Mom & Dad-to-be were in Texas and the rest of their family was in Missouri.
The process started because Grandparents, Aunts, Cousins, Brothers, Sisters, and friends wanted to give a baby shower for our long-distance couple who are expecting a baby boy.
Since traveling home for a normal baby shower was not an option for them, we needed to find another way to give them a wonderful baby shower from far away.
Maybe this is your situation, too.
Long-distance relatives and friends want to celebrate the new baby even if you aren't together.
Holding a long-distance shower is a great solution.
You Need to Social Distance
In the day of viruses and quarantines, families are sometimes finding it difficult to celebrate these important events the same way they have in the past.
When being together is no longer possible or wise, a socially-distanced baby shower like this virtual baby shower idea is a solution that works.
Continue to celebrate, but do it responsibly and still have a great time!
Where to Hold the Virtual Shower
Choose a place that will hold all of your guests comfortably and is in a good location.
In order to social distance, you will need to find a way for all parties to "log in" and be present.
For our shower, we had one big group on one end and then the parents in another location.
Assign Tech Duties
Find someone in your group that is tech-savvy and knows how to connect the party.
I've shared a few connection options below, but if you have someone that knows what they're doing, ask that person to recommend the best option for your situation and to be in charge on the day of the shower.
Since the new baby in our group has a Grandpa who is a real internet nerd and a Grandma who is a great party planner, the shower was held at their house and Grandpa then became responsible for the tech portion of the shower.
Choose a date and time.
If you are in different time zones, be aware of that fact when setting your date and time.
The date and time were set that worked for the couple in Texas and the family and friends in Missouri.
Have the couple complete a gift registry.
Since almost everyone has access to Amazon, setting up a baby registry there is an easy answer.
Just have the Mom & Dad-to-be go to the Amazon website, make a baby gift registry account, and choose the items they need or want for their new baby.
If someone is not an Amazon Prime member, they can always sign up for a free 30-day-trial and enjoy the Prime benefits – free shipping, quick delivery, and even free movies as a side bonus. (Amazon Prime has many other benefits, too!)
And did you know that Amazon will send your gift already wrapped and with a tag? Don't you love that?
If your guests don't want to use Amazon, let them know they are welcome to purchase and mail gifts from any place they choose.
Make a guest list.
Check with the Dad & Mom-to-be for addresses, emails, or information on those they would like to invite.
Since it is likely that you don't know all of his or her relatives and friends, ask for assistance in compiling a guest list.
RELATED:
The Left-Right Baby Shower Game
The Best Baby Books for a Bring a Book Baby Shower (or in this case, "Send a Book"…)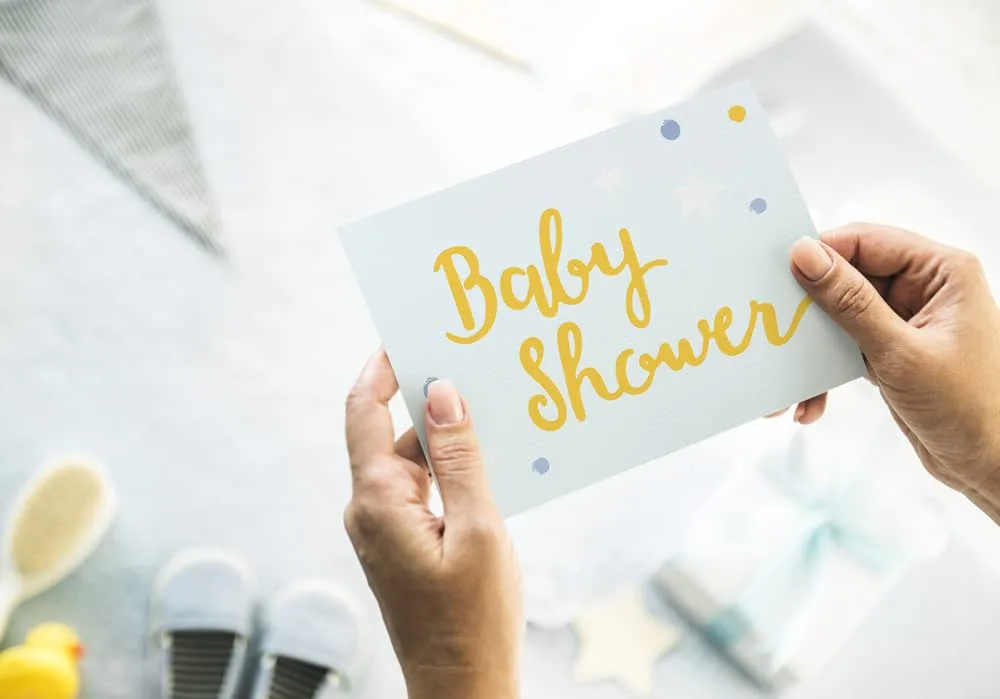 Send invitations.
Use the invitations to explain the concept of an online baby shower.
Electronic invitations and FaceBook event invitations will work, especially for the younger crowd.
However, you may want to give the online shower a more traditional feel and send out paper invitations.
For the older family members who may not understand what you're doing, it puts the instructions and explanations right in their hands.
n fact, a combination of electronic and paper shower invitations could work to cover all the bases.
Explain in the invite how this virtual baby shower will work, how to log on or the location where they will attend, gift registry information, address of the gift recipient, and the time and date of the event.
You may want to be specific about where you would like the gifts to be sent.
If you are in different time zones, be sure to include a designation of Eastern Time, Central Time, etc.
If the only introduction to the mom-to-be is going to be virtually at the shower, you could include a photo of the guest of honor and a few details about her and the expected little one.
Arrange for Gifts.
Have everyone send their gift to the Mom-to-be or bring them to the shower and Grandma can take them when she goes to visit the new baby.
While this will work and you know the Grandma will be most likely be visiting, it's probably best to send them on to the recipients.
You can actually see them being opened at the shower and it's one less thing for Grandparents to do.
Use the gift registry to choose the perfect gift for mommy and the new baby. If you aren't an Amazon Prime member, now is a good time to join.
You can order invitations, decorations, games, name tags, and everything else you need for the baby shower.
If you are ordering from the gift registry on Amazon, they will already have the address on file and will ship your gifts directly to her. Cool, huh?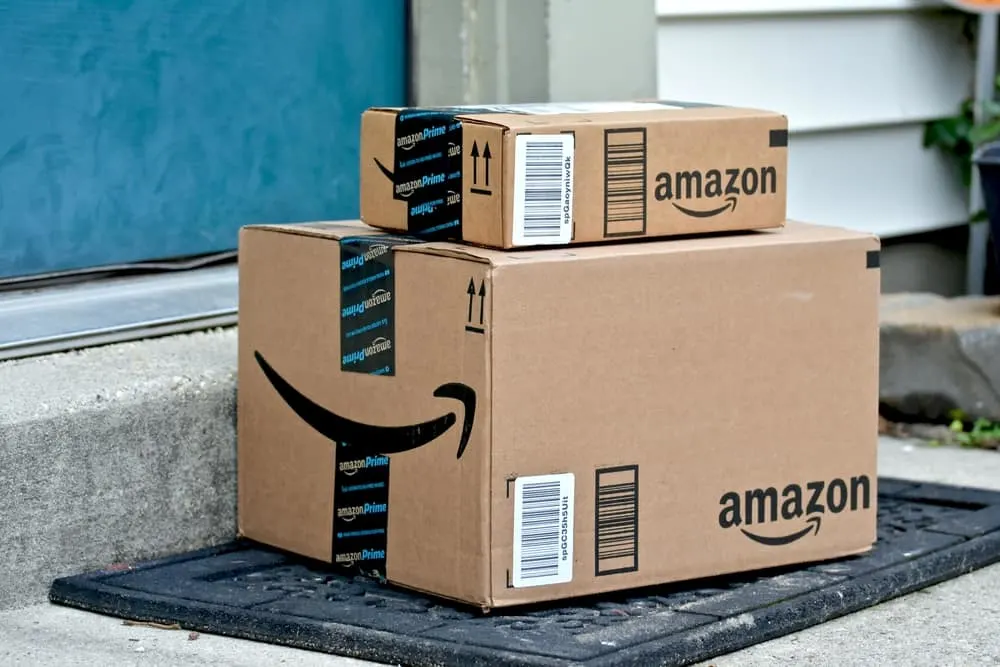 How to Connect – Technology.
Warning: Don't wait until the day of the shower to try out your connections.
A few days before the shower, test your virtual connection with the couple to make sure everything is working properly.
We had a tech guy on our end, but really, this process was so simple that you shouldn't have any trouble.
But still. You want to be sure it works when the time comes. No one likes tech glitches!
We connected Texas and Missouri using Google Hangouts. It was easy! Just go to Google Hangouts here and sign in.
It's a free way to connect.
Using a webcam with an HDMI cable to connect to the big screen TV on our end we were all able to see the couple clearly.
And they used their computer on the other end. It all worked like a charm.
You could also use Skype, Zoom, or Facetime or Facebook Messenger – whichever you are more familiar with or have used before.
Zoom and Skype are great if you have everyone coming individually because those applications allow for more on group video chat. I'm working on a post (coming soon May 2020) that will tell you a little more about each method, what's good about it, and links to follow to sign up, log in or check it out.
Plan your games, food, and decorations.
(Food and decorations probably won't be necessary if everyone is in a different location.)
Decide on your games, food, and decorations.
A Deluxe Printable Baby Shower Game Bundle
We played a "get-to-know-you" game because some of us were meeting each other for the first time and "Don't Say Baby" clothespin game which was won by one very focused Auntie.
These games were a huge success and a lot of fun!
We also played Baby Shower Bingo.
To play this game, each person received a blank Bingo card.
Guests filled in the blanks by guessing what gifts the new parents might receive.
As gifts are opened, squares were marked off until someone (it was me…) had a Bingo.
This game kept us engaged with the couple as they opened gifts.
We were eager to see if the gift was something we had included on our list!
Don't forget the food.
Keep the food choices simple. Items on our menu included sandwiches with assorted chips, zucchini bread, pumpkin bread, decorated pretzels, Baby Shower Snack Mix, decorated Rice Krispie Treats, a veggie tray, a cheese and sausage tray, and Fall Pumpkin Dip with apples and graham crackers.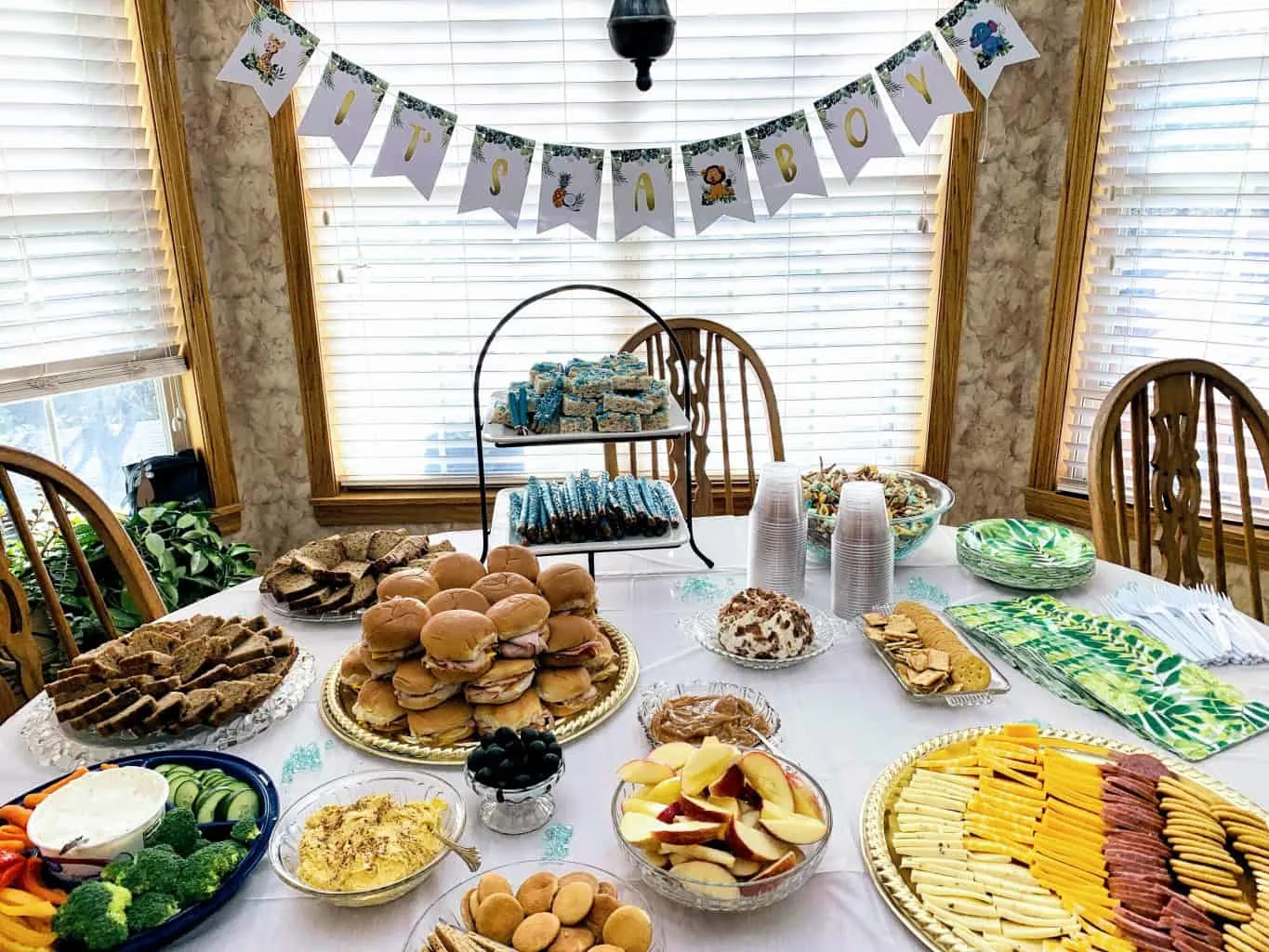 When you're deciding on food for your baby shower, consider the number of guests, the time of day, and how far guests may have traveled.
And if you're aware of any allergies, keep them in mind, too.
Decorations were kept to a minimum. There was a banner that read "It's a Boy!", colorful name tags, and a beautiful table full of food!
Box for Mommy-to-be.
Since she won't actually be there, having some of the same things as the guests have would give the new Mom the feeling of "almost being there".
A week or so before the shower, send some decorations to put up at her house, a mommy-to-be button, a copy of the invitation, instructions for logging on, a cookie, dessert or treat that you'll be having at the shower, a few of the napkins and plates that you will be using, games you're playing (word scramble or written games work better here than physical games), and anything else you think she would enjoy during the shower.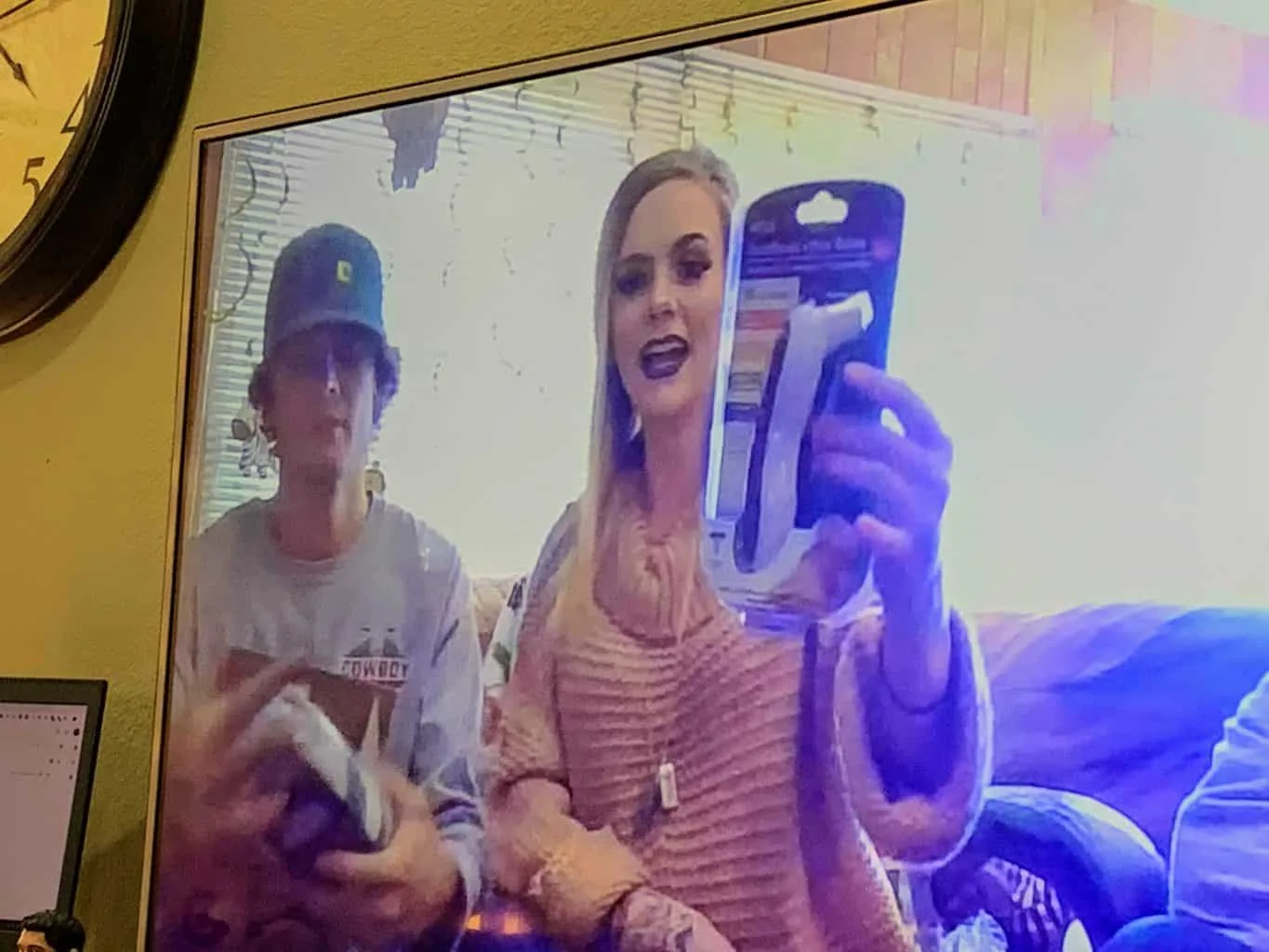 RELATED:
AT LEAST 2 Days Before the Virtual Shower
Test your online connection to be sure your honored guests will actually be at the shower. Don't wait until the last minute. Please.
The Day Before the Virtual Shower
Decorate.
Prepare any food that can be made ahead of time.
Set up tables and chairs.
Get extra ice for drinks.
The Day of the Virtual Baby Shower
Take LOTS of photos! You'll want to take plenty of pictures to remember this day, who was there, gifts that were received, and how much fun was had by all. Someday, the baby may even like to see them.
He'll then know just how much he was loved, even before he was born!
Finish preparing food and drinks and have everything ready to serve.
Ten or fifteen minutes before the designated shower time, set up your virtual connection.
If possible, face the camera toward the entrance so the honored couple can see who is arriving and welcome their guests.
Make introductions. If you are using name tags, pass those out as guests arrive.
If you'd like to recognize the Grandparents, especially if this is their first Grandchild, hook them up with a Grandma-to-be pin or sash.
Proceed with the shower in the order that works best for your circumstances: Eat, play games, open gifts, visit.
At the end of the shower, encourage guests to eat a little more, fill their drinks, and hang around to visit.
After all, you are all part of the "village" that will help encourage and nurture this new little person.
These are some of the Grandparents who this lucky little boy will get to call his own. (There is one more Grandpa who is missing from the photo and another guardian Grandpa watching from above.)
We had a very special day and enjoyed our online baby shower!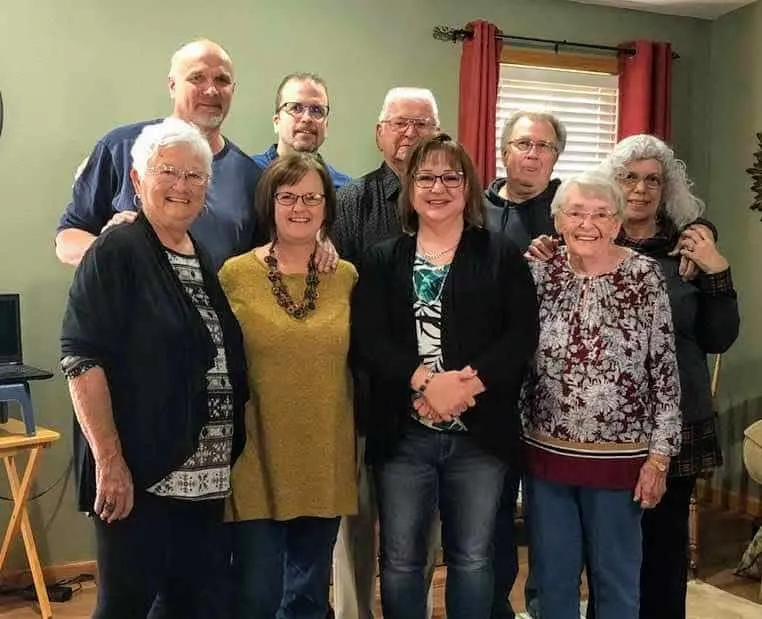 Other Varieties of Virtual Online Baby Showers.
In our case, everyone attending the online shower was in the same place except for the new parents and an Uncle-to-be.
The above scenario worked very well for us.
However, it doesn't apply to everyone.
Here are some other virtual shower situations that may occur.
Everyone is scattered in different places.
Mom-to-be and most people in one place with a few others tuning in.
Groups tuning into each other
At the present time, everyone is being asked to distance themselves from others.
Some suggestions for hosting a virtual shower in these cases are below.
When Everyone is scattered in different places:
When everyone is tuning in individually, it may work best to create a Facebook group for the shower.
In this case, you'll invite each guest to join your group on FaceBook, approve them, monitor the group, and be involved over a period of weeks.
Guests can send their gifts, Mom-to-be can jump on with a FaceBook live and share as she opens the gifts, and say a thank you.
Guests can tune in as they are able. You can post questions that encourage guests to share memories of the new parents as babies, give advice, or post photos.
This type of virtual shower would not be taking place at a set time but over a period of days.
Guests would mail their gifts, hopefully during a "window of opportunity", and Mom could open them at an agreed-upon time – once a day or all at once on a specific day.
Guests could then watch the videos of Mom opening the gifts and participate when they were available.
Another option when everyone is social distancing: tuning in together using Zoom.
Zoom is a great option: you can see each other and watch mom open her gifts.
You can talk to each other, share memories, and give advice.
You could even play your shower games using this tool.
Set a date and time, send virtual invitations, and get together to celebrate virtually.
It won't be the same as being there, but it may be the only option for you right now.
Mom-to-be and most people in one place with a few others tuning in AND multiple groups gathered together tuning in.
This may apply to a situation when relatives live out of town, you want to include dear friends who are long-distance, or guests are unable to attend – like a Grandmother who is unable to travel or leave her home.
You can have the ability to add multiple users on a video call with Facebook messenger, Zoom, or Skype.
Some guests may require assistance to get connected, so that should be arranged ahead of time.
These can still be displayed on the television, computer, or phone. When a group is trying to watch, though, a big-screen TV works best.
Groups of guests can gather together and tune in to watch and participate in the shower.
Each group could have a designated "hostess" and give their own little party.
Have them send any gifts ahead of time, and they can "be present" as the new Mom opens her presents.
Host your OWN unique online baby shower.
Every situation is unique with its own set of circumstances and requirements.
Take these ideas and use them to create your own unique virtual baby shower that will be remembered long after the baby is born.
For information about each of the connection methods mentioned, you can Google or search YouTube for instructions on how to use the services.
Having a virtual baby shower is a great way to overcome the long-distance barrier and share fun memories with your family and friends.
When your guests have experienced online communications like this, they will also understand how easy it will be to connect AFTER the new baby arrives.
Virtual visits with the new parents and baby will be a fun thing, too!
Keep Passing Down the Love,