National Grandparents Day 2021 is Sunday, September 12th. Here are some special songs for Grandparent's Day and some information about why we celebrate this day.
What is National Grandparents Day?
The National Grandparent Day observance in the U.S. is not a plot to rope you into another holiday for getting and giving cards and gifts.
National Grandparent Day is a day set aside to honor the relationship between Grandparents and Grandchildren.
Every year, the preschool my Grandchildren attend holds a special lunch and visit for Grandparents.
We have enjoyed each opportunity to meet teachers, classmates, and families.
This time spent with our Grandchildren individually, hearing about the projects, the learning and play the school offers, and seeing the pride they have in their accomplishments is priceless!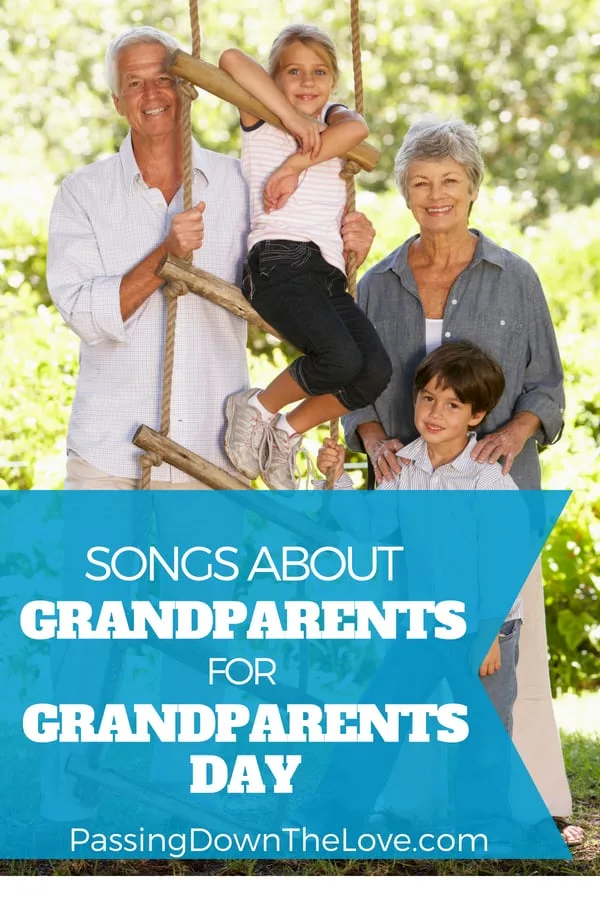 As an Amazon Associate and a participant in other affiliate programs, Passing Down the Love earns a small commission from qualifying purchases at no additional cost to you. See full disclosure here.
When is National Grandparents Day?
National Grandparents Day 2021 is Sunday, September 12th.
Is Grandparent's Day the same day every year?
Grandparents Day is celebrated every year on the first Sunday after Labor Day.
How Did Grandparents Day Start?
Why was Grandparent's Day created?
There were several important people that contributed to the establishment of National Grandparents Day.
Michael Goldgar, Marian Lucille Herndon McQuade, Hermine Beckett Hanna, and Governor Arch Moore of West Virginia all played a role in lobbying on behalf of Grandparents and Grandchildren.
Stories vary depending on what website you read, but it appears that each of these people played a part.
Their goal was to educate people about the important contributions Grandparents make to families, to honor the relationship between Grandparents and Grandchildren, and encourage interaction and connection.
In February 1977, Senator Jennings Randolph, with the help of other senators, introduced a joint resolution to the Senate requesting that the president declare the first Sunday of September after Labor Day as National Grandparents Day.
National Grandparents Day came to be on August 3, 1978, with President Jimmy Carter signing the proclamation.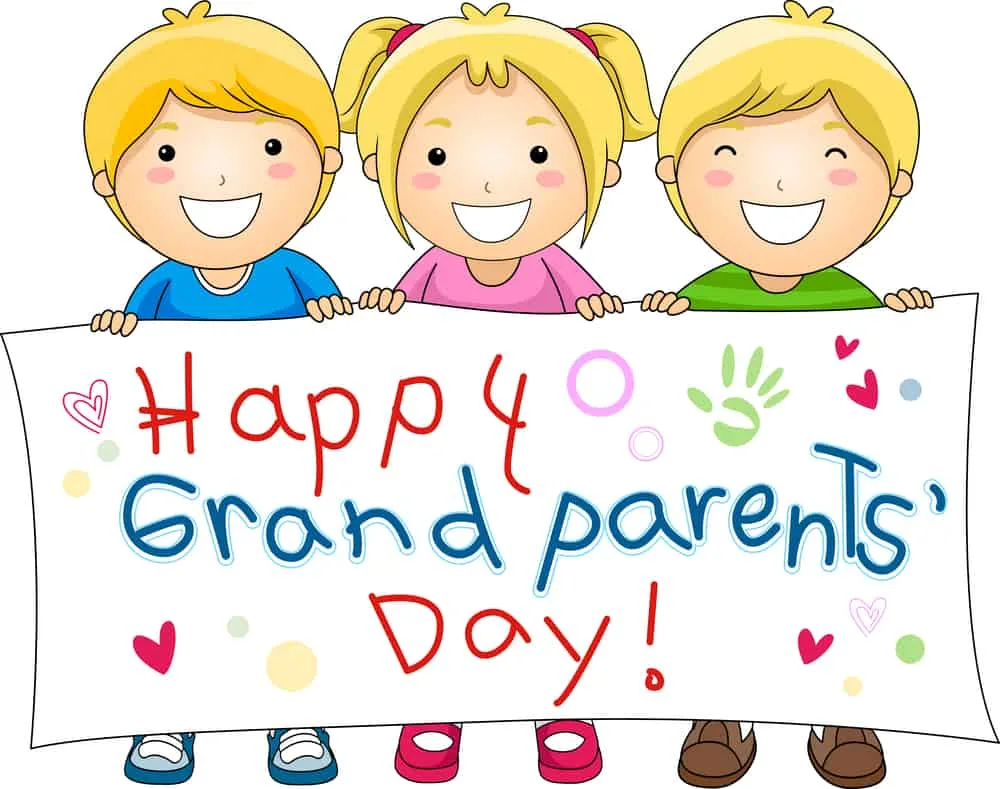 How to Celebrate National Grandparents Day
Symbols
No holiday would be complete without symbols for the celebration. The official flower for the day, appropriately enough, is the "forget-me-not".
Songs for Grandparents Day
The official song of National Grandparents Day is "A Song for Grandma And Grandpa" by Johnny Prill. Take a listen.
Find more songs for Grandparents Day at the end of this post.
Grandparents Day Involvement Opportunity
According to Generations United's website: "Generations United is urging grandparents and older adults to share their wisdom, perspectives and key civic values with young people on Grandparents Day.
We're calling on older adults to join with today's youth in reaching out to decision-makers and beginning one of the most important dialogues in our history: discussing how, as a country, we can address the many challenges facing future generations—from literacy to health and wellness to financial stability.
Celebrate Grandparents Day by committing to DO SOMETHING GRAND!"
You can read more about this on their website.
Gift Ideas for Grandparents Day
I know I said cards and gifts are not the way to celebrate Grandparents Day. However, my suggestion is to give the gift of time and love to your Grandparents or Grandchildren instead.
Here are some things you can do to celebrate together.
Participate in Events
Take this opportunity to participate in school activities designed with Grandparents in mind. If it's possible for you, show up and have a fun time together.
Cook Together
Get together in the kitchen and cook. If you are not a local Grandma, why not agree on a recipe and make something together virtually using FaceTime or Skype.
Read Together
Read together in person or through amazing technology.
Volunteer Together
Find a charity and spend the day volunteering together.
Do Something
Go on an outing to the park, the zoo, or any place you both would enjoy.
Go Camping
Spend a weekend together camping.
Share a Meal
Simply get together for lunch or dinner.
There are tons of ways to spend time connecting and making memories with your Grandchildren.
Give a Meaningful Gift
While a gift is not necessary or expected, something simple to enjoy together and make some memories.
A journal for writing your life story.
A handmade gift – draw a picture, make a card.
A board game to keep at your house, to be used when the Grandkids visit.
A puzzle to work together.
Attend a Paint Night together.
No matter how you choose to celebrate National Grandparents Day, be sure to connect with your Grandparents or Grandchildren in some small way.
Here are a few more songs for Grandparents Day.
Grandparents Day Song
The Judds – Tell Me Bout the Good Old Days
I Am My Own Grandpa
John Denver – Grandma's Feather Bed
Grandma Got Run Over By a Reindeer – Home Free
So.
Sing a song for Grandparents Day.
Say "I love you".
Let them know they are important to you.
Nurture the Grandparent/Grandchild relationship.
Celebrate National Grandparents Day with the ones you love.
Keep Passing Down the Love,