It's raining or cold and you're stuck inside with the kids. They have a ton of energy and you need to find some indoor fun for kids… How about some rainy day games, ideas of fun things to do on a rainy day, some fun activities for kids at home and fun places to go on a rainy day – all right here.
Indoor Fun with Kids on a Rainy (or super cold) Day
Kids have so much energy and spunk.
They need a place to release it!
Especially on rainy days or when it's too cold outside. I feel you.
You want to have fun, avoid getting on each other's nerves, and use up some of that pent-up spirit.
You've come to the right place for some answers!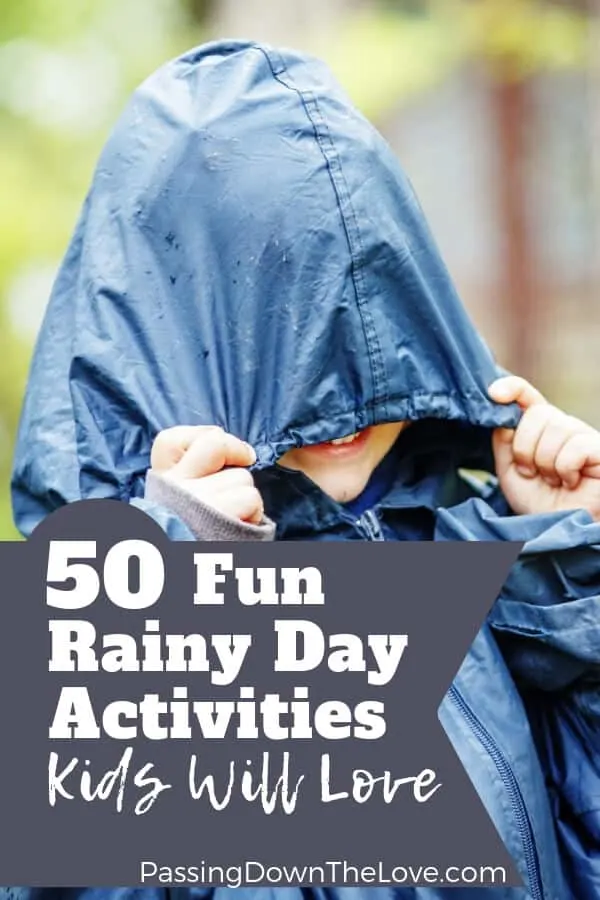 As an Amazon Associate and a participant in other affiliate programs, Passing Down the Love earns a small commission from qualifying purchases at no additional cost to you. See the full disclosure here.
Here are some fun indoor ideas for kids on a rainy day…
Rainy Day Things To Do
This is a great way to spend a few hours.
Start by heading to the local store, like Dollar General, WalMart or Michaels to shop for supplies.
Here is a recipe for Glitter Slime… beware the glitter.
The Grandkids loved this!
Just be sure to have a painting apron or old clothes.
I may or may not have gotten into a bit of trouble with sleeves and paint…
Encourage imagination by providing props or supplies and letting them go.
This is a great way to provide some unstructured indoor fun!
Share Your Talent
Do you know how to sew?
Do woodworking projects like building birdhouses?
Do you draw or play a musical instrument?
Sharing your passions, skills, and talent is a fun way to spend a rainy day with kids.
These are quick and easy to make, require only a few supplies and can be made to enjoy or to be given as gifts.
Playing with Legos is a fun thing to do on a rainy day.
And – Oh, my. I was searching for some Lego projects to include in this list and came across this Lego Zip Line from Little Bins for Little Hands.
The kids would love this! In fact, the next time I see the littles, this is on the list of things to do!
Do I have to say more?
You can't go wrong with PlayDough when you're looking for things to do on a rainy day!
This one is great fun.
Don't you remember making cootie catchers as a kid?
There is a printable cootie catcher on the post about this, or you can learn to make your own.
More Rainy Day Things to Do
Indoor Scavenger Hunt
Send the kids on a hunt for some indoor fun!
Check out this free Scavenger Hunt printable for a fun activity for kids on a rainy day.
As you know, every kid and every cat likes an empty box.
I found some great ideas for having rainy day indoor fun with kids and cardboard boxes at BuzzFeed.
Balloon Games
I know you've played "Don't let the balloon touch the ground", right?
Try having a race across the room while holding a balloon between your knees or use balloons for a "blow the balloon from here to there" relay.
Play a "Game in a Box"
These cute games are so much fun and make easy work of entertaining the kids!
The video below will show you what I mean.
Play Dress Up
Next time you're at a garage sale, take a look at some of the clothes for sale.
You can find some great bargains on items like hats, shawls, costume jewelry and the like.
Gradually build up your treasure chest of dress-up clothes and accessories.
The kids will have hours of indoor fun using their imagination.
You can use pom-poms or marshmallows for this rainy day game, but whichever you choose, I'm sure this will be a hit with the littles!
There were so many great ideas for fun involving shaving cream, that I just had to make a Pinterest board exclusively for this!
There is no greater fun on a rainy day than to make a huge mess.
If you like to play in the rain, you could do some of these fun activities with kids outdoors for an instant clean up!
Pass the time with some rainy day games.
Share some of these old-fashioned board games for kids and relive some of your own childhood!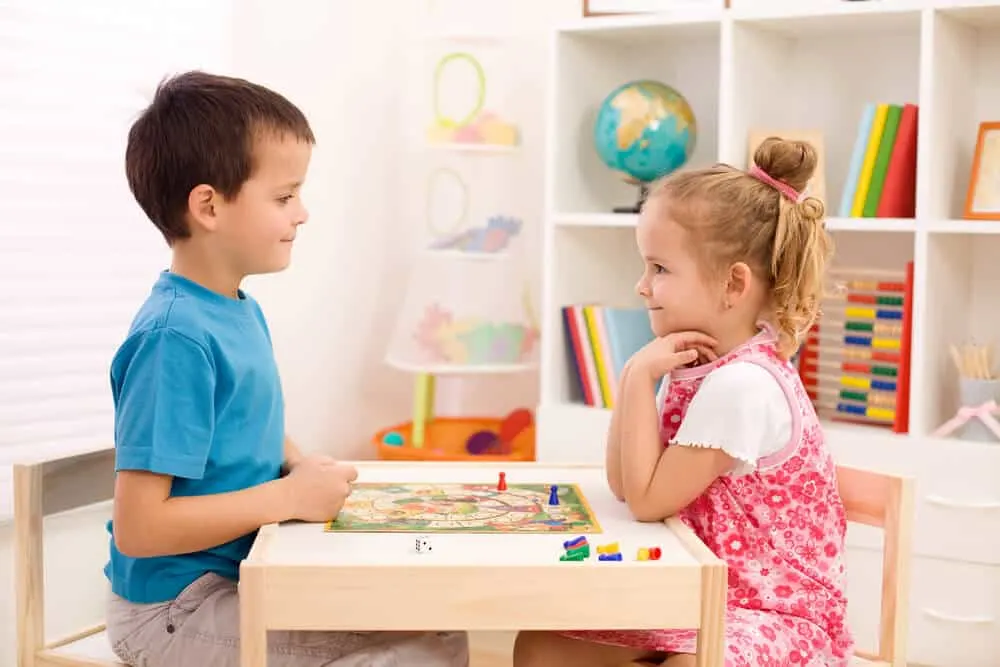 Take a break and sit down with the littles for a rainy day tea party!
Stick the pinky out like a proper guest, keep your napkin in your lap and remember your pleases and thank yous.
Having a tea party is a fun thing to do on a rainy day.
There is something about cuddling up on the couch and reading a good book…
It's good for the soul! Kids love it, too!
Let them choose a few books, grab a little blanket to cover up, and read some fun stories, or make up your own.
You could even tell stories about your own childhood!
Putting a puzzle together takes patience, develops hand and eye coordination, fine motor development, and problem-solving skills.
And it's fun. Win-win!
Build a Fort
Grab some blankets, some pillow, and some of your favorite toys and build yourself your own hideout.
Kids love to create a secret world inside a fort they've built themselves.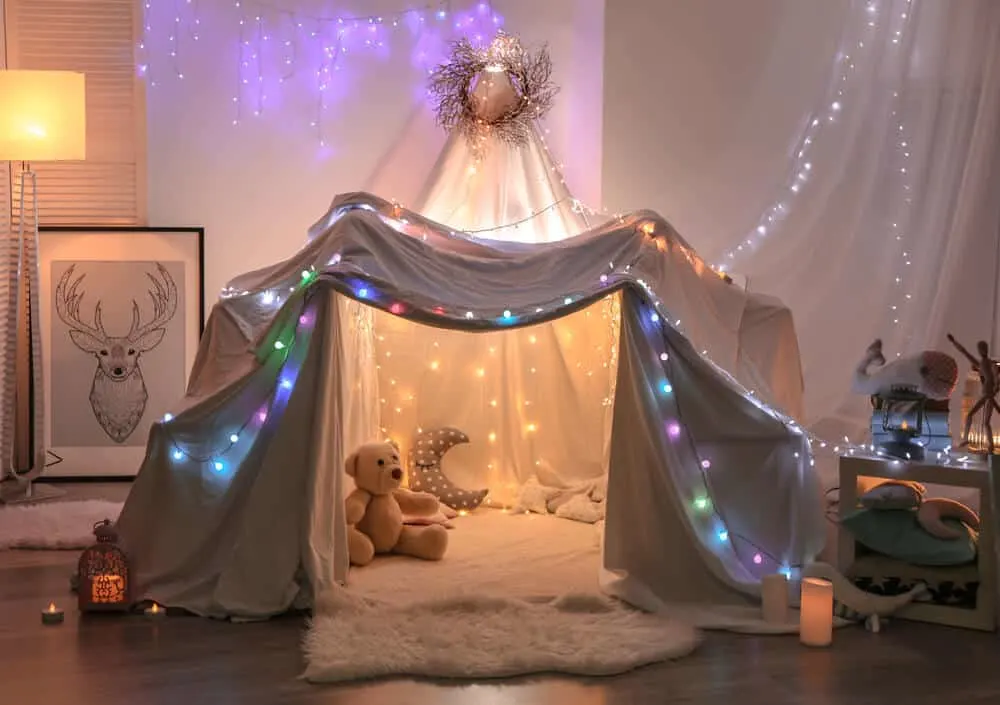 You'd think they'd get enough of school when they are AT school, but my Grandkids love to play school.
They take turns being the teacher, passing out lessons and being the boss.
Make refrigerator magnets to hold the artwork and notes on the fridge. Here are the instructions for you to use.
Draw or Color
What kid doesn't like to color?
I still enjoy coloring, myself, and love it when the kids ask for crayons and colored pencils
Remember playing with Jacks and marbles when you were young?
Teach the new generation some of your skills from back in the day!
Put on some tunes, sing at the top of your lungs, dance away the night.
What a great time you'll have making memories with music!
Rainy Day Things to Eat
Make some of these cute treats.
Kids love to be in the kitchen and will enjoy making their own desserts!
Get in the kitchen and cook. Make cookies, brownies, or ice cream treats.
Make some little personal pizzas, root beer floats, Jello or pudding.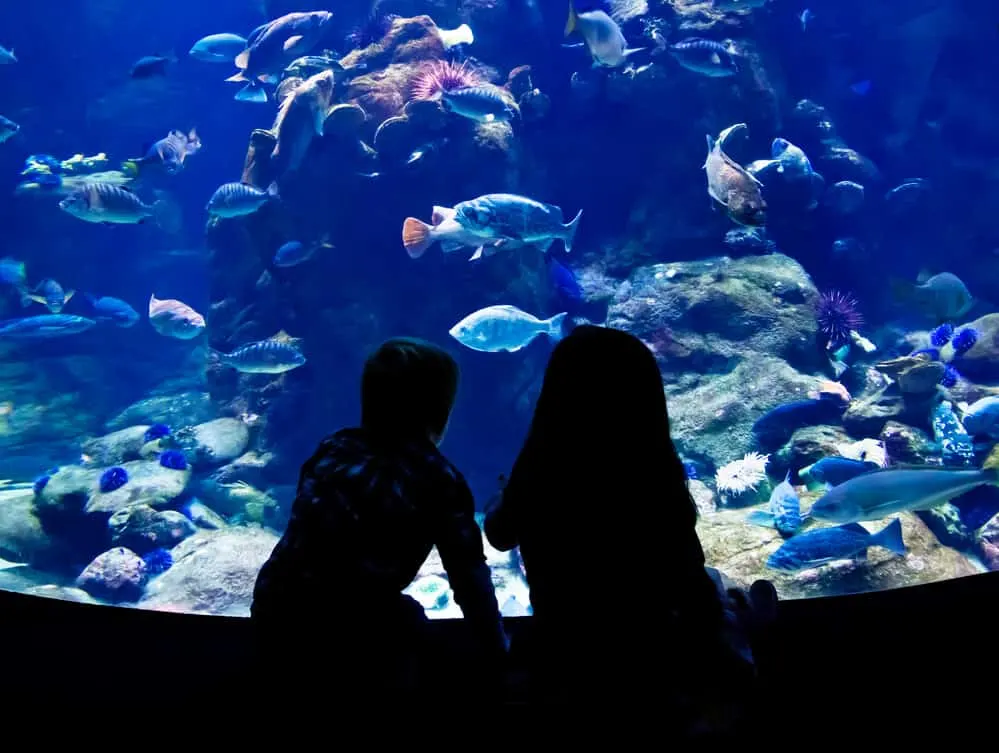 Rainy Day Places to Go
Sometimes it's hard to stay home.
The kids want to get out of the house and have a change of scenery.
So, even though most of the ideas above are fun activities with kids at home, I have some ideas for fun places to go on a rainy day, too.
If you live in a city or have a decent sized town close by, check your local listings for museums, fun places or attractions like these.
They are entertaining, educational, and a great place to spend a rainy day with kids. Let me know what you think!
Visit a museum
Museums for kids like Myseum or The Magic House in St. Louis are a fun way to spend a day.
See Some Attractions
Visit attractions like the Gateway Arch, the St. Louis Carousel or Sachs Butterfly House.
Head to Bass Pro
Bass Pro has some really cool displays, stuffed animals, and aquariums. Do you have one in your area?
Roller Skating
Blow off some steam at the roller rink. You know, you can probably still skate – it's just like riding a bike!
Trampoline Jumping
Try this! I did, and it turned out to be really fun. We couldn't stop laughing.
A Few More Indoor Activities
An indoor game center like Chuck-E-Cheese or Dave & Busters
See a movie
Have lunch or dinner at Chik-Fil-A or McDonald's and enjoy the playland.
Go to a local concert or show like Disney on Ice or Lion King
Head to the mall to let the kids help you shop for their birthday or Christmas gifts.
So, What Will You Do on a Rainy Day with Kids?
I hope there is something on this list of things to do on a rainy day that you will find useful.
These activities to do with kids, rainy day games, and fun places to go on rainy days, and other ideas for indoor fun for kids is surely not a complete list, but I hope you'll find fun things to do with kids in your life.
Rainy days can be awesome fun and full of precious memories!
Keep Passing Down the Love,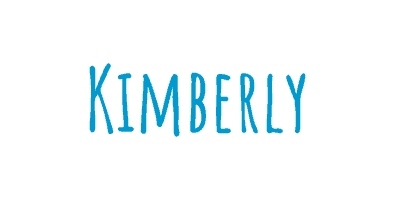 Related: